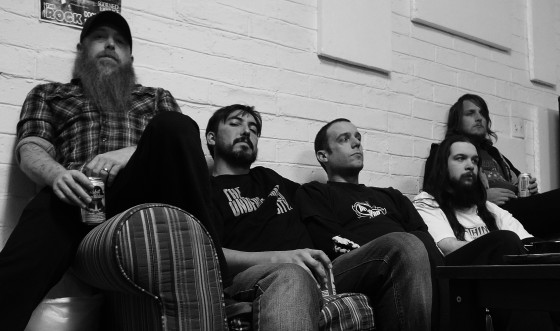 Is a post-weekend hangover dragging you down? Then let GODHUNTER show you how to get back on track with some liquid lunch action.
The Tucson sludge thugs display how they get down with their local legion in their intoxicatingly epic new video for "Wolves Of The North." The self-funded video was directed by Thomas Grafius and GODHUNTER, and filmed by Grafius, Jay Pestilence, Nathan Shoemaker and Danny Wood — all close comrades of the band — who basically tried to show what an average day is like for their legion.
The first leg of GODHUNTER's upcoming Winter tour begins in less than two weeks. The tour, sponsored by Acid Reflux Records and Earsplit, kicks off with a trio of dates in California, followed by the second leg two weeks later which takes the bastards to four locations in their home state of Arizona. The third and most intense touring comes with the final segment, engulfing the first half of March as GODHUNTER forges through the Southwestern and Gulf Coast regions on their way to raid SXSW 2013. Further confirmations will be announced as the dates are finalized in the coming weeks.
GODHUNTER Winter Tour 2013:
1/17/2013 Billy O's – Ventura, CA
1/18/2013 Max Steiner's – Long Beach, CA
1/19/2013 The Palms – Twentynine Palms, CA
2/06/2013 The Rock – Tucson, AZ
2/08/2013 Rocky Point Cantina – Phoenix, AZ
2/09/2013 The Kitty – Lake Havasu, AZ
2/23/2013 BleedBleed House – Prescott, AZ
3/01/2013 Yayo Tacos – Las Vegas, NV
3/02/2013 The Big House – Flagstaff, AZ
3/03/2013 Hooligan's – Albuquerque, NM
3/04/2013 Seventh Circle – Denver, CO
3/05/2013 The Zodiac – Colorado Springs, CO
3/06/2013 Jake's Backroom – Lubbock, TX
3/07/2013 TBA – Dallas, TX
3/08/2013 Wild Salmon – Lafayette, LA
3/09/2013 Siberia – New Orleans, LA
3/10/2013 TBA – Houston, TX
3/11-13/2013 SXSW – Austin, TX
3/14/2013 Green Room – Las Cruces, NM
3/15/2013 House Of Rock – El Paso, TX
3/16/2013 The Rock – Tucson, AZ
http://godhunter.bandcamp.com
https://www.facebook.com/godhuntertucson666
https://twitter.com/godhuntertucson
http://godhunter.bigcartel.com