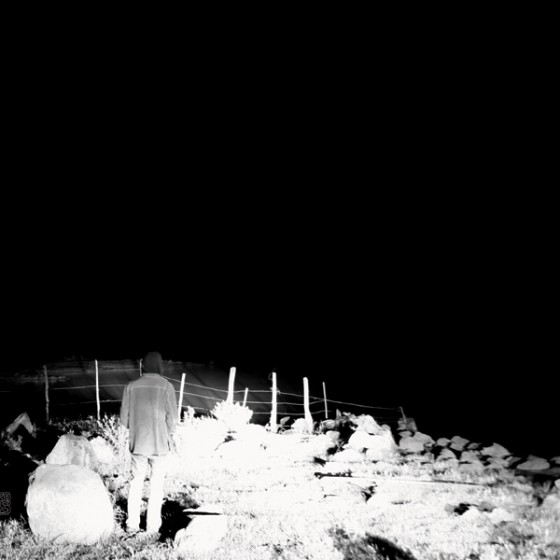 GODHUNTER & AMIGO THE DEVIL Present: The Outer Dark, the first recorded collaboration between the downtrodden sludge/metal perpetrators and banjo-strumming murderfolk soloist, will see release on Valentine's Day. The morose two-song 7″ bears a heart-wrenching original track named "Weeping Willow" leading things off on the A-side, and a stark rendition of Nirvana's "Something In The Way" on the B-side, and the whole thing showcasing both acts in an entirely new way.
Now just a week from its morose public destination, The Obelisk has exclusively premiered a new video for the A-side ballad of GODHUNTER & AMIGO THE DEVIL Present: The Outer Dark, showcasing the track for the first time, and fitting raw Western movie footage into the beautifully bleak, ill-omened tune. The "Weeping Willow" video was created by Frank Huang, diehard videographer for Metal Injection's Pit Full Of Shit live video column and more. Alongside the video's release, The Obelisk offers in part of the split, "GODHUNTER & AMIGO THE DEVIL offer two slices of downer neofolk, doomed in spirit, of weighted emotionality, but subdued and brooding rather than aggressive."
Experience GODHUNTER & AMIGO THE DEVIL's "Weeping Willow" for the first time at THIS LOCATION.
Vice Magazine's music channel, Noisey, is streaming the "Something In The Way" reinterpretation RIGHT HERE.
GODHUNTER & AMIGO THE DEVIL Present: The Outer Dark is on its way from the plant, destined for grim unveiling on Valentine's Day, Saturday, February 14th, as a co-release between GODHUNTER-partially-owned Battleground Records and EARSPLIT's label subdivision, The Compound. With an ominous, acoustic, folk/Western musical theme far removed from GODHUNTER's abrasive hardcore/crust-influenced sludge tones, here the quintet – guitarists/vocalists Jake Brazelton and David Rodgers, bassist Dick Williamson, drummer Andy Kratzenberg, and keyboardist/cellist Matthew Davis – is joined by one Danny Kiranos, a.k.a. AMIGO THE DEVIL, who supplies soaring vocals and ethereal Theremin contributions to the two-song 7″. The Outer Dark was recorded in multiple sessions during the Summer of 2014 at Arcane Digital Studios in Chandler, Arizona, and was produced, mixed and mastered by Ryan Butler.
Cut at 45RPM GODHUNTER & AMIGO THE DEVIL Present: The Outer Dark is pressed on solid black wax and included a lyric/liner sheet. Orders can be placed with The Compound / Earsplit Distro on wax HERE and digital HERE, and via Battleground Records HERE and HERE.
http://dirtweedmetal.com
http://godhunter.bandcamp.com
http://www.facebook.com/godhuntertucson666
http://www.facebook.com/Amigothedevil
http://www.thecompoundrecs.com
http://thecompound.bandcamp.com
http://www.facebook.com/TheCompoundRecs
http://www.earsplitdistro.com
http://www.facebook.com/battlegroundrecords
http://battlegroundrecords.bigcartel.com