After the victorious independent release of their The Many Sides Of Truth LP in 2014, longtime NYC-area epic death/doom act, GREY SKIES FALLEN, now declares several new releases in 2015, beginning with the official unearthing of two of the band's prior digital-only releases on physical format for the first time.
GREY SKIES FALLEN's fourth release, the four-song Along Came Life EP, was released in 2010, recorded during tumultuous times for the band. This is the last recording with original member Joe D'Angelo on guitar, and sitting in on bass was Paul LaPlaca (October Thorns, Zandelle). Two years later, the band released the three-song Introspective EP in 2012, and was recorded at a point when the band was technically a three-piece, and featured Dave Case (Helmet, Afterbirth) filling-in and providing bass tracks. This album features the twenty-one minute title track, perhaps the most ambitious recording from the band to date. Both recorded at Keith Moore at his Audio Playground in Patchogue, New York, together, these "lost EPs" fill in the long gap in between LPs, bridging 2006's Two Way Mirror, and 2014's The Many Sides of Truth, and having previously only been released through Bandcamp until now, will now be issued together on one deluxe CD package.
Collectively issues GREY SKIES FALLEN on the upcoming double-EP package, "This release signals the first time the Introspective EP and the Along Came Life EP have been made available in a physical format. These were digital-only releases, mainly due to the financial situation of the band around the times these EPs were recorded. Now, we are able to unveil these in a beautiful digipak CD format with Travis Smith artwork on the front and back covers, and also throughout the layout."
Set for release via the band on March 3rd, preorders for the Introspective / Along Came Life CD and pay-as-you-wish downloads of both EPs are now available at GREY SKIES FALLEN's BandCamp page HERE.
GREY SKIES FALLEN has also been heavily involved in the writing process of their next brand new LP which will be recorded mid-year and released shortly thereafter. While they will be enlisting the talents of producer Keith Moore once again, as on the bulk of the band's recorded works, Moore's Audio Playground studio was heavily damaged in a fire last Summer. A rebuilt studio is in the planning stages, and in the meantime, Moore works out of a local studio where GREY SKIES FALLEN and interconnected acts Buckshot Facelift, Brave The Waters and more are also preparing to make new noise. More updates on all of the mentioned recordings will be released in the coming months.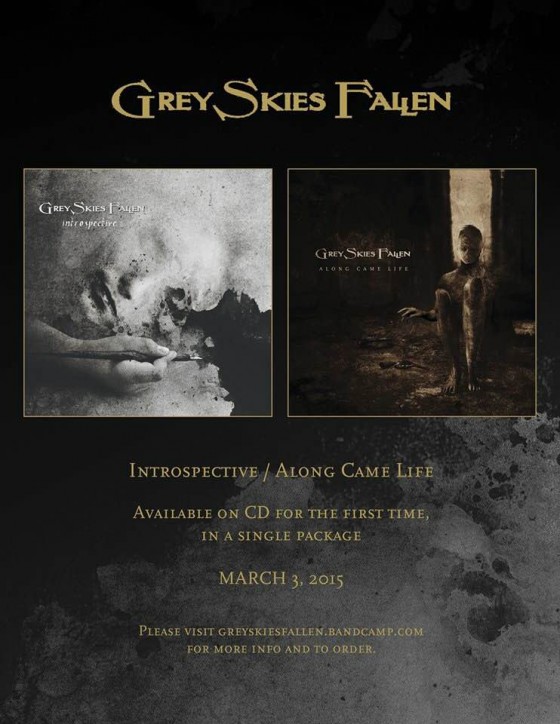 http://www.greyskiesfallen.com
http://greyskiesfallen.bandcamp.com
http://www.facebook.com/GreySkiesFallen