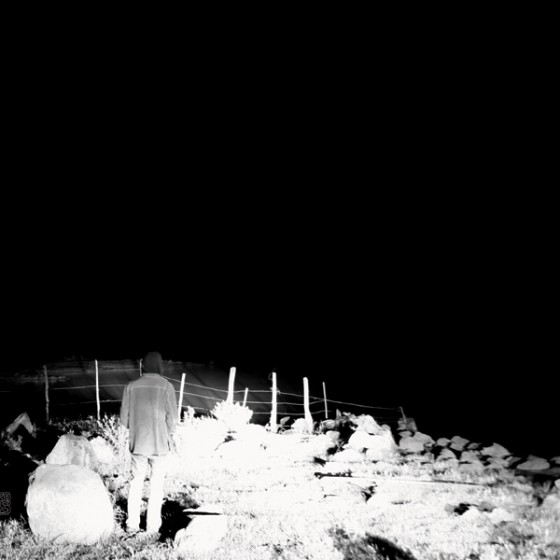 The Compound and Battleground Records are preparing for the early 2015 release of The Outer Dark, a collaborative 7″ from Tucson's GODHUNTER and Miami's AMIGO THE DEVIL, today partnering with Noisey to premiere the collective's homage to Nirvana with the B-side cover of "Something In The Way."
With an ominous, acoustic, folk/Western musical theme far removed from GODHUNTER's abrasive hardcore/crust-influenced sludge tones, here the quintet — guitarists/vocalists Jake Brazelton, David Rodgers, bassist Dick Williamson, drummer Andy Kratzenberg, and keyboardist/cellist Matthew Davis — is joined by one Danny Kiranos, a.k.a. AMIGO THE DEVIL, who supplies soaring vocals and ethereal Theremin contributions to the two-song 7″ The Outer Dark. Delivered at 45RPM on quality black wax for maximum clarity, the A-side's "Weeping Willow" is a fully original, ill-omened ballad from the collective, while the B-side is a bleak rendition of Nirvana's "Something In The Way." The record was recorded in multiple sessions during the Summer of 2014 at Arcane Digital Studios in Chandler, Arizona, and was produced, mixed and mastered by Ryan Butler.
Vice Magazine's music channel, Noisey, has posted an exclusive stream of "Something In The Way." Listen now at THIS LOCATION.
The Outer Dark will see release on Valentine's Day, February 14th, 2015, through a union of Earsplit's label, The Compound Recs, and GODHUNTER-co-owned Battleground Records. Preorders for the digital download are now posted HERE, and for the 7″ version HERE. All preorders of the physical 7″ will be entered to win a test pressing copy of the release.
In 2014 both bands were very active tour-wise, as GODHUNTER has endured more live touring than ever including several tours of the Western US, and both GODHUNTER and AMIGO THE DEVIL having performed at the third annual installment of Southwest Terror Fest in October. New live actions from both parties will be announced in the months ahead, with new recorded material from both acts coming together as well, including GODHUNTER's next recording due out in the Summer of 2015 and much more.
http://dirtweedmetal.com
http://godhunter.bandcamp.com
http://www.facebook.com/godhuntertucson666
http://www.facebook.com/Amigothedevil
http://www.thecompoundrecs.com
http://thecompound.bandcamp.com
http://www.facebook.com/TheCompoundRecs
http://www.earsplitdistro.com
http://www.facebook.com/battlegroundrecords
http://battlegroundrecords.bigcartel.com