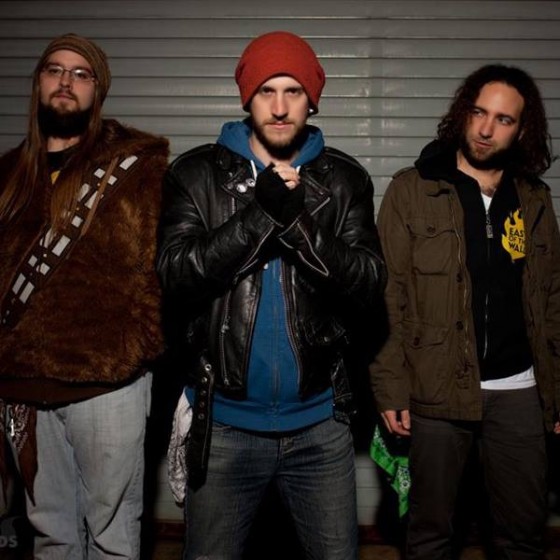 Akron, Ohio's MAID MYRIAD continues to book new live performances supporting their engaging debut
LP, With Haste On Its Breath, with a new string of Northeastern US tour dates this Winter. Between the 6th and 22nd of February, the trio will bounce through Ohio, New Jersey, Rhode Island, Maryland and West Virginia with six new gigs confirmed at press time, and additional tour dates being scheduled for the weeks following the newly announced run, including tour dates based around the band's upcoming SXSW performances to be announced shortly and more.
MAID MYRIAD Tour Dates:
2/06/2015 Buzzbin Shop – Canton, OH
2/07/2015 Backroom Studios – Rockaway, NJ w/ East Of The Wall, El Drugstore, Zevious
2/13/2015 AS220 – Providence, RI
2/15/2015 Charm City Art Space – Baltimore, MD
2/20/2015 123 Pleasant Street – Morgantown, WV
2/22/2015 The Main Street Cafe – Clarksburg, WV
Additionally, MAID MYRIAD guitarist/vocalist Jeff Klemm will be filling the vocal position for Washington DC-based progressive metal outfit, Wings Denied, on their upcoming Progressive Winter Tour with Cryptodira, running through the eastern half of the country from January 11th through 23rd. View the full routing HERE.
With Haste On Its Breath was recorded in Akron, Ohio and Keyport, New Jersey, produced and engineered by guitarist Jeff Klemm at Free Truman Productions, and mixed and mastered by Kevin Antreassian at Backroom Studios in Rockaway, New Jersey (The Dillinger Escape Plan, Adrenaline Mob, Foxy Shazam, etc.). The album's hour-long lifespan has media outlets like Ohio.com adding the band to their best of 2014 lists, and has major webzines like MetalSucks issuing, "its massive, melodic, introspective, and tortured, like a wonderful dream that quickly metamorphasizes into the kind of nightmare that continues to rattle and haunt you even after you awaken, stuck to your psyche like gum to the bottom of a shoe…" The Akron Beacon Journal hailed, "MAID MYRIAD, which calls its music 'kaleidoscope rock' thankfully digs deeper and further back into the '90s recalling the intricate, herky-jerky dynamics and start-stop riffs of bands such as Sunny Day Real Estate and At the Drive-In and heavier contemporary proggy bands such as Tool and The Mars Volta, minus the 10-minute songs." American Aftermath boasts, "The band combines an array of influences, including progressive rock and 90's post-hardcore/emo, into a dynamic and emotional display of alternative rock mastery… Jeff Klemm's near angelic vocals are sure to be stuck in your head all day. In fact, we guarantee that." The Cleveland Scene made MAID MYRIAD their Band Of The Week, stating, "…the songs stay true to 'kaleidoscope rock,' the term the band has used to describe its neo-progressive rock. Heavily textured songs such as 'Camera Eye' and 'Dance by the Moonlight' have elements of Mars Volta. But the group slows things down for the simmering 'Be Careful What You Wish For' and 'Waiting for December,' showing it can capably change gears."
With Haste On Its Breath is out now in a six-panel digipak CD via Nefarious Industries — the home of a bunch of big, dumb noise — and via a "name your price" BandCamp hookup RIGHT HERE.
http://www.facebook.com/maidmyriad
http://www.maidmyriad.bandcamp.com
http://twitter.com/MaidMyriad
http://www.facebook.com/NefariousIndustries
http://www.nefariousindustries.com
http://twitter.com/NefariousInd