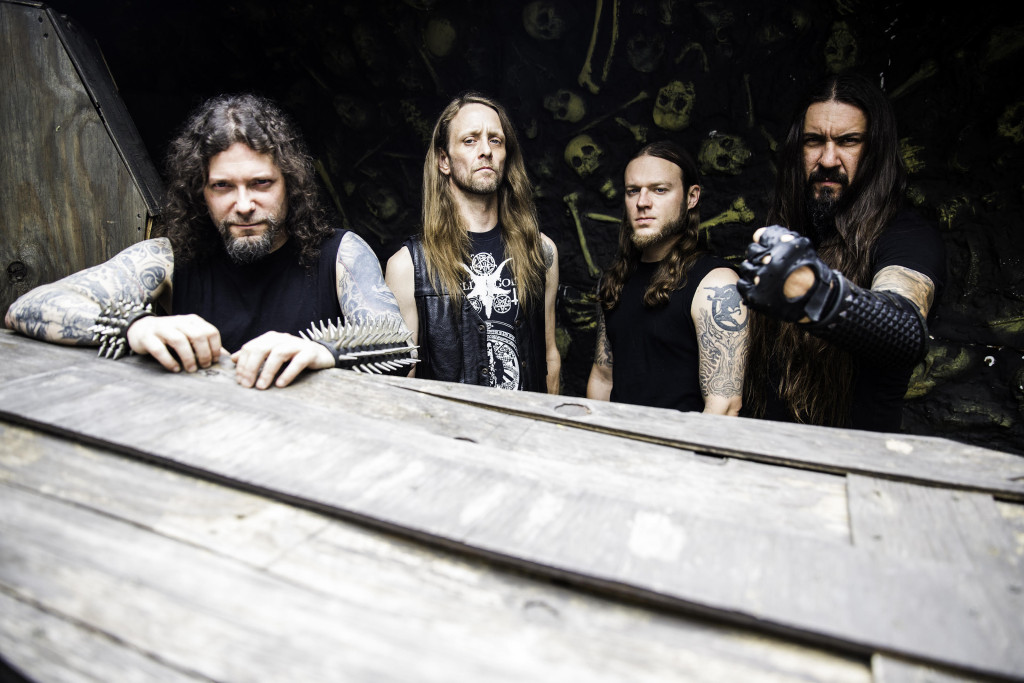 The road demons in GOATWHORE will join 1349 and labelmates Tombs for a short run of live dates leading up to their performance at this year's edition of Ozzfest meets Knotfest in San Bernardino, California. Set to take place from October 29th through November 3rd, the short journey includes three dates supporting Kreator.
GOATWHORE is currently finishing up a near month-long North American live takeover supporting UK metal icons Venom Inc. The Blood Stained Earth Tour commenced on September 1st with additional support being provided by Portland punk thrashers Toxic Holocaust and Ohio deathcore unit The Convalescence. A special final performance at the renowned Saint Vitus Bar in Brooklyn, New York was recently added to the trek on October 3rd closing out one of the most ravaging tours of the year. In February, GOATWHORE will take to the seas on the 2018 edition of 70000 Tons Of Metal, the world's biggest heavy metal cruise with additional live dates to be announced in the coming months. See all confirmed dates below.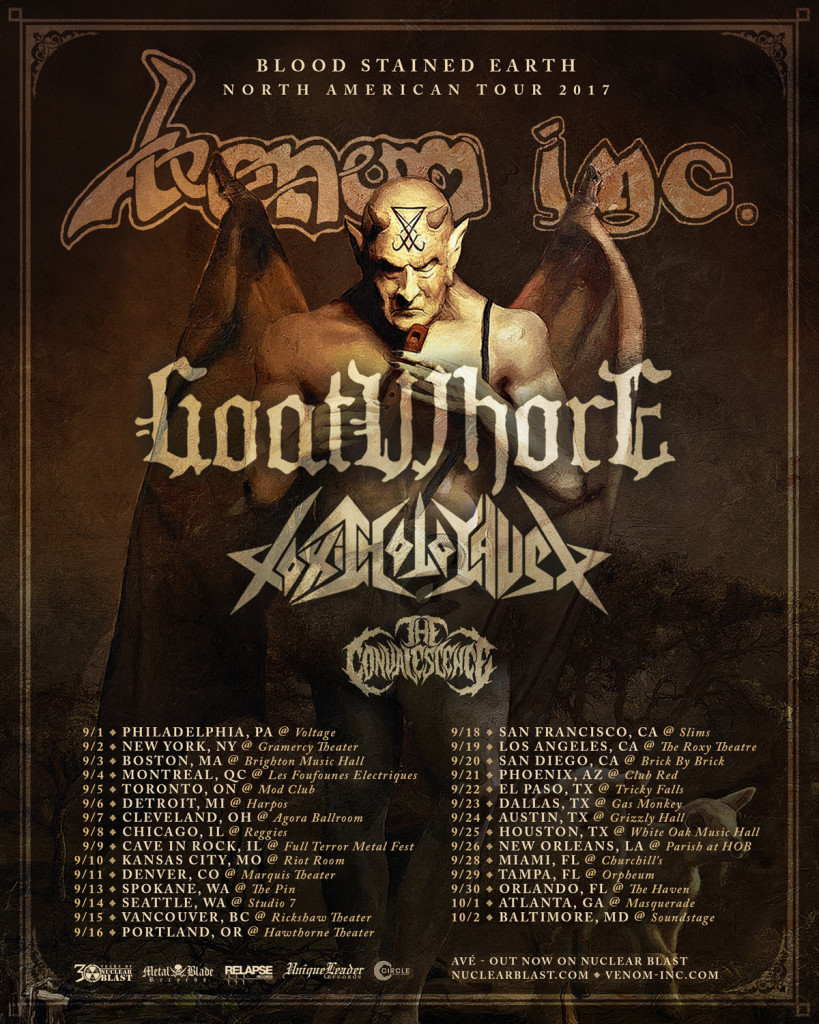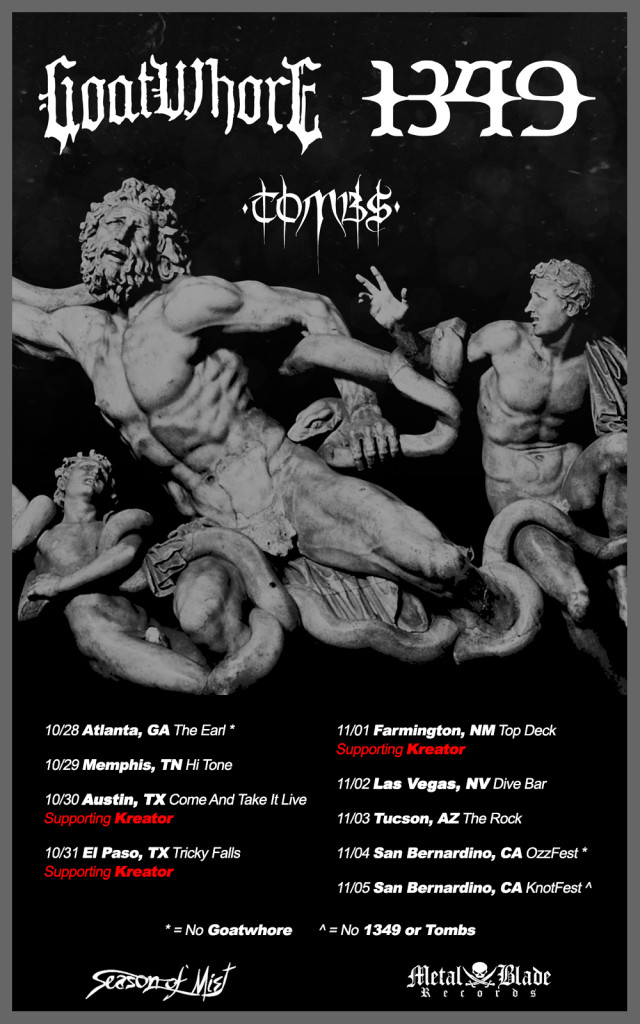 GOATWHORE w/ Venom Inc., Toxic Holocaust, The Convalescence [remaining dates]:
9/28/2017 Churchill's – Miami, FL [tickets]
9/29/2017 Orpheum – Tampa, FL [tickets]
9/30/2017 The Haven – Orlando, FL [tickets]
10/01/2017 Masquerade – Atlanta, GA [tickets]
10/02/2017 Soundstage – Baltimore, MD [tickets]
10/03/2017 Saint Vitus Bar – Brooklyn, NY [tickets] *
End Tour
w/ 1349, Tombs:
10/29/2017 Hi Tone – Memphis, TN
10/30/2017 Come and Take It Live – Austin, TX (supporting Kreator)
10/31/2017 Tricky Falls – El Paso, TX (supporting Kreator)
11/01/2017 Top Deck – Farmington, NM (supporting Kreator)
11/02/2017 Dive Bar – Las Vegas, NV
11/03/2017 The Rock – Tucson, AZ
11/05/2017 Ozzfest Meets Knotfest @ Glen Helen Amphitheater & Festival Grounds – San Bernardino, CA [tickets] **
2/1-5/2018 70000 Tons Of Metal – Ft. Lauderdale, FL [tickets]
* no The Convalescence
** no 1349, Tombs
GOATWHORE's latest full-length, Vengeful Ascension, was released in June via Metal Blade Records. Their seventh full-length offering and second recorded reel-to-reel, Vengeful Ascension was captured at Earth Analog in Tolono, Illinois with longtime soundman and comrade Jarrett Pritchard (1349, Gruesome).
The critically-adored offering toppled Billboard charts upon its first week of release earning the #4 spot on Billboard's Heatseeker Albums chart, #6 on the Hard Rock Album Sales chart, #11 on the Independent Albums chart, #16 on the Hard Rock Albums chart, #18 on the Rock Album Sales chart, #49 on the Top 200 Current Albums chart, and #59 on the Top 200 Albums chart making it the band's highest charting album to date! In Canada the record was met with equal accolades debuting at #19 on the Hard Music chart and #145 on the Top Albums chart.
Vengeful Ascension is out NOW on Metal Blade Records on CD, vinyl, and digital formats. To preview and purchase the record visit metalblade.com/goatwhore.
"The album roars with the classic GOATWHORE sound of searing shredding and screams of rage. The material also tries some new things, tossing in a bit of blackened atmosphere, adding to the philosophical questions the music dives into." — Alternative Press' 10 Best Metal Albums Of 2017 So Far
"Turning frowns upside down with metal steeped in gloom isn't supposed to be a thing, but in incorporating more classic influences, GOATWHORE has (in)advertently offered Vengeful Ascension as a link between battle jackets and monk robes. 8/10″ — Decibel Magazine
"…the most mature recording in the GOATWHORE canon… Its combination of disparate subgenres from opposite ends of the structural and melodic continuum is masterful, resulting in a remarkably non-contrasting display of good and evil; that being good songs that sound as evil as all hell. 4/5″ — Team Rock
"…the high water mark that GOATWHORE have set for themselves thus far… 9/10″ — Metal Injection
"Vengeful Ascension has extremity black metal fans will dig, groove that will appeal to death metal aficionados, and potent guitar work thrash lovers can appreciate." — Loudwire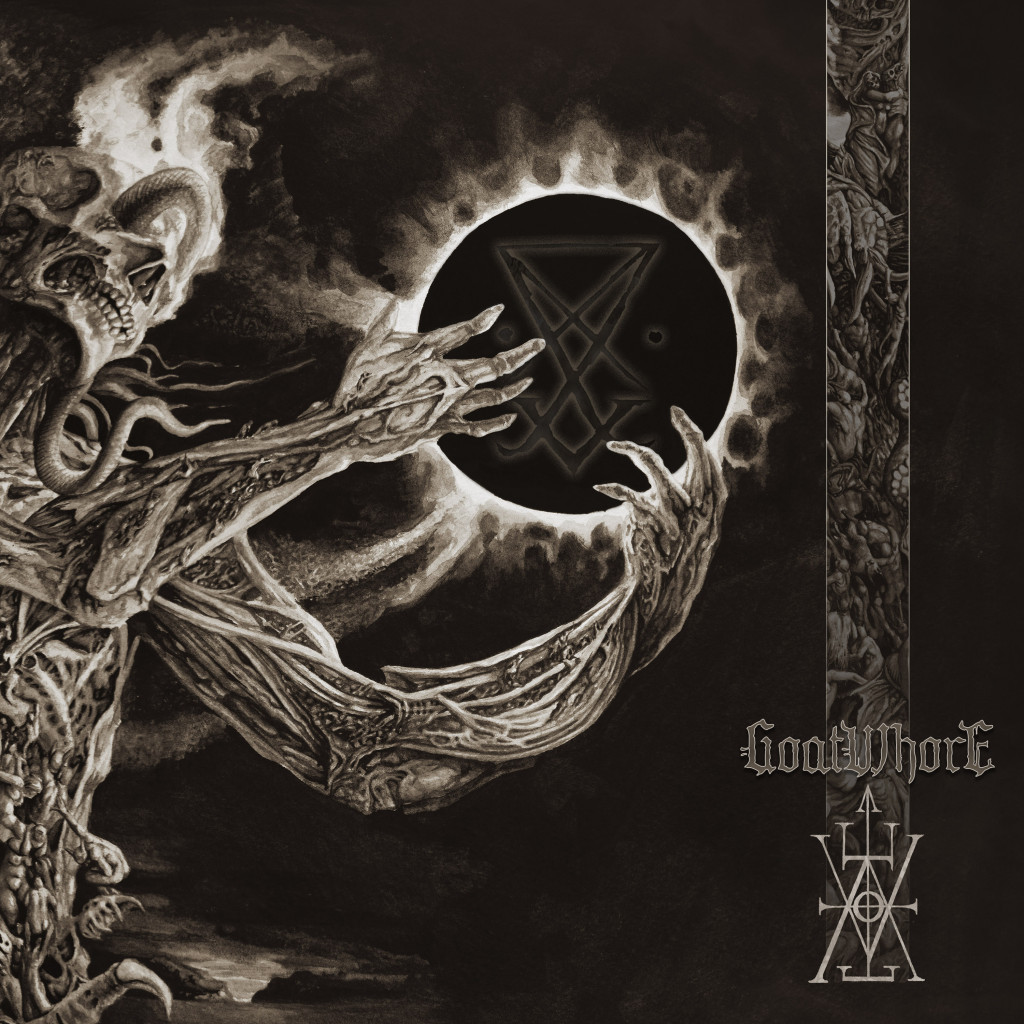 http://www.facebook.com/thegoat666
http://www.twitter.com/goatwhorenola
http://www.youtube.com/Goatwhorenola666
http://www.metalblade.com/goatwhore