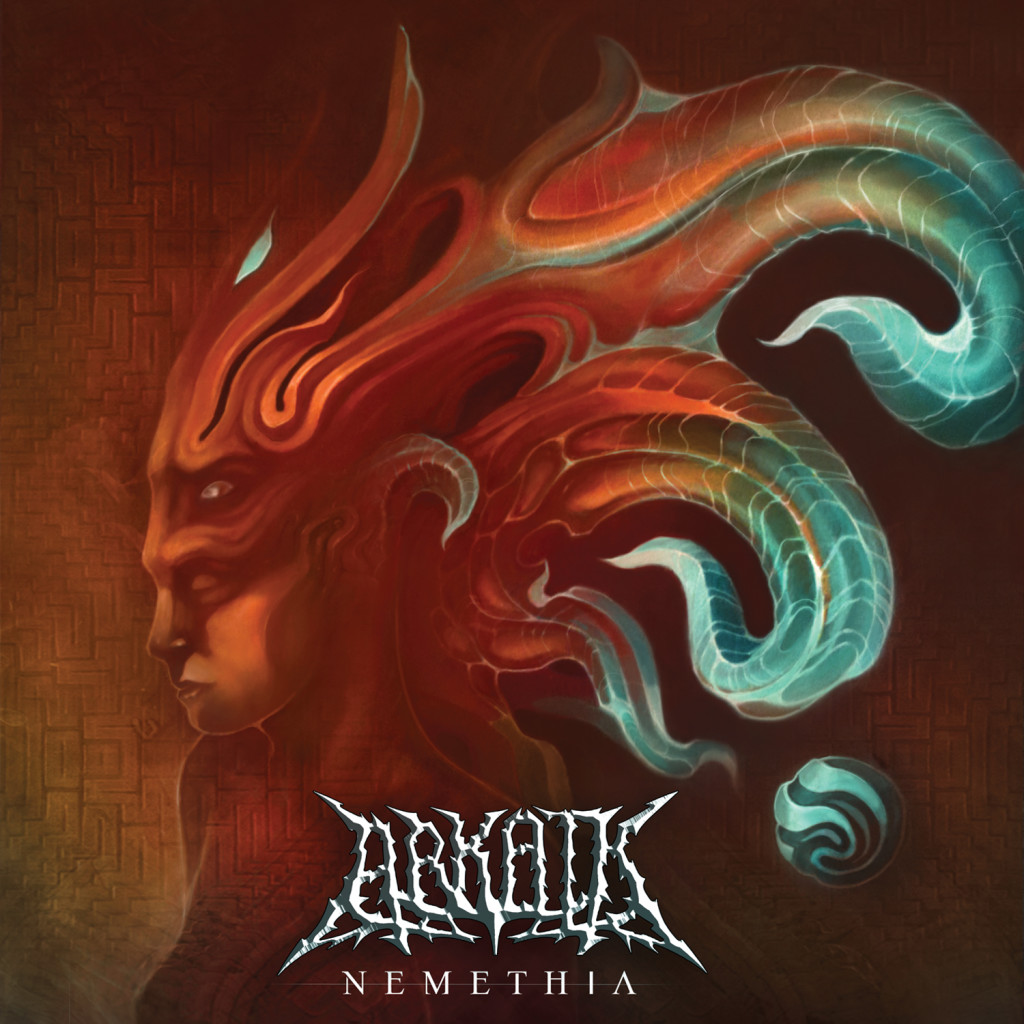 "ARKAIK have proven yet again that they are masters of their craft, conjuring up a peerless display of fearlessly ingenuitive death metal which will leave a lot of listeners lost for words." — Distorted Sound
September 29th will see the release of ARKAIK's anxiously-awaited fifth full-length Nemethia. In advance of its release, the brutal tech-death outfit unveils "Order Of The Hierogon" for public feasting.
Comments the band of the consuming, near-ten-minute track, "We really wanted to push our writing with this one, try some new things and challenge ourselves into making a massive track that explores the spectrum of our sound all in one song. We had the rare opportunity to work with Joe Haley from Psycroptic on a tasty guest solo and it came out better than we could have imagined.
As for the concept of the song as it relates to the story, Cyrix stumbles into a hidden territory called The City Of Secrets. He is introduced to a banished order of outsiders, mystics, sages, psychic warriors, historians, and oracles that preserve the lineage of knowledge contained within the 'Order Of The Hierogon.' Once welcomed into the inner circle of this mysterious group who seemed to have foreknowledge of his arrival, Cyrix is bestowed with mental and physical tools and training to make his passage through the Nexion Stargate, which takes place at the end of the album.
We created the word 'Hierogon' to describe a mystical navigation device that Cyrix inherits from his new allies. It is the 'holy grail' of the order. The ARKAIK symbol you see in the beginning of this video is a visual representation of the Hierogon."
Hear "Order Of The Hierogon" below.

If you missed it, view ARKAIK's "Futile State" video at Metal Injection RIGHT HERE as well as previously-released track "Occultivation" HERE.
Nemethia will see release on CD and digital formats on September 29th via Unique Leader Records; find preorders for the album including merch bundles and more at THIS LOCATION. For digital orders go to THIS LOCATION.
Their fourth full length for Unique Leader and most ambitious studio album to date was produced, engineered, and mixed by Zack Ohren (Immolation, Fallujah, Suffocation, Decrepit Birth et al.) at Sharkbite Studios in Oakland, California, and features guest appearances by Joe Haley of Psycroptic, Arde Ostowari formerly of Burning The Masses, Stephen Paulson of the San Francisco Symphony Orchestra, and former ARKAIK guitarist Craig Peters, as well as Gabe Seeber from The Kennedy Veil and Decrepit Birth (live) performing drums for the entire album. The cover art and booklet was designed by visionary artist Tyler Space, who worked with the band on their previous release, Lucid Dawn.
ARKAIK has been crafting a series of wildly psychedelic concept albums revolving around a protagonist named Cyrix, a disillusioned character in a dystopian society. Cyrix' latest journey introduces new characters and brings you into a world of dark occultists, magical allies, and hidden forces. From resurrecting ancient goddesses to cracking the codes of reality and activating hyper dimensional stargates, the chronicle of Cyrix continues.
In related news, ARKAIK is in the midst of an extensive US tour alongside labelmates Alterbeast and Inanimate Existence. The journey kicked off on September 8th and will run through October 7th. See remaining dates below.
ARKAIK w/ Alterbeast, Inanimate Existence [remaining dates]:
9/27/2017 Riffhouse Pub – Chesapeake, VA
9/28/2017 Sidebar – Baltimore, MD
9/29/2017 The Foundry – Lakewood, OH
9/30/2017 Louisville Death Fest – Louisville, KY
10/01/2017 Reggies – Chicago, IL
10/02/2017 Lookout Lounge – Omaha, NE
10/04/2017 Marquis Theatre – Denver, CO
10/05/2017 The Loading Dock – Salt Lake City, UT
10/06/2017 Eagles Aerie Hall – Henderson, NV
10/07/2017 The Phoenix Theater – Petaluma, CA
"There's a lot to appreciate about the sheer audacity ARKAIK display in bringing in such eclectic, off-the-wall experimentation into what could be called a prog-deathcore album here. Even if this… isn't your preferred style of death metal, it's cool to sit back and be wowed by musical prowess when it's deserved." — Heavy Blog Is Heavy
"ARKAIK have proven yet again that they are masters of their craft, conjuring up a peerless display of fearlessly ingenuitive death metal which will leave a lot of listeners lost for words." — Distorted Sound
"Nemethia takes the ARKAIK template and further enhances it with more attention to dynamics and added nuance. There's complex layers to be found for those who would like to investigate beyond the crushing death metal sound. A well-rounded and enjoyable release that wisely avoids dipping too far into the tech-death vibe that renders many a band sterile." — Dead Rhetoric
http://www.facebook.com/ArkaikBand
http://www.uniqueleader.com
http://www.facebook.com/UniqueLeaderRecords
http://www.twitter.com/UniqueLeaderRec