Reclaiming their road warrior status, GOATWHORE is pleased to announce a short run of headlining shows this Spring through Nevada, Utah, Colorado, Nebraska, Minnesota, and Iowa. From there, the band will join Gwar for a three-week tour set to commence May 24th in Grand Junction, Colorado and run through June 17th in Reading, Pennsylvania. Additional support will be provided by Nekrogoblikon and The Native Howl.
Comments guitarist Sammy Duet, "We're excited to be back on the road with the one and only scumdogs, Gwar! Expect absolute debauchery and chaos, maniacs!"
GOATWHORE's latest bout of shows follows their recently announced April/May trek supporting Brujeria with additional support from Unidad Trauma. See all confirmed dates below.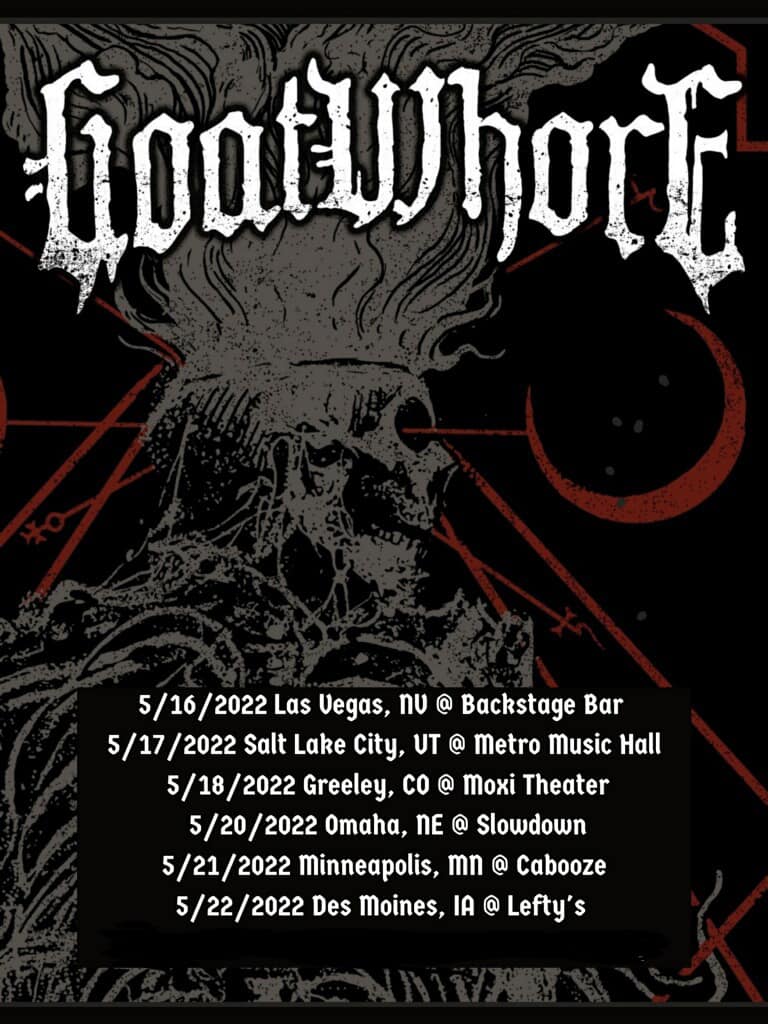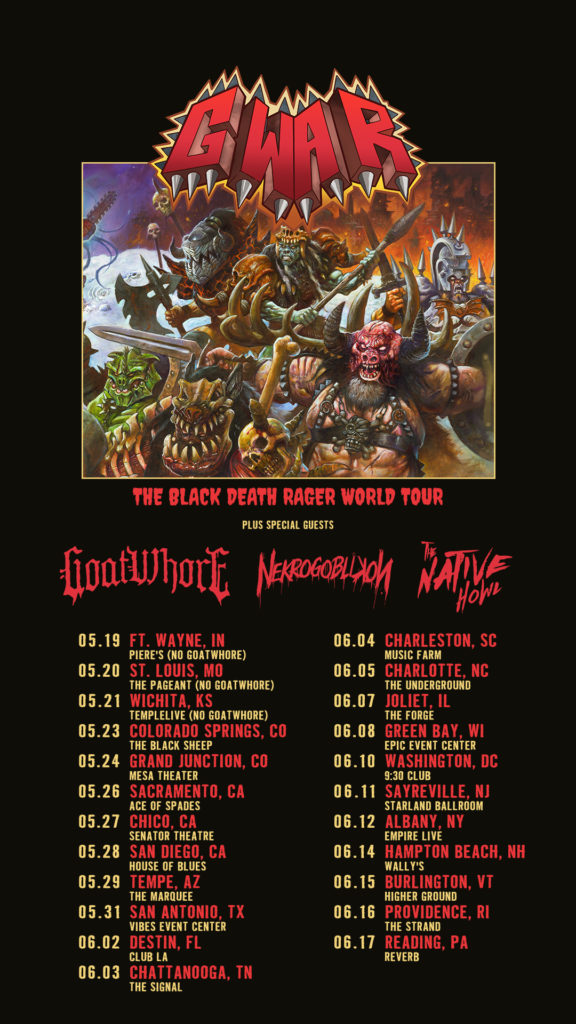 GOATWHORE w/ Brujeria, Unidad Trauma:
4/26/2022 Nile Theater – Mesa, AZ
4/27/2022 Launchpad – Albuquerque, NM
4/28/2022 Jake's – Lubbock, TX
4/29/2022 Scout Bar – Houston, TX
4/30/2022 Come And Take It Live – Austin, TX
5/01/2022 Trees – Dallas, TX
5/02/2022 The Rock Box – San Antonio, TX
5/04/2022 Rockhouse – El Paso, TX
5/05/2022 The Rock – Tucson, AZ
5/06/2022 Alex's Bar – Long Beach, CA
5/07/2022 Alex's Bar – Long Beach, CA
5/08/2022 1720 – Los Angeles, CA
5/10/2022 DNA Lounge – San Francisco, CA
5/11/2022 Goldfield Trading Post – Roseville, CA
5/12/2022 Strummer's – Fresno, CA
5/13/2022 Virginia Street Brewhous – Reno, NV w/ Municipal Waste, Dwarves
5/14/2022 Oxnard PAC – Oxnard, CA
5/15/2022 Transplants Brewing – Palmdale, CA
GOATWHORE Headlining Dates:
5/16/2022 Backstage Bar – Las Vegas, NV
5/17/2022 Metro Music Hall – Salt Lake City, UT
5/18/2022 Moxi Theater – Greeley, CO
5/20/2022 Slowdown – Omaha, NE
5/21/2022 Amsterdam Bar – St. Paul, MN
5/22/2022 Lefty's – Des Moines, IA
w/ Gwar, Nekrogoblikon, The Native Howl:
5/23/2022 Black Sheep – Colorado Springs, CO
5/24/2022 Mesa Theater – Grand Junction, CO
5/26/2022 Ace Of Spades – Sacramento, CA
5/27/2022 Senator Theatre – Chico, CA
5/28/2022 House of Blues – San Diego, CA
5/29/2022 The Marquee – Tempe, AZ
5/31/2022 Vibes Event Center – San Antonio, TX
6/02/2022 Club LA – Destin, FL
6/03/2022 The Signal – Chattanooga, TN
6/04/2022 Music Farm – Charleston, SC
6/05/2022 The Underground – Charlotte, NC
6/07/2022 The Forge – Joliet, IL
6/08/2022 Epic Event Center – Green Bay, WI
6/10/2022 9:30 Club – Washington, DC
6/11/2022 Starland Ballroom – Sayreville, NJ
6/12/2022 Empire Live – Albany, NY
6/14/2022 Wally's – Hampton Beach, NH
6/15/2022 Higher Ground – Burlington, VT
6/16/2022 The Strand – Providence, RI
6/17/2022 Reverb – Reading, PA
GOATWHORE's most recent full-length, Vengeful Ascension, was released to critical acclaim via Metal Blade Records in 2017. "Vengeful Ascension has extremity black metal fans will dig, groove that will appeal to death metal aficionados and potent guitar work thrash lovers can appreciate," wrote Loudwire of the band's highest charting album to date. Louder Sound noted, "Vengeful Ascension is the most mature recording in the GOATWHORE canon. Its combination of disparate subgenres from opposite ends of the structural and melodic continuum is masterful, resulting in a remarkably non-contrasting display of good and evil; that being good songs that sound as evil as all hell." Added Angry Meta Guy, "This is yet another enjoyable, catchy and barnstorming GOATWHORE album, baring enough memorable riffs, raw savagery and variety to remain engaging across its efficient duration… an ideal soundtrack for engaging in mischievous mayhem or simply knocking back some brews with good company, and that folks, is what GOATWHORE is all about."
To preview and purchase Vengeful Ascension, visit metalblade.com/goatwhore. Stay tuned for news on new GOATWHORE material in the weeks to come.
http://www.facebook.com/thegoat666
http://twitter.com/Goatwhore_NOLA
http://www.instagram.com/goatwhorenola
http://www.youtube.com/Goatwhorenola666
http://metalblade.com
http://www.facebook.com/metalbladerecords
http://twitter.com/MetalBlade
http://www.instagram.com/metalbladerecords