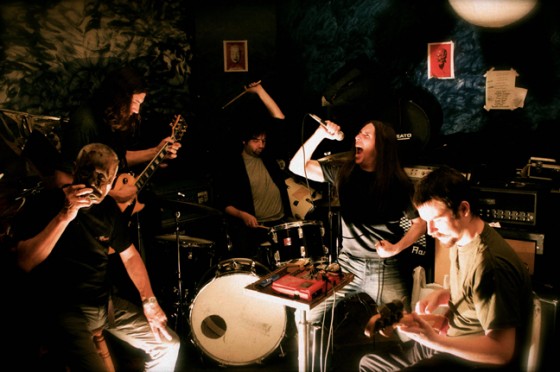 Today, New York City misanthropic noise collective, GNAW, skin the ears of the living with the 12-minute "This Horrible Chamber," currently frightening children through Invisible Oranges. The latest ode of anguish comes by way of the band's forthcoming new full-length, Horrible Chamber, set for planetary contagion later this month via Seventh Rule Recordings.
Commending the band for manifesting a sound that "traps the listener in an iron maiden device," Invisible Oranges elaborates of the track, "Starting out slow and ominous, Alan Dubin (best known for his work in Khanate) delivers haunted whispers that swiftly evolve into punishing screams on the claustrophobic cacophony that is 'This Horrible Chamber…'"
Enter "This Horrible Chamber" HERE.
Bold listeners can weather the punishment of "Widowkeeper," still tormenting the world wide web courtesy of Revolver RIGHT HERE, as well as"Water Rite," streaming on Pitchforkcom at THIS LOCATION.
GNAW will bring their sonic severity roadside next month with two live rituals in Pennsylvania and Massachusetts, with future onstage invasions to be announced in the coming weeks. Stay tuned.
GNAW Live Assaults
11/03/2013 First Unitarian Church – Philadelphia, PA w Pelican, Coliseum [info]
11/23/2013 Sammy's Patio – Revere, MA w/ Psycho, Afterbirth, Stasis [info]
GNAW is the menacing anti-creation of Alan Dubin (Khanate, Old, O.L.D.), Carter Thornton (Enos Slaughter), Jun Mizumachi (Ike Yard), Brian Beatrice and Eric Neuser. Together they mold murderous, nerve-wracking sound orgies where the cumulative sensations of fear, trauma, rage and repugnance collide into a cathartic state of brooding, audio disease.The follow-up to 2009's critically lauded This Face which Exclaim! christened, "noisy, demented and twistedly glorious," Horrible Chamber was recorded at Seizures Palace by Jason LaFarge (Swans, Akron/Family, Khanate, Angels Of Light) and mixed by Brian Beatrice at audioEngine and mastered by James Plotkin (OLD, Scorn, Khanate, Khlyst etc), with additional elements recorded by Beatrice, Dubin, Thornton, and Mizumachi in various chambers.
Horrible Chamber will see release via Seventh Rule Recordings on October 15, 2013. Preorder your copy today at THIS LOCATION.
"The combination of slowly-slammed guitar, bass, and drums with terror-torn vocals and other-dimensional sounds makes for a chilling encounter. This is the soundtrack to your own private horror flick, one where the visual aspect is induced by the music." – Ghost Cult
"While Horrible Chamber is unmistakeably cut from the same cloth as their debut, the seething miasma of gloom that was This Face, in the time between they have become noticeably more adept in handling not only heaviness, but also emptiness. The most striking moments on Horrible Chamber contain very little of anything – the two-note piano intro to 'Humming' is a truly haunting sound, a metronomic pulse that, even as a tsunami of static drone and Dubin's voice caterwauls around its unceasing tone, remains at the forefront, a tone that proves as hypnotic as a number-station pattern that spirals off into nowhere and everywhere for reasons known only to the shadowy figures that launched it." – The Sleeping Shaman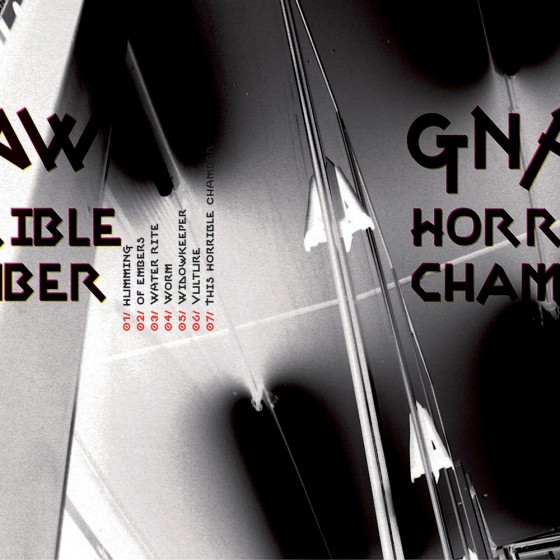 http://www.facebook.com/Gnawtheband
http://www.seventhrule.com
http://instagram.com/seventhrule
http://seventhrulerec.tumblr.com/
http://twitter.com/seventhrule