Your afternoon temperament is likely about to become a bit more volatile as Vice Magazine's music channel, Noisey, lets the first single from ENABLER's Flies EP loose. The title track to the new six-track release from the Milwaukee hatebrewers, "Flies" is a prime example of the morosely motivational, punk-fueled, metallic anguish ENABLER's dedicated horde has championed for years, and serves as another infectious slab of downbeat misery whose pungent attributes will continue to attract the swarms.
Get viciously unhinged with "Flies" at Noisey RIGHT HERE.
Purchase the digital download of Flies now at ENABLER's Bandcamp HERE. Preorders for the CD version will be available from The Compound in the coming days.
Amassed in a duo of spur-of-the-moment sessions in Minneapolis and Australia earlier this year, the unplanned recordings that was to become ENABLER's new Flies EP is the newest in the band's quickly-expanding catalog of DIY and independent releases, followed by their Southern Lord-released 2011 debut LP, All Hail The Void, and subsequent Shift Of Redemption EP, unveiled earlier this year via Think Fast! Records. Mastered by Brad Boatright at Audiosiege (From Ashes Rise, Integrity, Tragedy, All Pigs Must Die), the patented ENABLER alloy of crust, punk and hardcore, relentlessly gloomy melodies and perpetually cynical "fuck off" vibes all surge heavily on Flies, the band using the EP as an opportunity to deploy five new tracks and a cover. Today the band has made the EP for sale digitally in order to generate funds for the recording sessions for their upcoming LP. On Samhain 2013, Earsplit's new division, The Compound, will drop a digipak version of Flies, the first in an upcoming line of releases from killer underground acts who prefer to skulk in the shadows rather than bathe in the spotlight.
Watch out; more new tunes from Flies are coming, and ENABLER is getting ready to hit the road again this Fall.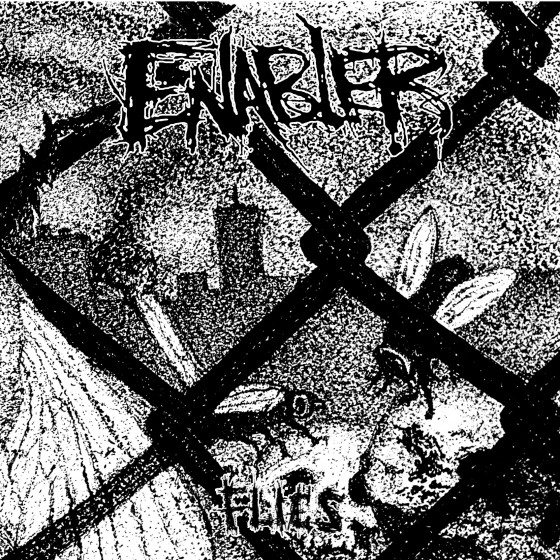 http://enablermke.bandcamp.com
http://www.enablermke.blogspot.com
https://www.facebook.com/enablermke
https://www.earsplitcompound.com