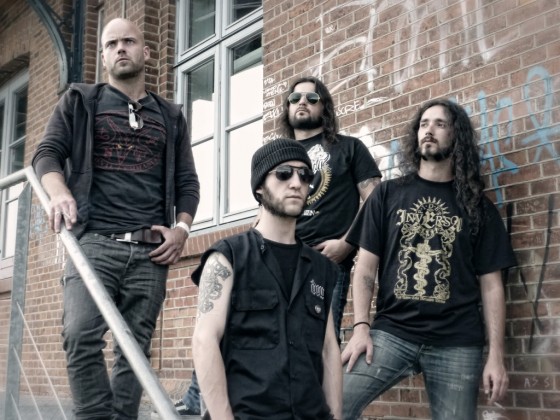 French black metal goliaths, GLORIOR BELLI, recently issued a video teaser for upcoming new full-length, The Great Southern Darkness. Check it out now at Revolvermag.com.
The Great Southern Darkness offers up 11 tracks that magnify GLORIOR BELLI's finest qualities: Debilitatingly fast, yet simultaneously dark and swampy with all the Americana/stoner/blues elements the band — and their fans — have come to embrace. Said Revolver in an advance review of the record: "The album combines vicious black-metal riffery with deep New Orleans stoner grooves to create a metal monolith that is equal parts northern blaze and southern trendkill."
Formed in the suburbs of Paris during the close of 2002, what began as a noxious duo soon became an untamable beast, acting as a beacon for everyone looking to free themselves of the influence of the Demiurge. Lyrics and themes explored throughout the years reveal a sincere inclination for rebel-ism and a sense of poetry. Today, the name GLORIOR BELLI has garnered a stellar reputation in the extreme music community for mixing desert rock textures with the brutal, ominous, doom-laden vibe typical of black metal. But don't bother trying to restrain that which cannot be confined, for this is merely the greatest curse of the cosmic scheme.
The Great Southern Darkness is scheduled for a North America release on September 27, 2011 via Metal Blade Records.
Check out "Secret Ride To Rebellion" at the band's official landing page, where you will also find pre-order details, HERE.
http://www.gloriorbelli.com
http://www.facebook.com/gloriorbelli
http://www.myspace.com/gloriorbell
http://www.metalblade.com/gloriorbelli