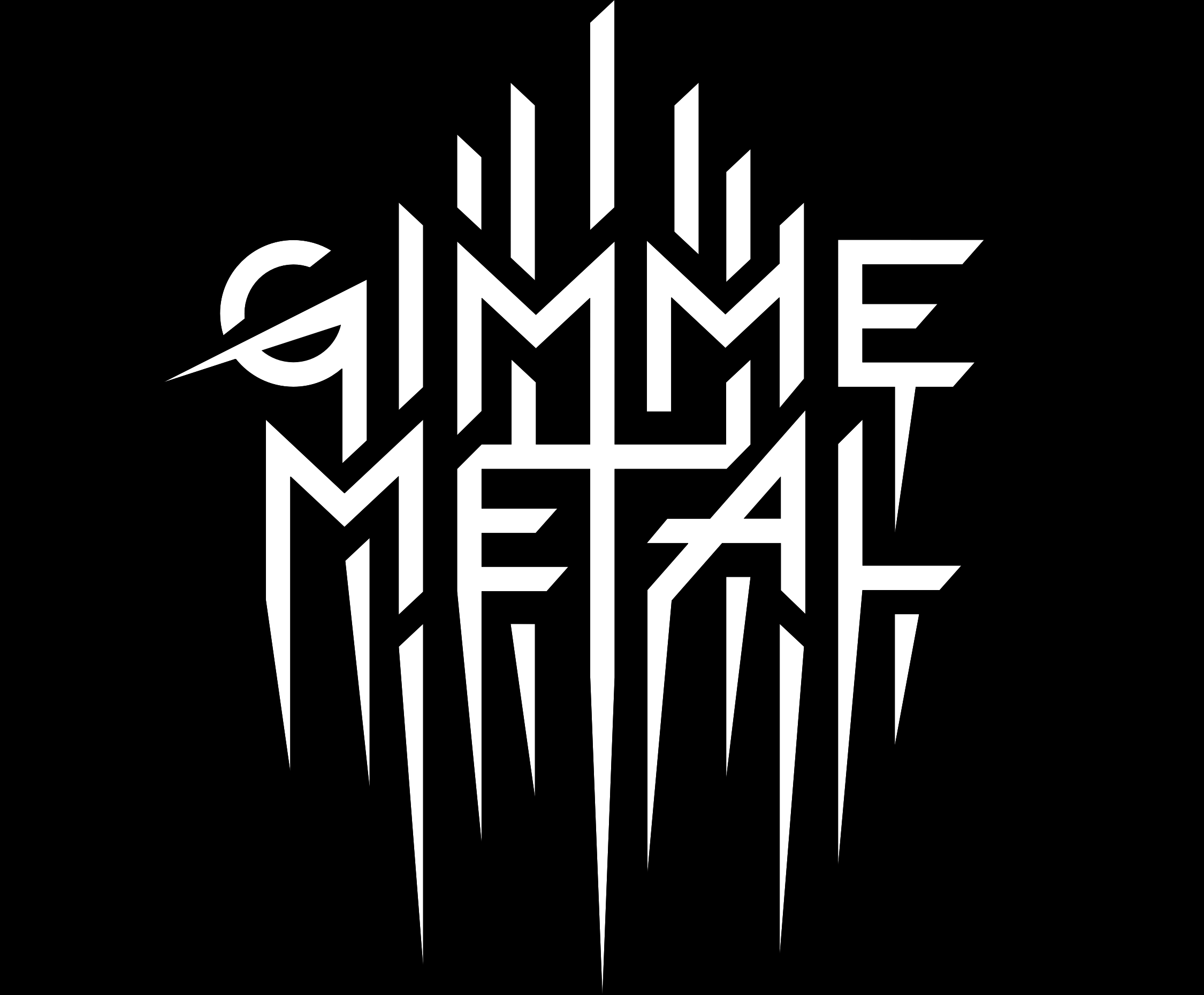 Each week, GIMME METAL publishes its radio chart listing the top 40 tracks played on the station. Already the best metal discovery service online, the GIMME METAL chart is a powerful tool for listeners, labels, and artists for staying up to date on the best new metal released by established greats and up-and-coming underdogs, all handpicked by GIMME's knowledgeable DJ roster and editorial team.
GIMME METAL Chart – May 18th, 2021:
1. Evile (ft. Brian Posehn) – "Gore"
2. Portal – "Eye"
3. Yautja – "The Spectacle"
4. At The Gates – "Spectre Of Extinction"
5. Akiavel – "The Witness"
6. Funeral Leech – "Statues"
7. Amenra – "De Evenmens"
8. Spectral Wound – "Soul Destroying Black Debauchery"
9. Author & Punisher – "Excess"
10. Altarage – "Maneuvre"
Click HERE for the full Top 40 List.
This week on GIMME METAL:
Haunt Guest DJ Special – New episode! Join Haunt mainman Trevor William Church for a two hour metal extravaganza. Son of Montrose bassist Bill Church, the California native has quickly come into prominence with a bewitching brew of classic, turn-of-the-'80s heavy metal, drawing deeply from the momentous NWOBHM movement. Haunt's latest full-length, Beautiful Distraction, was released earlier this Spring and continues to mine the great terrain Church has staked so well. Don's miss it and don't forget to join in the Live Chat!
Vexed Guest DJ Special – Fast-rising UK based upstarts Vexed have been checking off boxes as the next big name in aggressive-yet-progressive modern metal, and are about to release their most ruthless offerings yet with Culling Culture, set to drop May 21st on Napalm Records. Ethereal leads and destructive, airtight riffs, technically adept drumming and vocalist Megan Targett's undeniably dynamic, haunting vocal power all take front and center. Welcome the band to their first ever GIMME METAL takeover this Wednesday and check out the new LP!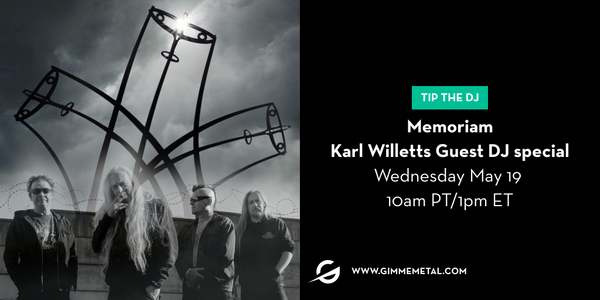 Memoriam Guest DJ Special – To celebrate the release of Memoriam's fourth LP To The End, out now on Reaper Entertainment, GIMME METAL welcomes the one and only Karl Willetts to his second guest DJ special! Legendary throat shredder for Bolt Thrower from 1988-1994 and 2004-2016, Willetts' influence on UK and international metal can not go understated. After founding Memoriam with Benediction bassist Frank Healy, the band has torn it up at full throttle with its inimitable style of death metal, releasing a stream of LPs culminating with this latest blaster. As an added bonus, tune in to GIMME METAL 2 Saturday May 22nd starting 11:00am ET / 8:00am PT to hear both of Willetts' specials back-to-back as well as archival Bolt Thrower spotlight episodes from Owen Rundquist and Bozz!
This week on GIMME METAL TV: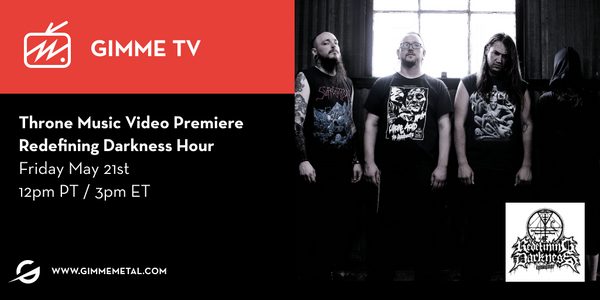 Throne Video Premiere on Redefining Darkness Label Hour – Tune in Friday at 3:00pm ET /12:00pm PT for the premiere of Throne's new video for the track "Beyond Malice" off of their recent debut album Pestilent Dawn, out now on Redefining Darkness Records! A complete death/black bludgeoning from beginning to end, Pestilent Dawn showcases the band's mastery of the genre. Following the debut of "Beyond Malice," you'll get videos from other killer bands on the label in honor of a special Redefining Darkness Records Hour!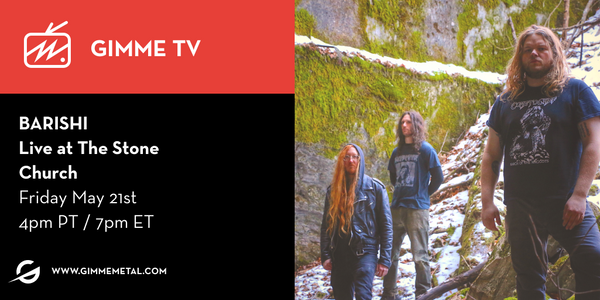 Barishi Live at The Stone Church – Season Of Mist's premier progressive sludge metal band Barishi's most recent release, Old Smoke, is clear evidence that the Vermont collective's dark and melodic sound has evolved. A sprawling cacophony of earth-shattering grooves and ferocious elegance, the record redefines contemporary progressive metal. Catch an enrapturing live performance of the pulverisingly euphonic tunes from Old Smoke, captured at The Stone Church venue in Vermont last May and hang out with the band in the Live Chat! Download the GIMME METAL app to watch this FREE event on GIMME TV!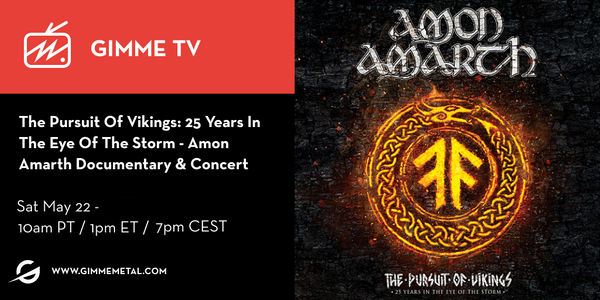 Amon Amarth Documentary + Concert: The Pursuit Of Vikings: 25 Years In The Eye Of The Storm – It's your second opportunity to celebrate the GIMME METAL Vinyl Club release of Amon Amarth's now-classic Once Sent From The Golden Hall debut with this special Amon Amarth documentary and concert, The Pursuit Of Vikings: 25 Years In The Eye Of The Storm. The retrospective documentary features a wealth of live and behind-the-scenes content and extensive band interviews. The concert portion was released as a supporting live album as well. Don't miss it!
Upcoming on GIMME METAL:
5/24 Southern Lord Label Special
5/25 Colin Marston's Lockdown Year Special
5/28 Autumn For Crippled Children
6/01 Skeletal Remains
6/02 Cirith Ungol
6/03 Senyawa Indonesian Metal Special
6/04 Vulture
6/07 Red Fang
6/09 Yautja
6/11 Slam Spectacular with Andee Connors & Anthony Bartkewicz
6/14 Michael Alago
6/18 Frozen Soul
6/22 Possessed
6/25 Thy Catafalque
6/30 Withered
7/02 Pestilence
7/07 Autopsy
7/13 The Lion's Daughter
7/19 Fulci
7/23 Tee Pee Records Label Special
8/18 Hooded Menace
Don't miss it! Visit GIMME METAL: http://gimmemetal.com.
About GIMME METAL:
Founded by digital music veterans from Apple Music, Google Play, Beats Music, and Napster, parent company GIMME Radio builds highly engaged communities for the passionate fan on a genre-by-genre basis. The company launched its first community in June of 2017: the world's first 24/7 metal-focused service. Fans tune in to hear world class DJs playing metal they can't hear anywhere else – for free. The GIMME METAL app and streaming radio service allows the fans and the DJs/artists to communicate directly with one another in a live feed, in real-time, while they listen. Its roster of 70-plus DJs includes Dave Mustaine of Megadeth, Jessica Pimentel, star of Orange Is The New Black, Brian Posehn, and Randy Blythe of Lamb Of God, among many others.
http://gimmemetal.com
http://www.facebook.com/gimmemetal
http://twitter.com/gimmeradio