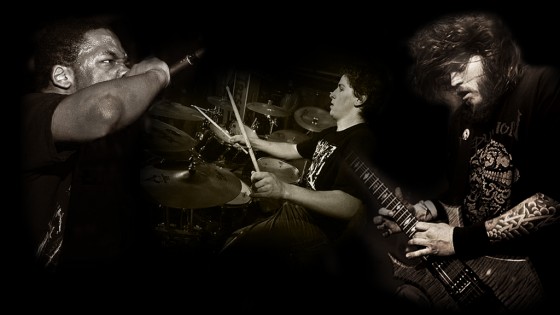 Extreme psychedelic tech metal eccentrics, GIGAN, are pleased to announce the Ritualistic Projection Tour 2013 headlining trek. Set to commence October 18 in Appleton, Wisconsin, the brief but pulverizing run will trample through seven cities and include an in-store matinee performance at Reckless Records in Chicago with additional performances to be announced in the coming weeks.
GIGAN will be touring in support of their forthcoming Multi-Dimensional Fractal Sorcery And Super-Science full-length. A kaleidoscopic sound voyage that is at once musically complex and meticulously concise, Multi-Dimensional Fractal Sorcery And Super-Science dishes up eight hymns of cranium-bending, hallucinatory brutality. The multi-textured offering was recorded with renowned sound-weaver Sanford Parker (Minsk, Buried At Sea, Yakuza) at Earth Analog Studios in Chicago and is set to drop this Fall via Willowtip Records.
In the meantime, fans can still rupture their tympanic membranes with streams of "Influence Through Ritualistic Projection" playing at Revolver Magazine HERE and "Electro-Stimulated Hallucinatory Response," streaming at Decibel Magazine HERE.
GIGAN Ritualistic Projection Tour 2013:
10/18/2013 The Maritime – Appleton, WI
10/19/2013 Reckless Records (In-Store Matinee) – Chicago, IL
10/19/2013 Frank's Power Plant – Milwaukee, WI
10/20/2013 The Cobra Lounge – Chicago, IL
10/23/2013 St, Vitus – Brooklyn, NY
10/24/2013 Roggie's – Boston, MA
10/25/2013 The Boneyard – Atlantic City, NJ
10/26/2013 Trickshots – Albany, NY
The brainchild of left-handed lead guitarist and founding member Eric Hersemann, GIGAN has been challenging the mortal laws of extreme music and creativity since early 2006. Forged around the simple notion that the imagination should be art's only limit, GIGAN's style of creative delivery has simultaneously invoked reactions of amazement, disbelief, shock, awe and ultimately, respect.
Multi-Dimensional Fractal Sorcery And Super Science will be released in North America via Willowtip Records October 15, 2013.
"The difference between them and the throng of Cynic-fellating bands that have been kicking around as of late is that GIGAN have personality beneath their guitar wanking and trippy asides." – MetalSucks
http://www.facebook.com/Giganmusic
http://www.willowtip.com
http://www.facebook.com/willowtip
http://www.twitter.com/willowtip
http://willowtip.bandcamp.com