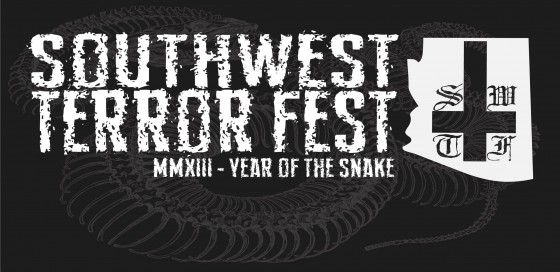 Following its crushingly triumphant debut maiden occurrence last year, the second Tucson, Arizona-based SOUTHWEST TERROR FEST 2013: Year Of The Snake has been confirmed and the full lineup for the massive gala announced!
This fully DIY undertaking, booked by musicians, for musicians, is a low-cost event for all ages. Once again organized and hosted by Tucson sludgetroopers GODHUNTER, the now annual SOUTHWEST TERROR FEST brings a one-of-a-kind extreme underground music festival to the Southwestern quadrant of America. This year, the experience has been expanded into an immense four-day event, now confirmed to invade Tucson venue The Rock from Thursday, October, 10th through Sunday, October 13th. The SOUTHWEST TERROR FEST 2013: Year Of The Snake lineup features even more national headlining acts than last year, including legends like Sacred Reich and Vehemence, along with Kylesa, Red Fang, Demon Lung, Ancestors, Subrosa, Landmine Marathon, Early Graves and others, and a long line of newer underground acts, totaling more than sixty bands! Whether you like punk, sludge, black metal, thrash, grindcore, post-metal, etc., something for all fans of extreme music is to be found at this event.
SOUTHWEST TERROR FEST 2013: Year Of The Snake is sponsored by Earsplit PR, Moon Smoke Shops, Lace Pickups, Cvlt Nation, Zombie Effects Lab, Ear/Splitters, Axe Of Contrition, Acid Reflux Records, Violent Resonance.com, Lindy's on 4th, Black Rose Tattoo and Sticks N' Strings Music Center
View the full SOUTHWEST TERROR FEST 2013 lineup below, and check out the event flyer by Plagued Visual Designs, snag four day discounted passes, t-shirts, pass/shirt combos and more at the official event site HERE, or single day tickets HERE.
SOUTHWEST TERROR FEST 2013: Year Of The Snake:
10/10-13/2013 The Rock – Tucson, AZ [info]
Thursday, October 10th: Kylesa, Pinkish Black, Sierra, Ancestors, Demon Lung, Godhunter, Anakim, Vanish Twin, Goatroper
Friday, October 11th: Sacred Reich, Landmine Marathon, Vehemence, Transient, Magguts, Cave Dweller, Angelic To Ashes, Necrambulant, Sovereign, Our Daily Trespasses, Lethal Dosage, Casket Birth, Kvasura, Evasion, Eight Legged Horse, Napalm Strike
Saturday, October 12th: Red Fang, Helms Alee, Dog Shredder, Subrosa, Deathkings, Crankbait, Aseethe, Thorncaster, North, Sorxe, Goya, Ladybird, Oryx, Skulldron, Bhorelord, Acidalia, Funerary, Methra, Conqueror Worm, Destroy Her
Sunday, October 13th: Early Graves, Children Of God, Theories, ACxDC, Lost Lands, GAT ROT, Territory, Inoculara, Magnum Force, Sex Prisoner, Seas Will Rise, Sorrower, American Standards, Biocidio, Berith, Freedom Assault, Swamp Wolf, Wookiee Rage, Get A Grip, SLUG.
http://southwestterrorfest.bigcartel.com
https://www.facebook.com/southwestterrorfest