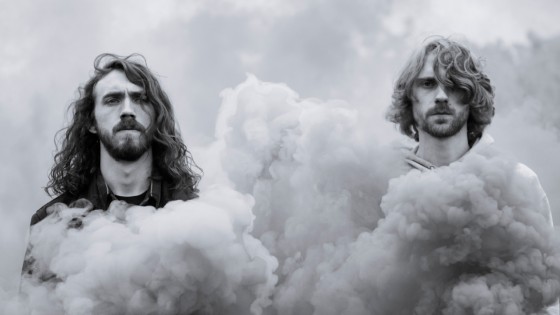 South London's bass and drums power-duo, GHOLD, begins their first North American tour in just one week. Supporting their revoltingly intense debut LP, Of Ruin, GHOLD will bring their monolithic sludge to stateside fans as direct support for Norwegian avant-rock explorers, Ã…rabrot.
Several new shows have been added to the upcoming tour, bringing the total of cities to be decimated by the GHOLD and Ã…rabrot combo to twenty-three. The action begins on June 24th in Boston, after which it will wind its way throughout the country and into Canada in a mangled counter-clockwise path closing down in New York City on July 19th. Along the way, the tour package will be joined by the likes of Rabbits, Towers, Dispirit, Lycus and many others, including Pinkish Black on the final six dates.
Recorded at lss Studio with Dan Miller, Of Ruin and mastered by James Plotkin (Khanate, OLD), GHOLD's commanding low-end esotericism and chopped-and-screwed rhythmic capabilities bellow forth with ceaselessly enthralling grit and grime on Of Ruin. The components of bass and drums are bound together so tightly that they resemble a singular contorted entity, kneading grooves and manta-driven insanity with explosive results. Intrinsically heavy and elastically supercharged, GHOLD creates a strain of viscous rock that is as devastating as it is unpredictable, pushing down the scales in a myriad of manners to achieve an ever heavier outcome. Fans of Melvins, Eagle Twin, Lightning Bolt, Corrupted, Thrones, Yob, Towers and the like, do not miss this slow-motion mayhem.
Experience the torment of GHOLD's Of Ruin for yourself; the album is streaming in full RIGHT HERE.
Of Ruin can be purchased directly from Ritual Productions on black and colored vinyl LP HERE, on CD HERE and digitally HERE.
GHOLD North American Summer Tour w/ Ã…rabrot:
6/24/2015 O'Brien's Pub – Boston, MA
6/26/2015 The Depot – York, PA
6/27/2015 Now That's Class – Cleveland, OH
6/29/2015 The Burlington – Chicago, IL
6/30/2015 Fubar – St Louis, MO
7/01/2015 Jackpot Saloon – Lawrence, KS
7/02/2015 Hi Dive – Denver, CO
7/03/2015 Kilby Court – Salt Lake, City, UT
7/04/2015 The Shredder – Boise, ID
7/05/2015 The Highline – Seattle, WA
7/06/2015 The Hindenburg – Vancouver, BC
7/07/2015 Rotture – Portland, OR w/ Rabbits, Towers
7/08/2015 Starlite Lounge – Sacramento, CA w/ Dispirit, Lycus
7/09/2015 SF Eagle – San Francisco, CA
7/10/2015 Thee Alley – Los Angeles, CA
7/11/2015 Exploded View Gallery – Tucson, AZ
7/12/2015 Lowbrow Palace – El Paso, TX
7/14/2015 Holy Mountain – Austin, TX w/ Pinkish Black
7/15/2015 Siberia – New Orleans, LA w/ Pinkish Black
7/16/2015 The 529 – Atlanta, GA w/ Pinkish Black
7/17/2015 Local 506 – Chapel Hill, NC w/ Pinkish Black
7/18/2015 Strange Matter – Richmond, VA w/ Pinkish Black
7/19/2015 The Studio @ Webster Hall – New York, NY w/ Pinkish Black
http://www.ghold.co.uk
http://www.facebook.com/GholdBand
http://twitter.com/GholdBand
http://ghold.bandcamp.com
http://soundcloud.com/ghold
http://www.ritualproductions.net
http://www.facebook.com/ritualproductionsuk
http://ritualproductions.bandcamp.com