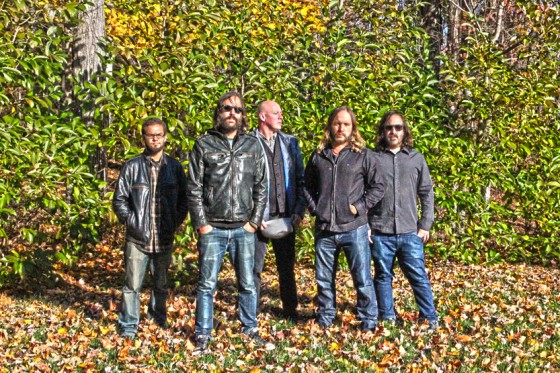 NYC stoner rock/doom rock unit, KINGS DESTROY, will take to the streets this August as direct support to bong-wielding metal legion, Weedeater. Slated to initiate on August 4th in Atlanta, Georgia, the trek will trudge its way up the east coast and back again coming to a close on August 16th in Asheville, North Carolina.
In celebration of the tour announcement, KINGS DESTROY today unleashes the official new video for "Mr. O." Now playing at The Obelisk, the Big Apple-centric, Josh Graham (Suspended In Light)-directed clip comes by way of the band's self-titled new full-length released last month via War Crime Recordings. Thrusting forth seven, soul-infused, lead-footed rock hymns, the record was captured and mixed by Sanford Parker (Twilight, Voivod, Eyehategod, Yob etc.) at Studio G and mastered by Collin Jordan (Eyehategod, Indian, Wovenhand, Voivod etc.).
Issues The Obelisk of the clip, "'Mr. O' is a litmus test to determine who's going to get it and who isn't. Easily the most upbeat track they've recorded to date, its lyrics refer to Reggie Jackson, who has become in the last several decades analogous not just to a vision of late-'70s power hitting standing in for some mustachioed lost masculine ideal, but more specifically for the era of New York City that KINGS DESTROY's Kings Destroy takes as its central theme. Before the porn shops were closed, before Mayor Rudy Giuliani had the homeless secretly killed (prove it didn't happen), when the Knicks were good and the Yankees were gods, the streets smelled of piss (some things never change) and there was danger. It wasn't a place to raise kids. It was a place to get stabbed."
See for yourself, courtesy of The Obelisk, at THIS LOCATION.
KINGS DESTROY w/ Weedeater:
8/04/2015 529 Bar – Atlanta, GA
8/05/2015 The Jinx – Savannah, GA
8/06/2015 Tremont Music Hall – Charlotte, NC
8/07/2015 Hardywood Brewery – Richmond, VA
8/09/2015 Johnny Brenda's – Philadelphia, PA
8/10/2015 The Sinclair – Boston, MA
8/11/2015 Saint Vitus Bar – Brooklyn, NY
8/12/2015 The Depot – York, PA
8/13/2015 31st Street Pub – Pittsburgh, PA
8/14/2015 Sherlocks – Erie, PA
8/15/2015 Outpost – Kent, OH
8/16/2015 Mothlight – Asheville, NC
With their third album in four years, KINGS DESTROY leaves their hardcore-laden stamp on noise rock and doom. Featuring within their groove-laden ranks guitarists Carl Porcaro and Chris Skowronski from Killing Time, vocalist Steve Murphy from Uppercut, drummer Rob Sefcik formerly of The Begotten, Uppercut, Fur and Electric Frankenstein and bassist Aaron Bumpus, KINGS DESTROY gets its moniker from an infamous graffiti gang from the Bronx circa late '70s/early '80s. The band members met in this vicinity and were heavily involved in the New York Hardcore scene of the late '80s that merged hardcore music, metal, graffiti and hip hop…all distinct forms united in the underground.
King Destroy is out NOW on LP, CD and digitally via War Crime Recordings. CD orders are currently available HERE. For vinyl orders go HERE. Digital orders are also available via Amazon HERE or iTunes HERE.
"It's a great album. Heavy, yes. Doom? Yes, with a dose of the best of the '90s. I'm a fan of the '90s, so that is meant as a compliment. But what is best about KINGS DESTROY is that they write good songs. Helmet meets early Queens Of The Stone Age meets Kyuss/Unida, roughly. [Steve] Murphy's vocals are strong and really steps up what is already killer. Great production, tones, performances." – Mike Scheidt, YOB
"KINGS DESTROY is some heavy shit. I can feel the emotion. I can tell Murphy has got some serious pain; he's singing from his balls." – Bobby Liebling, Pentagram
"There's Pentagram homage all over cuts like the amazing 'Mr. O,' while the grooves and hooks on opener 'Smokey Robinson' are doom-rock majesty the likes of which don't come around often enough. The quality level here threatens to eclipse whatever proto-doom reissue vinyl you have laying around, and the passion and execution are sure to cut a clear path through the smoked-out haze." – Revolver
"Three albums in, their song writing is diverse yet confident, flowing from fierce hooks to oppressive atmospherics fluidly and with ease. With such quality and calibre shining through as well as the passion and execution, they are sure to cut their own individual path through the smoked out haze." – The Sludgelord
"…rewarding, occasionally challenging, but always of high quality." — Maximum Volume Music
"…the band plays a nice mixture of stoner rock and doom metal, one that often sounds like a blend of Black Sabbath, Yob, Sleep, Queens of the Stone Age, Helmet, Kylesa…" – Sea Of Tranquility
"…a brutal masterpiece…" — Skulls 'N' Bones
"The band's… self-titled album… sounds like it came from that era, when New York was a grimy and dangerous place, walls with spray-painted tags and art outnumbered clean ones, and the brightest colors anyone wore were shit brown and navy blue." – MetalSucks
http://www.facebook.com/KingsDestroy
http://www.kingsdestroy.com
http://www.facebook.com/WarCrimeRecordings