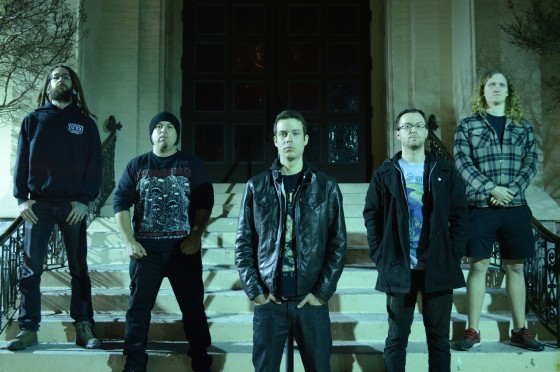 Following the release of their critically lauded The Hypothesis full-length, today CONTINUUM, in cooperation with mega tech site Gear Gods, unveils a brand new, no-frills play-through clip of an as-yet-untitled new track.
Elaborates Gear Gods, "[Lead guitarist/composer] Chase Fraser lays down the gauntlet in this one – a gauntlet big enough for four players, one of whom is a wizard that needs food badly. In the past I've ranted about how heavily edited play-throughs are really just lightly edited music videos in disguise. Well, CONTINUUM don't bring their jester to that court. This video has zero guitar edits – one take, no bullshit. And just to top it off they got Keith Merrow to mix the damn thing."
Feel bad about your weak playing skills and head over to Gear Gods at THIS LOCATION.
You can also check out a recent interview with Fraser courtesy of Seymour Duncan HERE.
A true monolith of progressive technical death metal, CONTINUUM's The Hypothesis was released in April via Unique Leader Records. Captured predominantly by lead guitarist/composer Chase Fraser (Decrepit Birth, Animosity), with additional tracking and mixing by Zack Ohren (Suffocation, Fallujah, All Shall Perish et al.) at Castle Ultimate Studios, the ten-track The Hypothesis flaunts a cripplingly precise assemblage of engaging, abrasive, surgically accurate and unrepentantly violent compositions based conceptually on the mysteries of the infinite and the unsolved theories of the "continuum hypothesis."
Forged in 2009, CONTINUUM features the current working lineup of Fraser alongside guitarist Ivan Munguia (Arkaik, Deeds Of Flesh), vocalist Riley McShane (Son Of Aurelius), bassist Nick Willbrand (Flesh Consumed) and drummer Spencer Edwards (Son Of Aurelius). Together, the CONTINUUM collective provides a sound that rocks the very foundation of modern death metal.
The Hypothesis is out NOW via Unique Leader Records. Order yours today HERE.
"Bolstered by a pristine production and show-stopping detail, CONTINUUM's The Hypothesis is a staggeringly well-executed display of full-throttle, procedural brutality. …for those of us who connect, plug in, and enjoy getting lost in such an aesthetic brainfuck, rest assured that this Bay Area singularity has created one of the most impressive tech-death albums of the year." – The Metal Observer
"The Hypothesis offers an incredible wealth of mesmerizing musical ideas and stands as a complex and masterful statement of how to rise above the rest of the technical death metal pack. Unique Leader has been on an impressive release streak, and if you are a fan of what they put out, this is one of the best things the label has ever released." – No Clean Singing
"A primer in progressive technical death metal, insane polyrhythmic drumming, manic riffing, scabrous dual vocalizing and other-worldly lead guitar runs this is one for lovers of the genre. Highly recommended!" – Aural Delights
"With slick production, a great sound, and stellar performances by all involved, 'The Hypothesis' by Continuum is a great addition to any metalhead's collection." – The Sludgelord
"The Hypothesis is sure to please tech death fans. With a few interesting diversions from the usual formula, they've also proven they have the ability to standout in a perpetually expanding genre." – Dead Rhetoric
The Hypothesis is out NOW via Unique Leader Records. Order yours today HERE.
http://www.facebook.com/continuumDM
http://www.uniqueleader.com
http://www.facebook.com/UniqueLeaderRecords
http://www.twitter.com/UniqueLeaderRec
http://www.youtube.com/uniqueleaderrecords