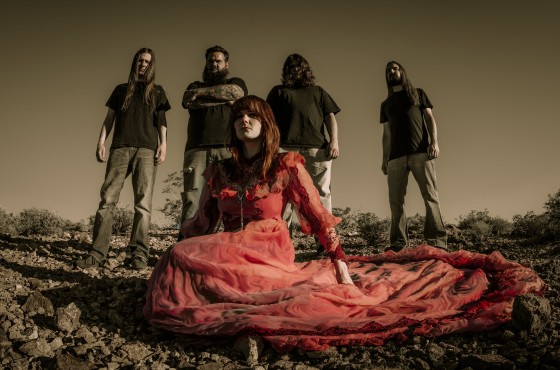 With the release of A Dracula, the hotly anticipated second full-length from Las Vegas-based doom hellions, DEMON LUNG, now less than two weeks away, today Revolver Magazine is hosting the record in its sinister entirety.
Tracked by legendary soundsmith, Billy Anderson (Neurosis, Zoroaster, Eyehategod, Taurus, Brothers Of The Sonic Cloth etc.), A Dracula delivers eight dark, menacing psalms of sin loosely based on Juan López Moctezuma's 1977 horror film, Alucarda in which two teenage orphan girls living in a Catholic convent unleash a demonic force and ultimately become possessed by Satan.
Already reaping the approvals of media outlets nationally and abroad, Doom Metal Heaven names the latest DEMON LUNG platter, "a consistently engaging and mesmerizing work of creative misery," The Sludgelord notes, "A Dracula is a record that screams of heaviness, but it also provides a sonic abyss that allows listeners to get lost in its depth and undercurrent," while Nefarious Realm champions, "a massive record full of monumental riffs, an impressive rhythm section, and a voice full of soul…by far one of the best releases of the year." Meat Mead And Metal celebrates a production that, "scratches every damn doom itch," and is, "blisteringly fun but also richly mind-altering, like you're being beaten alive as drugs paralyze your system," naming DEMON LUNG, "one of doom's most exciting new bands." Metal Insider concurs, "they've not only avoided the dreaded sophomore slump on their newest opus, but they've kicked it in the nuts and pushed it off a cliff…You'd be hard-pressed to find a better soundtrack this year for gratuitous amounts of blood, and sadistic hedonism… If they were any heavier, any more smothering, the Earth would open and swallow you whole."
Connect with your inner villain. Check out A Dracula now playing at Revolver at THIS LOCATION.
In related DEMON LUNG missives, the band will bring their rumbling rituals to the stage of Crucialfest tomorrow and a record release show the following evening with special guests, Ides Of Gemini, as well as Southwest Terror Fest this Fall with additional live ceremonies in their plotting stages.
DEMON LUNG:
6/19/2015 Crucialfest – Salt Lake City, UT
6/20/2015 The Dive – Las Vegas, NV * record release show w/ Ides Of Gemini
10/18/2015 Southwest Terror Fest @ Club Congress – Tucson, AZ
A Dracula comes nearly two years to the date from the successful release of the band's critically-lauded, 2013-released The Hundredth Name. Media applauded the band, especially vocalist Shanda Fredrick with Decibel Magazine gushing, "She emerges like a high empress, adding real soul to the quintet's lurch." A Dracula will be released via Candlelight Records on June 29th, 2015 with additional tour dates to be be announced shortly. In the meantime, preorders are available at THIS LOCATION. Desirers of the digitals, point your browsers HERE.