Arizona death metal unit GATECREEPER has shared a new video for "Stronghold" off the 2016 released full-length Sonoran Depravation. The video features footage from the Peoples Temple Agricultural Project, better known as "Jonestown," on November 18th, 1978.
Watch the video now below:
Additionally, GATECREEPER will begin their European headline tour in two weeks. The trek commences on September 8th in Finland and runs until September 22nd in Netherlands. Support will be provided by Ratlord on select dates. The band also is set to perform at HOCO Fest 2017 on August 31st and provide direct support for Cannibal Corpse and Power Trip in the US throughout November and December.
GATECREEPER's latest album Sonoran Depravation is out now on CD/LP/Digital via Relapse Records. Physical packages, including the album's fourth LP pressing, are available via Relpase.com HERE and digital orders via Bandcamp AT THIS LOCATION.
Stream GATECREEPER's live EP Unleashed In The Middle East now on Spotify HERE and Apple Music HERE. Watch the band's official video for "Desperation" below: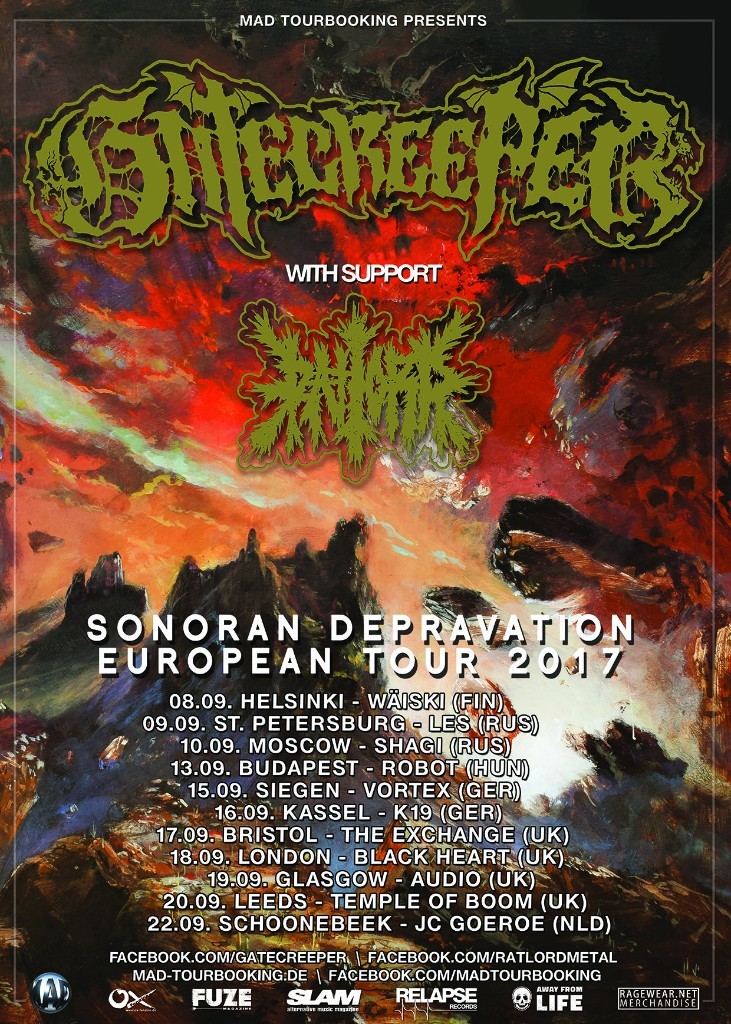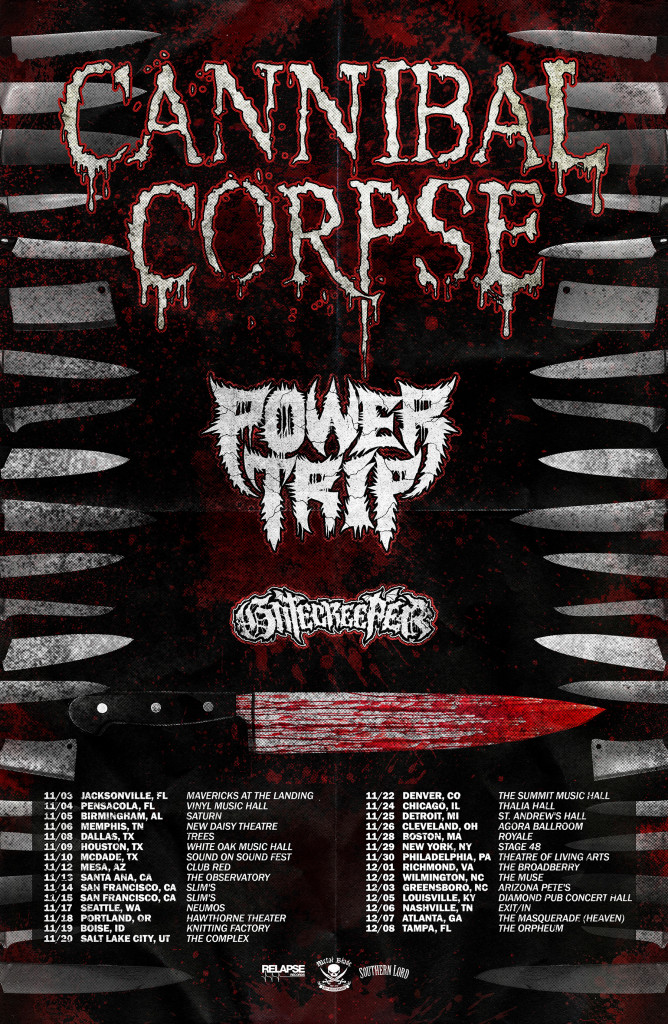 GATECREEPER:
8/31/2017 HOCO Fest 2017 – Tucson, AZ
w/ Ratlord:
9/08/2017 Waiski – Helsinki, FI *
9/09/2017 Les – St. Petersburg, RU *
9/10/2017 Shagi – Moscow, RU *
9/15/2017 Vortex – Siegen, DE
9/16/2017 K19 – Kassel, DE
9/17/2017 The Exchange – Bristol, UK
9/18/2017 Black Heart – London, UK
9/19/2017 Audio – Glasgow, UK
9/20/2017 Temple Of Boom – Leeds, UK
9/22/2017 JC Goeroe – Schoonebeek, NL
w/ Cannibal Corpse, Power Trip:
11/03/2017 Mavericks – Jacksonville, FL
11/04/2017 Vinyl Music Hall – Pensacola, FL
11/05/2017 Saturn – Birmingham, AL
11/06/2017 New Daisy Theater – Memphis, TN
11/08/2017 Trees – Dallas, TX
11/09/2017 White Oak – Houston, TX
11/10/2017 Sound On Sound Festival – Austin, TX
11/12/2017 Club Red – Phoenix, AZ
11/13/2017 The Observatory – Santa Ana, CA
11/14/2017 Slim's – San Francisco, CA
11/15/2017 Slim's – San Francisco, CA
11/17/2017 Neumos – Seattle, WA
11/18/2017 Hawthorne Theater – Portland, OR
11/19/2017 Knitting Factory – Boise, ID
11/20/2017 The Complex – Salt Lake City, UT
11/22/2017 Summit – Denver, CO
11/24/2017 Thalia Hall – Chicago, IL
11/25/2017 St. Andrews Hall – Detroit, MI
11/26/2017 Agora Ballroom – Cleveland, OH
11/28/2017 Royale – Boston, MA
11/29/2017 Stage 48 – New York, NY
11/30/2017 TLA – Philadelphia, PA
12/01/2017 Broadberry – Richmond, VA
12/02/2017 The Muse – Wilmington, NC
12/03/2017 Pete's – Greensboro, NC
12/05/2017 Diamond Pub Concert Hall – Louisville, KY
12/06/2017 Exit/In – Nashville, TN
12/07/2017 Masquerade – Atlanta, GA
12/08/2017 The Orpheum – Tampa, FL
12/10/2017 89th Street Collective – Oklahoma City, OK *
12/11/2017 Sister – Albuquerque, NM *
* GATECREEPER Only
GATECREEPER was forged in September of 2013 with members originating from both Tucson and Phoenix, Arizona. Bonded together over a mutual love of oldschool death metal, GATECREEPER set out to write classic yet memorable songs for a new generation. The band recorded and released a self-titled four song EP digitally in April of 2014 which quickly garnered the attention of Pitchfork, CVLT Nation, and other notable music blogs. A music video for the song "Force Fed" was premiered on Invisible Oranges and the EP was soon released on 12″ vinyl by King Of The Monsters and Protagonist Music in October of 2014. This short but satisfying release gained the band a large following of fans from both the hardcore and metal communities.
2015 saw GATECREEPER embark on their first tour of the West Coast, soon followed by the release of a split 7″ with fellow Arizonans Take Over And Destroy. The song "Poisoned Mind" continued to propel GATECREEPER, who Noisey named, "one of the genre's fresher, younger voices," further into the spotlight. The band spent the second half of 2015 touring the East Coast, cultivating their rapidly growing local and national following, and recording more new material to be released on several different split releases throughout early 2016.
After returning from another West Coast tour, this time with Colorado's Of Feather And Bone, GATECREEPER returned to Homewrecker Studios to record their debut full-length album with Ryan Bram in Tucson, AZ. Sonoran Depravation was mixed by Kurt Ballou (Converge, Nails, Black Breath) and mastered by Brad Boatright (Obituary, Sleep, Magrudergrind), both of whom are known for their unparalleled work in the extreme metal world. The resulting record, a nine-song offering of monstrous death metal, is without a doubt GATECREEPER's finest work yet.
http://www.facebook.com/gatecreeper
http://www.relapse.com
http://www.facebook.com/RelapseRecord