[photo by AJ Montague]
The newest single from New Jersey/New York-based FULL SCALE RIOT has been released through an exclusive premiere of "Game Face" through mainstream metal portal Loudwire, the track including a soaring guest guitar track from international musician/activist Ben Harper.
Recorded to 2″ tape at Trax East Recording Studio (Misfits, Turmoil, Hatebreed), engineered and co-produced by Eric Rachel with assistance from Eric Kovortec, FULL SCALE RIOT's empower features a widespread network of guests, including Jimmy Gestapo (Murphy's Law), rapper Chris Rivers (son of the late great rapper Big Pun), Marc Rizzo (Soulfly, Misfits), and Tsarina Romanoff, in addition to the uplifting guitar tracks from blues/rock/reggae/soul singer/multi-instrumentalist and activist Ben Harper on "Game Face."
Loudwire boasts of the track, "'Game Face' opens up with a crescendoing sustained guitar lick, teasing the feature rhythm that kicks into action when the full band comes in. The groove is anchored by a clanking bass tone, but quickly subsides in favor of a staccato rhythm, teasing that opening guitar riff now and then. With a bit of hip-hop influence in the song, namely in the vocal cadence and drum beats, the song employs a clever balance of head-bobbing and aggression."
Hear FULL SCALE RIOT's "Game Face" featuring Ben Harper only through Loudwire at THIS LOCATION.
Also stream empower's "Hope" featuring Soulfly's Marc Rizzo at Metal Insider RIGHT HERE, and the album's opening track "Hold You To The Fire" at Revolver Magazine HERE.
Comprised of guitarist Tim McMurtie (ex-M.O.D., Rhythm Trip), vocalist BJ Allen, bassist Jeff Wood (Shat, ex-M.O.D., ex-The Dillinger Escape Plan live), and drummer Evan Rossiter, FULL SCALE RIOT follows up their Depopulation EP with the politically-motivated empower, delivering nearly a half-hour of their volatile punk/thrash-fueled hardcore. The album showcases new strengths in their songwriting and delivery, and perpetuates an even-keeled and intellectual batch of socio-politically-fueled tracks, the music wrought with angst and the lyrics focusing on a more forward-thinking society.
Eulogy Recordings will release empower on CD and digital formats on Black Friday, November 25th; preorder packages are available now at THIS LOCATION. The band will self-release a vinyl version in 2017.
FULL SCALE RIOT has booked a release show for empower in Secaucus on November 26th, with more widespread regional tour dates to be confirmed through the coming months.
FULL SCALE RIOT Live:
11/26/2016 The Blue Room – Secaucus, NJ *record release party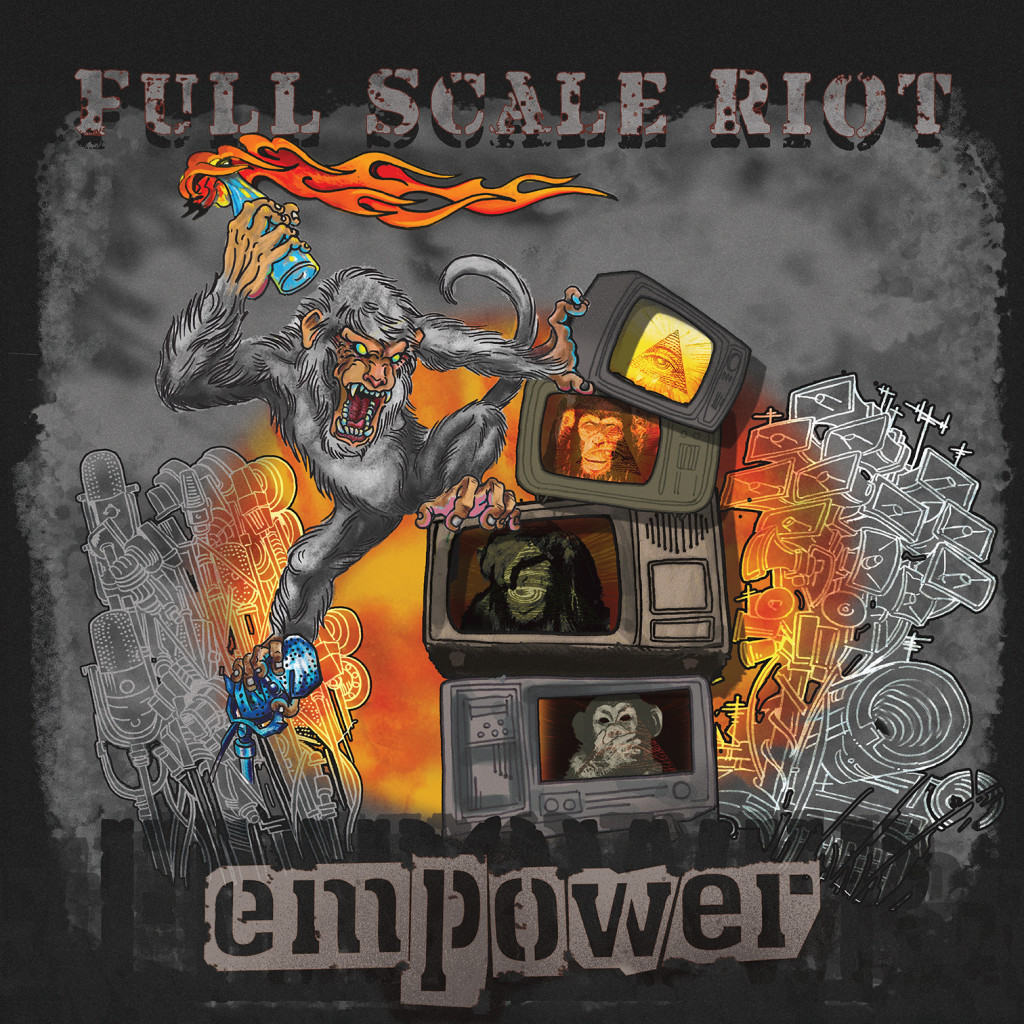 http://www.facebook.com/fullscaleriot
http://www.fullscaleriot.bandcamp.com
http://www.instagram.com/full_scale_riot
http://www.twitter.com/fullscaleriot
http://www.eulogyrecordings.com
http://www.twitter.com/eulogyrecords
http://www.youtube.com/user/eulogyrecordings