Preceding the unrelenting FUCKING INVINCIBLE / LIFESPITE split 7″ EP being issued through Atomic Action! Records next month, Cvlt Nation has premiered a track from each band's contribution to the release.
FUCKING INVINCIBLE, hailing from Rhode Island, is comprised of current/former members of Dropdead, Daughters, Soul Control, Sweet Jesus, and others. Their corrupted output has seen the band issue an LP and an arsenal of splits, EPs, and demos since 2012, most recently their I Hate Myself And Want You To Die 7″. The pack leads the way on the A-side of the split, deploying five scorching new tracks, of their signature, tension-fueled brew of blinding hardcore powerviolence rage, recorded, mixed, and mastered by Will Killingsworth at Dead Air Studio. Fans of Magrudergrind, Dropdead, Coke Bust, Hatred Surge, and the like pay attention.
LIFESPITE is a heavy and blunt outfit from Belgium and The Netherlands, formed by members from Reproach, Blind To Faith, Citizens Patrol, and Left For Dead. Having shared the stage with the likes of Sheer Terror, Infest and Despise You, amongst others, the band has released a 7″ bursting with negative Hardcore inspired by the likes of Haymaker, Sheer Terror, Infest, and the original wave of West Coast powerviolence. On this split release they continue where there debut 7″ left off, with three tracks of wimp-crushing brutality recorded, mixed, and mastered by Marc Van Duivenvoorde at Perimeter Audio, which focus on the extinction of mankind. Nuke this planet.
Cvlt Nation takes this opportunity to jam FUCKING INVINCIBLE's "Buy Or Die" and LIFESPITE's "One By One" into the world's collective jugular as an early warning of what the spilt EP contains.
Stream both tracks at Cvlt Nation RIGHT HERE.
The FUCKING INVINCIBLE / LIFESPITE split sees release through Atomic Action! Records on October 7th. Preorders will follow in the coming days.
Next week, FUCKING INVINCIBLE will raid the West Coast for twelve shows with Los Angeles-based hardcore/powerviolence unit Deadbeat, featuring members of Despise You. The tour takes place from September 22nd through October 2nd, with shows confirmed in Phoenix, Chula Vista, Ventura, Oakland, Eugene, Seattle, Portland, Reno, Fresno, Los Angeles, Long Beach, and Santa Ana on the slab.
FUCKING INVINCIBLE West Coast US Tour w/ Deadbeat:
9/22/2016 Apt 512 – Phoenix, AZ
9/23/2016 The Industry – Chula Vista, CA
9/24/2016 The Garage – Ventura, CA
9/25/2016 The Oakland Metro – Oakland, CA
9/26/2016 The Boreal – Eugene, OR
9/27/2016 The Black Lodge – Seattle, WA
9/28/2016 Post 144 – Portland, OR
9/29/2016 Specter Records – Reno, NV
9/30/2016 Dynamite Vinyl – Fresno, CA
10/01/2016 The Redwood Bar – Los Angeles, CA w/ To The Point (matinee)
10/01/2016 The Forest – Long Beach, CA w/ To The Point (night show)
10/02/2016 The Underground – Santa Ana, CA
FUCKING INVINCIBLE / LIFESPITE 7″ Track Listing:
Side A – FUCKING INVINCIBLE:
1. Buy Or Die
2. More Death
3. Blessing-Curse
4. Divisive Scum
5. Cut Out
Side B – LIFESPITE:
1. Blown To Shreds
2. Pray For Nothing
3. One By One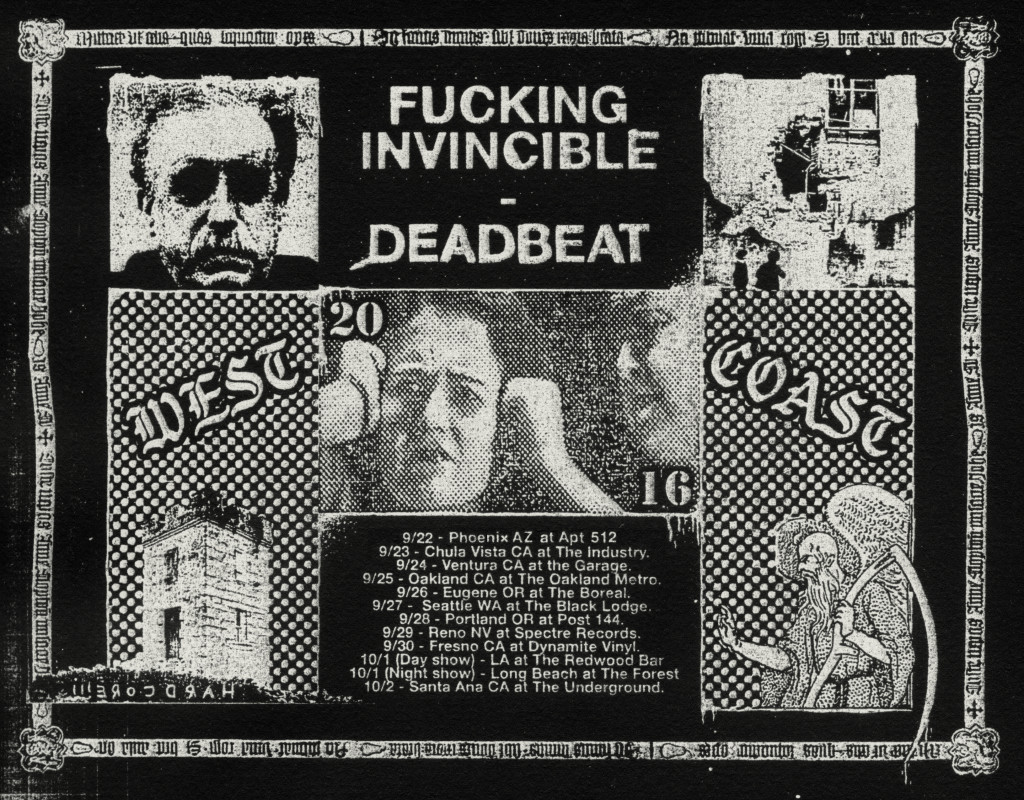 [photo by Joseph Mauro]
[photo by Eva Bling]
http://www.facebook.com/FIpvd
http://www.facebook.com/Lifespite
http://www.facebook.com/AtomicActionRecords
http://atomicactionrecords.bandcamp.com