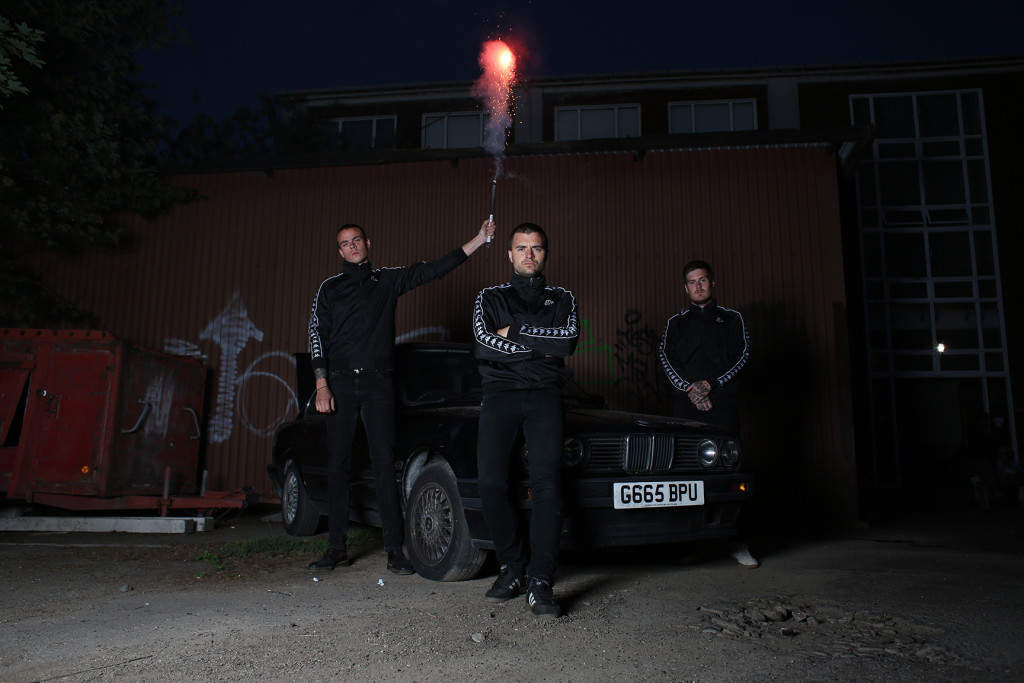 [photo by Naya Buch]
With Copenhagen-based HALSHUG's new Sort Sind full-length now two weeks from release through Southern Lord, No Clean Singing has released a gritty new track from the album.
The overall theme of Sort Sind is inspired by the members' experiences growing up in the 1990s and 2000s in neglected parts of Denmark, hoping to in some way contribute to their scene and invoke some energy in those who hear it. Fitting into this storyline is the track "Vold," which translates to violence, and according to the members of HALSHUG, "is about psychic terror." The song sees premiere through No Clean Singing, who issues, "It's made of monster riffs, thundering percussion, body-moving bass, and skin-stripping vocal fury. There's a sense of physical power and bodily impact in the way the music hits the ears. It's supercharged with energy – and yes, it is indeed a violent kind of energy, with an almost anthemic aura. The song will also get its hooks in you – it's an infectious piece of hardcore punk as well as a battering one."
Uncage HALSHUG's "Vold" at No Clean Singing RIGHT HERE.
The previously-released track "Udskud" is also playing at Cvlt Nation HERE.
Southern Lord will issue HALSHUG's Sort Sind on CD, LP, and digital platforms on September 30th. Preorders and additional audio samples will be unveiled in the weeks preceding its release; preorders can be placed HERE.
Following their recent performances at Roskilde Festival and more throughout Denmark, followed most recently by their first US shows with a brief East Coast tour in August, further live actions from HALSHUG are impending, including a record release show on October 7th and more.
HALSHUG Live:
10/07/2016 BumZen – København, DK *record release show [info]
11/25/2016 Stubborn Fest – Barcelona, ES [info]
HALSHUG's sophomore album Sort Sind delivers nine ripping new tracks, the album's title translating to "black mind." A brutal rock record, Sort Sind bears hints of motorcycle-fueled d-beat while still retaining the raw punk that made the sound on their Blodets Bånd debut so potent, the songs showing an even more destructive and elevated approach to their songwriting. Recorded live, produced and mixed at Ballade Studios by Lasse Ballade, who also produced and mixed Blodets Bånd, the Sort Sind LP was mastered by Brad Boatright at Audiosiege.
http://halshug.blogspot.com
https://halshug.bandcamp.com
https://www.facebook.com/halshugcph
http://www.southernlord.com
http://www.southernlord.bandcamp.com
http://www.facebook.com/SLadmin
http://www.twitter.com/twatterlord