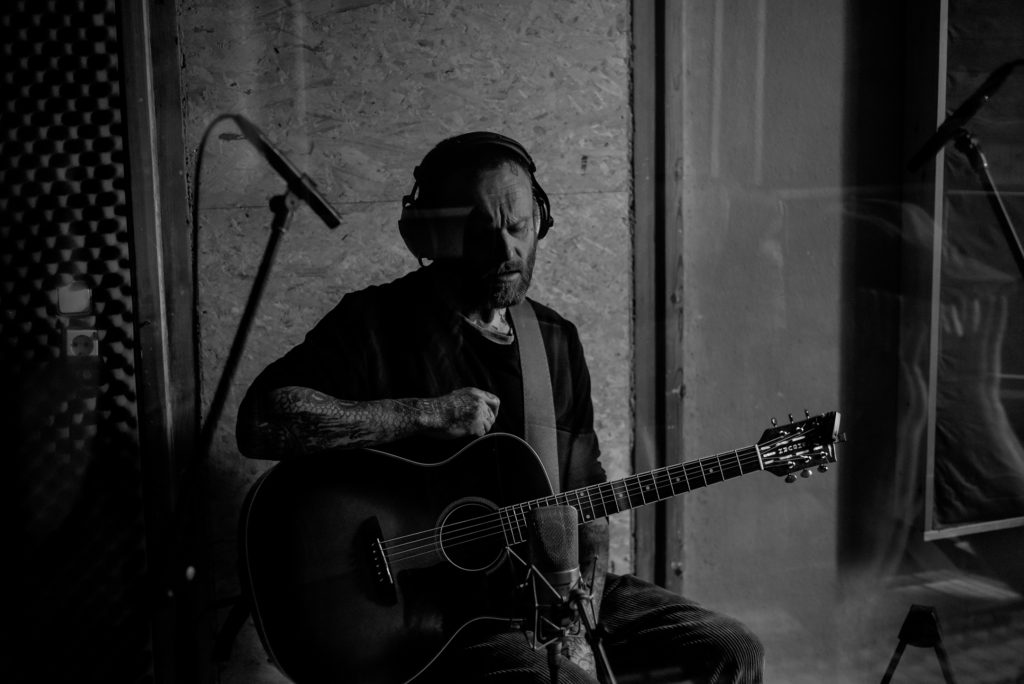 [photos by Christian Thiele]
Exile On Mainstream is pleased to present Mehr Sein Als Schein – Friedemann Live II, a new live double-LP from Germany's noncompliant rock/folk icon, FRIEDEMANN. With the album's cover art, track listing, preorders, and other details, a video for the track "Gelassen" has been issued.
With three studio full-length albums and a prior live album under his belt, FRIEDEMANN remains one of the most truly independent figures in the German music underground. Having been recently dubbed, "the German Ian MacKaye," by no less figure than Scott "Wino" Weinrich, due to his DIY-ethics and no-compromise attitude, FRIEDEMANN has earned merits for being outspoken and a true honest voice of reason in nowadays chaos and self-centered society. His natural gift for storytelling is revealed in his native language, German, and shines through poetic soulful blues alongside straight and radical statements on this new live album, which contains a full concert recorded in Berlin in November 2018.
Mehr Sein Als Schein – Friedemann Live II itself puts a closing bracket around an important part in FRIEDEMANN's career: recorded with a full live band whose line up incorporates his brother Johannes and long-time friend Matze who left the band amicably shortly after the tour. This album therefore marks a recording that punters might not be able to witness live again as FRIEDEMANN will remain on touring solo or as a two-guitarist lineup in the future. The live setting itself reveals FRIEDEMANN's outspoken nature as well as his approach to doubts and questions being raised by today's culture and society setups.
With narrative and radical statements linking the songs he leaves all standards of song announcements we might be used to. The statements in between the songs create another level in approaching his art and can move the listener deeply. Sentiments like this one show how much sense live albums can make as they illustrate in almost perfect manner how much of a personal connection an artist can reach with a crowd when leaving the comfort zone of just pleasing an audience. This album is a challenge as much as it is a blissful experience.
Sample a bit of FRIEDEMANN's Mehr Sein als Schein through the new "Gelassen" video at THIS LOCATION.
Mehr Sein Als Schein – Friedemann Live II will see release through Exile On Mainstream on October 4th. The massive 2xLP package features over one-hundred-eleven minutes of music and is pressed on 180-gram pure virgin black vinyl packaged in a wide-spine sleeve, in a limited run of 500 copies worldwide. While the vinyl does include an mp3 download card of the album, there will be no digital or CD release of the record. Find preorders at the label webshop HERE.
FRIEDEMANN continues to perform live regularly across Germany and Europe and is working on new material for the next studio full-length which will follow in 2020. Stay tuned to all live dates HERE and watch for additional news to be issued in the weeks ahead.
Mehr Sein Als Schein – Friedemann Live II Track Listing:
Side A
1. Intro
2. In Euer Ohr
3. Paola
4. Nackenbrecher Blues
5. Zweifel
6. Geräusch
Side B
1. Eigensinn
2. Anders Gedacht
3. Lied Aus Stille
4. Freiheit
5. Propaganda
6. Die Alternative
Side C
1. Haben Und Brauchen
2. Gejammer
3. Seesucht
4. Ja Sicher
5. Nichts Können
Side D
1. Segeln
2. Lampedusa Blues
3. Wo Bleiben Wir
4. Gelassen
http://www.facebook.com/Friedemann.ruegen
http://www.friedemann-ruegen.de
http://www.mainstreamrecords.de