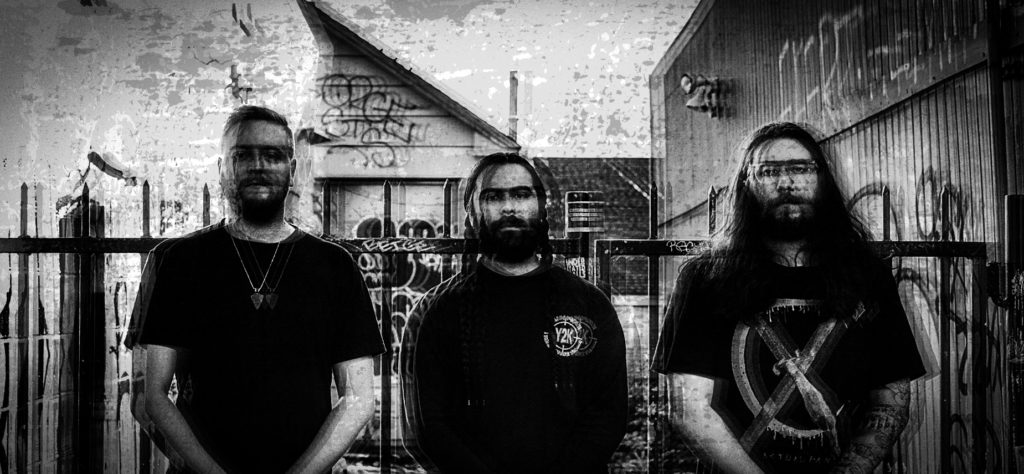 [photo by Donovan Malley]
Seattle hardcore outfit CITY OF INDUSTRY will release their new Conspire Conspire Conspire LP via their own independent label/network, Amerikan Aesthetics, in conjunction with a run of Pacific Northwestern tour dates later this month. With the album and tour several weeks from launch, the band has issued a new single, "Hold Me Like A Grudge," which makes its public debut through a premiere at BrooklynVegan.
Offers CITY OF INDUSTRY's Ossa Humiliata with the "Hold Me Like A Grudge" premiere, "I see it as a sort of love song. Lyrically, I meant it to be an honest, self-deprecating look at the dichotomy of marriage, with me cast as the villain. Two individuals coming together as one means two egos colliding to slowly and painfully create what is to be their own joint kingdom and homestead. It's a beautiful and grievous struggle."
"It was recorded by Terry Paulson and mixed and mastered by Jack Shirley, who also works with Deafheaven, Gouge Away, and more," BrooklynVegan writes of the new LP. "If you like those bands (or Touche Amore or Modern Life Is War or other stuff in that realm), you'll probably like Conspire Conspire Conspire too, and you can get a taste of it from new single 'Hold Me Like A Grudge.'"
Hear CITY OF INDUSTRY'S "Hold Me Like A Grudge" at BrooklynVegan RIGHT HERE.
Amerikan Aesthetics will release Conspire Conspire Conspire on LP, CD, and cassette on September 27th. Find preorders where "Spite me" is also streaming HERE.
CITY OF INDUSTRY has planned a string of Pacific Northwestern US dates which begins the day the new LP is released, where the band will play Bellingham, Seattle, Portland, Eugene, and Coeur d'Alene over a two-week span. Additional shows and tour dates are to be expected over the coming weeks.
CITY OF INDUSTRY PNW Tour 2019:
9/27/2019 Waterfront Tavern – Bellingham, WA
9/28/2019 The Kraken – Seattle, WA
10/04/2019 Hawthorne Hideaway – Portland, OR
10/05/2019 Spectrum – Eugene, OR
10/12/2019 Hogfish Bar – Coeur d'Alene, ID
CITY OF INDUSTRY delivers anthem-based, infectious riffs with a thundering delivery, with themes of socio-political unrest and edification lyrically fueling every song. With driving, straightforward, prevailing movements that energize the listener, elements of melodic hardcore, metallic punk, d-beat crust punk align into an empowering mix. Fans of Modern Life Is War, Touché Amoré, From Ashes Rise, and Baptists, take note.
With ten songs in under eighteen minutes, CITY OF INDUSTRY's second full-length Conspire Conspire Conspire was recorded by Terry Paulson at Uberbeatz Studio in Mukilteo, Washington, and mixed and mastered by Jack Shirley at Atomic Garden (Deafheaven, Gouge Away, Punch). The artwork was created by founding member Ossa Humiliata, who also writes all music and lyrics for the band and runs the art/record label collective Amerikan Aesthetics, responsible for the impending release of Conspire Conspire Conspire.
https://www.facebook.com/CityofIndustryHC
https://cityofindustry.bandcamp.com
https://instagram.com/cityofindustryhc
http://www.amerikanaesthetics.com
https://www.facebook.com/amerikanaesthetics
https://www.instagram.com/amerikanaesthetics