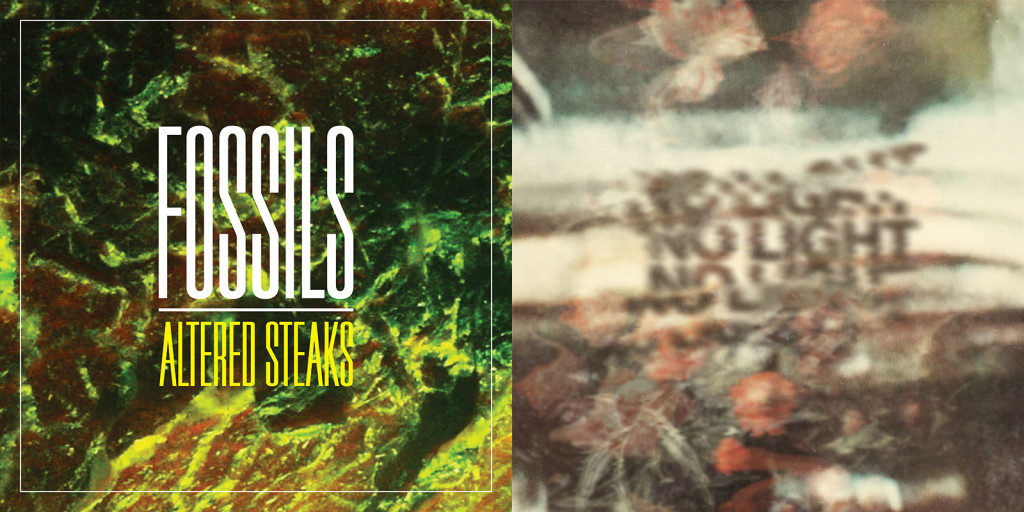 Denmark-based Indisciplinarian is proud to announce the next two label releases for this Summer, including the self-titled debut EP from alternative rockers NO LIGHT, and a new live 7″ from noise-proggers FOSSILS recorded live at Roskilde Festival 2015. Both will be released on August 5th and celebrated the same day with the bands playing at the Indisciplinarian Take Over Show in Pumpehusets Byhave, Copenhagen.
NO LIGHT might remind you of "the golden age" of alternative rock, not unlike veterans as Dinosaur Jr, Hüsker Dü, and Guided by Voices, yet delivered with a fresh and vital sound. Comprised by people from bands such as Lack, The Fashion, Obstacles, and Marvins Revolt – the members are no strangers to the game. This competent team of rockers has previously left their mark on the DIY maps of Europe and beyond. 2016 will see NO LIGHT returning to a scene they never left, with shows and new recordings. The band's self-titled debut EP is comprised of four loud and honest songs, delivered with a strong sense of urgency.
The EP is a taste of what NO LIGHT has to offer in a very near future. The band's debut LP is now being finalized by producer Lasse Ballade (Halshug, Solbrud) and will be released in November 2016.
No Light will be released on cassette tape in a limited edition of 100 copies along with digital formats. Preorder the tape HERE and listen to the EP in full HERE.
In 2015, instrumental noise-proggers FOSSILS had their Roskilde Festival debut and with that, one of the band's biggest wishes had come true. A performance at the legendary Roskilde, the second largest music festival in Europe, had been on the band's bucket list for years, and Saturday night, July 4th that dream became reality. An experience of this kind had to be documented and preserved for posterity. So now, FOSSILS and Indisciplinarian are releasing a 7″ vinyl bearing the fitting moniker Altered Steaks. The record consists of four deliciously prepared songs served live at the Roskilde Gloria stage, where FOSSILS played an unusually extensive one-hour show, stirring up a fiery crowd.
The four songs on Altered Steaks is a display of both old and new. "Stun" and "Carnivore Arrest" are both songs from the band's latest full length, Flesh Hammer, which are given a hard, but fair and firm treatment live, while "Cerebral Vortex" and "Baconized" are two brand new songs – hard hitting indications of what's to come on the band's next album. The digital version of Altered Steaks contains another three FOSSILS "classics" from the Roskilde show, besides the four on the vinyl version.
The Altered Steaks 7″ will be limited to 300 copies and can be preordered along with a free download HERE. Watch the video for "Stun" live at Roskilde HERE.
http://www.facebook.com/nolightnolight
http://www.facebook.com/fossilsmusic
http://www.indisciplinarian.com
http://www.facebook.com/indisciplinarian
http://indisciplinarian.bandcamp.com