With the release of Longing For Infection, the impending new full-length from Ohio's favorite misery makers, FISTULA, now less than a month away, today the band shares the graphic visual accompaniment to "Morgue Attendant" via Cvlt Nation.
"I feel that the music of FISTULA is at its best when we're at our worst," confides frontman Dan Harrington. "After the whole Northern Aggression/Vermin Prolificus lineup imploded, Corey [Bing] and I were in a tough spot. Corey enlisted long-time friend Buddy Peel and Jeff Sullivan to join on bass and drums respectively, 'Morgue Attendant' was the first song they arranged together. Inspired by a ton of shitty Akron weed and watching Maximum Overdive, the song came together quick. Around this time, this total deviant in Cincinnati had admitted to raping hundreds of corpses over his sixteen-year career in the morgue. Crack binges? Malt liquor? Necrophilia? This guy had to be the subject of a FISTULA song."
"When we came back with a set list," Harrington continues, "we were opening with 'Ohio Death Toll Rising' from the Goat EP. Goat was a concept record based on Cleveland serial killer Anthony Sowell. [Click HERE for more info about the Goat EP, including the limited edition vinyl containing soil obtained from Sowell's House Of Horrors.] 'Ohio Death Toll Rising' contained a bunch of audio samples taken from news coverage of Sowell's heinous crimes at the end of the song, I always dug how effective it was. It really painted a vivid picture of what had actually happened there. I started sifting through the news reports and found the perfect excerpt to set up the 'Morgue Attendant' lyrics Corey and I came up with in all their raunchy glory. The song had to be completely over the top and just as crazy as the story clipped from the newspaper headlines. We knew this song would be perfect for a music video. Whore Church put together an incredible video for 'Harmful Situation' a couple years ago and set the bar really high. They recommended that we contact cult VHS manipulators King Of The Witches. They were totally excited about the opportunity and came up with video that tells the 'Morgue Attendant' story perfectly."
Check out "Morgue Attendant," in all its gruesome glory, at THIS LOCATION.
You can also hear "Loyal To The Foil," courtesy of Decibel Magazine, at THIS LOCATION. And if you missed it, try your ears at "Too Many Devils And Drugs," currently streaming at the band's BandCamp page HERE.
Tracked and engineered by Dave Johnson (Midnight, Incantation, Soulless), the demoralizing Longing For Infection features the return of FISTULA founding member Bahb Branca on second guitar, furthering the band's already vile brand of sonic violence. Set for mass contamination on July 15th, 2016, the first pressing of Longing For Infection will be limited to one-thousand copies housed in digipak packaging bathed in the abysmal artwork of Jason Barnett. Preorders are currently available at THIS LOCATION.
Ohio's FISTULA was forged in 1998 by musical partners-in-crime Corey Bing and Bahb Branca. Over the years, FISTULA has released a seemingly endless barrage of studio albums and split EPs through numerous lineup changes featuring the creative talents of bands such as –(16)-, Sloth, Hemdale, The Disease Concept, Accept Death, and so many others. FISTULA is a band that is impossible to categorize, combining elements of remedial sludge, hardcore and a proverbial "bad case of the Mondays." Nearing two decades of ear bleeding, FISTULA remains the kings of doomed-out "miserycore."
2015 saw the band headlining the Het Patronaat stage at Roadburn Festival and recording the Destitute demo as well as the new full studio album Longing For Infection. Aside from Roadburn, FISTULA recently played the Haunted Hotel 13th Anniversary Fest as well as the Berserker III Fest. FISTULA will return to Europe in October to bring their ultimate onslaught of pure, unbridled hatred, and negativity. FISTULA will release another full-length this Fall coinciding with the tour on Totem Cat Records. Entitled The Shape Of Doom To Cumm ))), the record will feature guest guitarist David Szulkin from Blood Farmers and Church Of Misery. Stand by for details.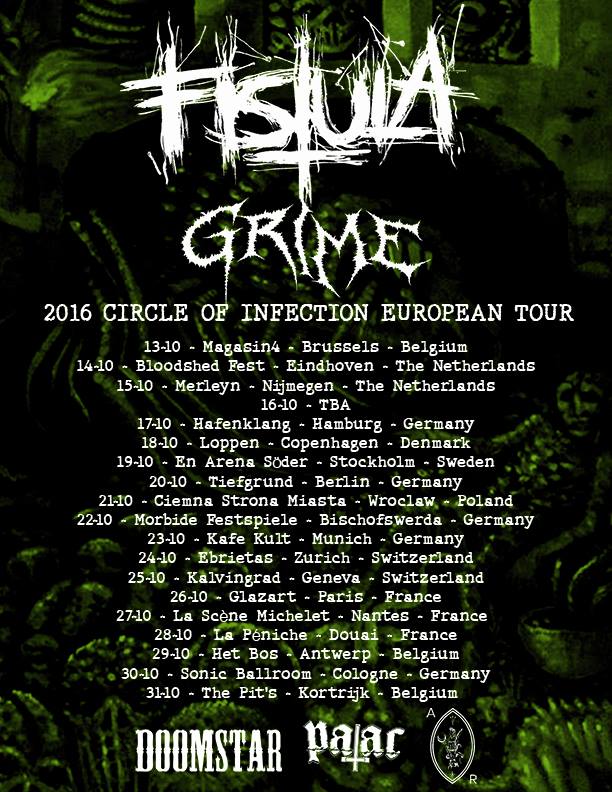 http://www.fistula666.com
http://www.facebook.com/fistula666
http://www.patacrecords.com
http://www.facebook.com/patacrecords