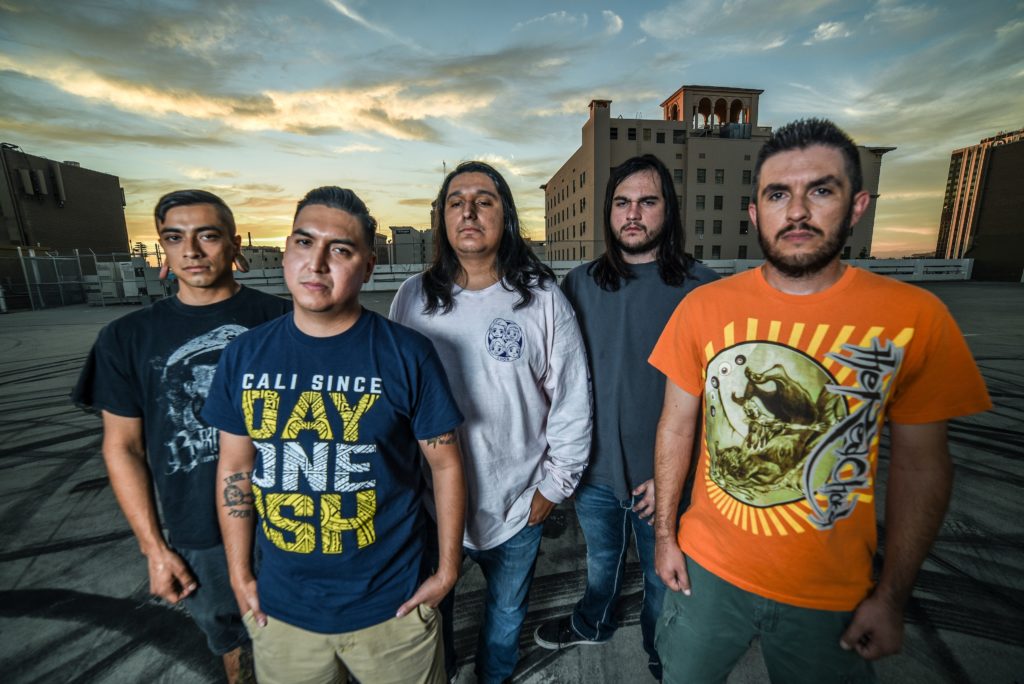 [photo by Cat Eye View Photography]
Fresno, California-based FAROOQ presents their third album, Heat, confirmed for release August 24th through Glacier Recordings. The album will see release following the band's upcoming West Coast tour which consumed the first half of August, and the label has posted a visualizer video for the lead track "Owning It" as a precursor to the album's intent.
FAROOQ's musical style forms from a way of writing that chops up and blends together multiple music genre influences by incorporating sounds from the hardcore, metal, punk, rock, hip hop, and rap communities to create an artistic vision that goes against the prototypical hardcore and metal band grain. Lyrically each song is carefully crafted and presents a sincere take on social, cultural, and world issues. When these elements are thrown in together, FAROOQ melds together to form their own unique brand of hardcore and metal.
FAROOQ joined Glacier Recordings in early 2018 as the label's debut and premier artist, the label founded by Keith Welch (Glacier Eater, Sworn Vengeance, Murder Practice). The band converged on the legendary Sharkbite Studios in Oakland, California in late April 2018 to record with Zack Ohren (Fallujah, Suffocation, Light This City), where they created a monster of a third album, titled Heat. With ten tracks, the album features guest vocals on "Stone Cold Steve Hawking" by Ryan Encinas of Sworn Vengeance, guest vocals on "E-Male" by Shane Tunney of Lowlife, and a guest guitar solo on "One Nation Under" by Ryan Hansen of Light This City.
A video for the album opener "Owning It" has been posted. Vocalist Daniel Dominguez III offers of the song, "Owning It is a collection of my personal feelings and thoughts on my personal battle with depression and anxiety. It is also a call to action I've given myself to keep fighting my own battles (and win by fighting every day) to help my loved ones who are going through similar struggles. It calls back to the song 'Owned' where I express my disillusionment and frustration with the world around me and how it made me doubt my own existence and worth as a human. 'Owning it' is a continuation of those feelings with a strong and deliberate reaction to not let those feelings bury me."
Also see a brief studio trailer from the recording sessions for Heat HERE.
Glacier Recordings will issue Heat on August 24th. Watch for preorders and additional audio samples from Heat to be issued in the days ahead.
Heat Track Listing:
1. Owning It
2. Get 2 Work
3. T.O.T.W. 2018
4. Mall Metal
5. The Story
6. Clown Clocks
7. One Nation Under
8. E-Male
9. It's 2AM Somewhere
10. Stone Cold Steve Hawking
FAROOQ will advance the release of Heat on a West Coast tour with support from Aberrance. The Heat 2018 Tour begins in the band's hometown of Fresno on August 2nd and runs through the 12th. Additional tour dates are to be expected.
FAROOQ – Heat 2018 Tour w/ Aberrance:
8/02/2018 Full Circle Brewing Co – Fresno, CA [no Aberrance]
8/03/2018 The Spirit – Oroville, CA
8/04/2018 3rd Street Pub – Bend, OR
8/05/2018 The Pin – Spokane, WA
8/06/2018 Old School Records – Kalispell, MT
8/07/2018 The Garage – Pocatello, ID
8/08/2018 Moe's BBQ – Denver, CO
8/09/2018 The Underground – Salt Lake City, UT
8/10/2018 Double Down Saloon – Las Vegas, NV
8/11/2018 The Britisher – Lancaster, CA
8/12/2018 Café Nela – Los Angeles, CA
FAROOQ's inception came at the end of 2010 when two of the founding members, guitarist Phillip Camacho and vocalist Daniel Dominguez combined their musical minds and talents in the hopes of creating something fresh for the California hardcore and metal scene. After a lengthy and exhausting search to find permanent drummer, the guys brought in Eric Martinez and put together a six-song self-titled EP. The band began playing shows shortly by the end of 2011 and has been very active over their seven-year run. FAROOQ has since released a second EP titled Gas, Break, Drip in 2012, their debut album The Truth in 2013, and their second album The Faction in 2017. FAROOQ's current lineup also includes guitarist Brandon Rubio and bassist Adam Lopez.
Drawing heavily from bands such as The Red Chord, Between The Buried And Me, Hatebreed, Dying Fetus, Despised Icon, Pantera, Every Time I Die, Chon, and Polyphia, FAROOQ.has had the honor of sharing the stage with the likes of Every Time I Die, Sworn Enemy, Knocked Loose, Lionheart, The Acacia Strain, Oceano, Rings Of Saturn, Winds Of Plague, Xibalba, Alpha & Omega, Rotting Out, Sworn Vengeance, Hoods, Drowning, Shai Hulud, and many others.
Even though the group has grown from a vast category of bands and musical influences, FAROOQ maintains to this day a truly organic and home-grown sound all on its own. They continue to grow and expand on their musical capabilities throughout their discography while sticking to their musical core and beliefs. Heat proves to be another successful chapter in the FAROOQ story line.
https://www.instagram.com/farooqmosh
https://www.facebook.com/farooqmosh
https://farooqmosh.bandcamp.com
http://www.glacierrecordings.com
https://www.facebook.com/glacierrecordings