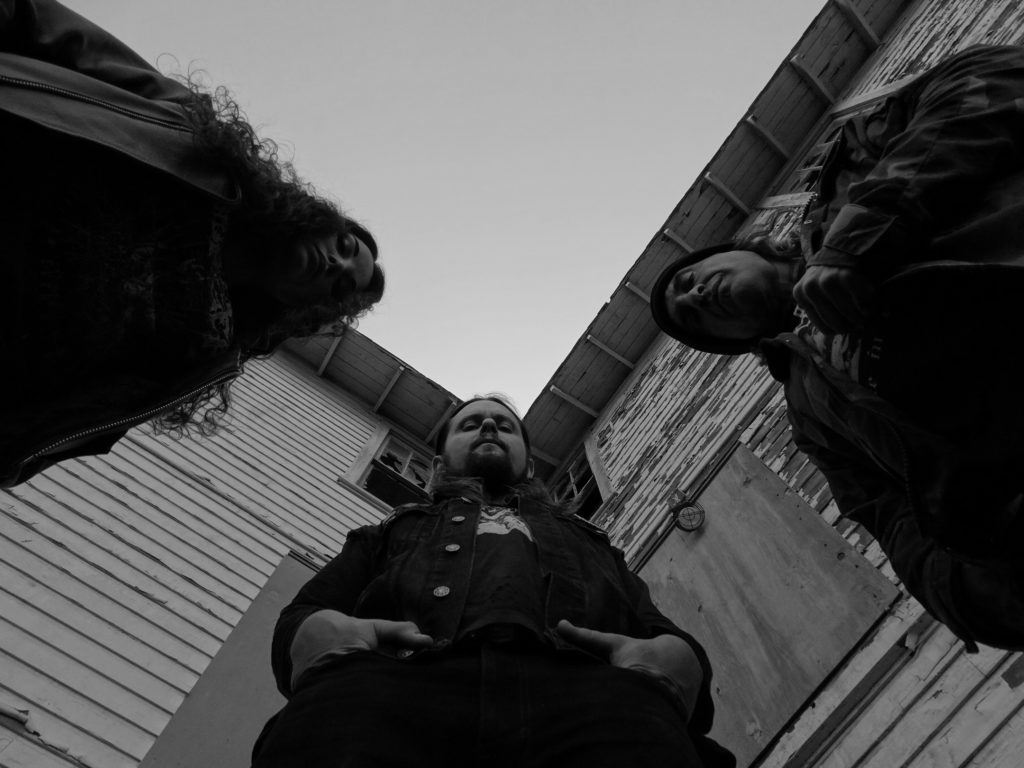 [photo by Aloysius V. Cummings]
Oakland death trio EXTREMITY presents the gruesome grooves of their proper debut album, Coffin Birth, out this week via 20 Buck Spin. Preceding its official release tomorrow, the album oozes forth through an exclusive early stream at Bandcamp alongside an interrogation of its members, whom also hail from Vastum, Ludicra, Agalloch, Repulsion, Cretin, and many other Bay Area acts.
EXTREMITY burst like a pustule onto the death metal scene in 2017 with their Extremely Fucking Dead mini-LP. Its five ferocious tracks gave the first taste of what was to come, and now the band returns with its debut full length album, Coffin Birth, a hideous ode to the genre's past and present. From the opening riff, EXTREMITY brutalizes with a hammer of pulverizing devastation and a defined melodic sensibility, the album delivering memorable and outright catchy songs that seamlessly veer from grinding speed to crushingly mid-paced unfold via a sordid concept that may reveal itself with careful attention.
Bandcamp's interview issues in part, "On their debut full-length Coffin Birth, EXTREMITY spew forth a moldy variation of the genre, merging the rasping-corpse subtlety of Finnish death metal with the signature Florida pummel. The follow-up to their 2017 debut Extremely Fucking Dead, Coffin Birth is far more melodic and otherworldly, easily calling to mind the work of Impaled."
Stream EXTREMITY's Coffin Birth LP via Bandcamp's exclusive feature RIGHT HERE.
20 Buck Spin will issue Coffin Birth on CD, LP, cassette, and digital formats this Friday, July 20th; find preorders at the label webshop HERE and Bandcamp HERE, as well as all other prime digital retailers.
As with its predecessor, Coffin Birth was recorded at Oakland's Earhammer Studios — the birthplace for so many of today's standout death metal releases – the album boasting both surgical clarity and pummeling raw aggression. In combination with the attention to detail in both song and lyric writing, EXTREMITY exhumes a debut album born straight from a coffin. Featuring vividly grim cover artwork by Andrei Bouzikov (Municipal Waste, Autopsy, Toxic Holocaust), and a guest appearance by Antti Boman of Demilich, EXTREMITY's Coffin Birth is a prime acquisition for those who feast upon the works of Exhumed, Repulsion, Autopsy, Carcass, Death, Bolt Thrower, Impaled, Vastum, and Entombed.
Watch for EXTREMITY to perform live in support of the album and more; stand by for further updates.
https://www.facebook.com/extremedeath
http://www.20buckspin.com
http://www.facebook.com/20buckspin
http://twitter.com/20buckspinlabel
http://listen.20buckspin.com