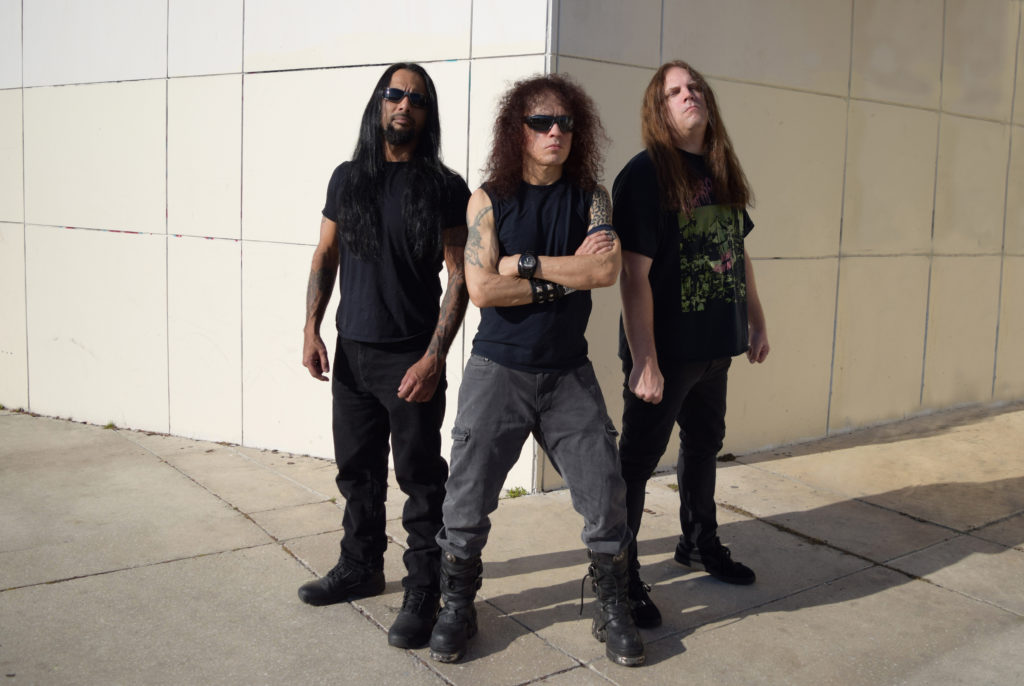 Caustic Attack is the sound of a world nearing apocalypse. The songs conjure images of warplanes on bombing runs, giant tanks obliterating small villages and the endless rattle of machine guns mowing down everyone in sight.
American grindcore icons TERRORIZER, featuring legendary drummer Pete Sandoval, have united with The End Records for the release of their long-anticipated new full-length, Caustic Attack. Produced by Jason Suecof (Deicide, All That Remains, Kataklysm, Battlecross) at Audiohammer Studios in Sanford, Florida and featuring the apocalyptic cover art of Timbul Cahyono (Rotting Corpse, Pyrexia), the record serves as the band's first studio offering in six years.
Before Pete Sandoval recorded Morbid Angel's first album, 1989's Altars Of Madness, he performed on two demos and a split album with his original band TERRORIZER. Today, the group's 1989 full-length debut World Downfall is still considered a pinnacle for death metal and grindcore, featuring impossibly fast blast-beats and double-bass drumming along with a blitzkrieg attack by late guitarist Jesse Pintado (Napalm Death), and ex-vocalist Oscar Garcia (Nausea). The 1989 lineup was rounded out by Sandoval and then-fellow Morbid Angel bandmate David Vincent on bass.
Over the next twenty-three years, Sandoval took time between Morbid Angel albums to continue working with TERRORIZER, recording two more cataclysmic full-lengths, 2006's Darker Days Ahead and 2012's Hordes Of Zombies. And now, another six years down the burning highway, TERRORIZER is back with Caustic Attack, their heaviest and most eclectic album to date.
TERRORIZER started working on Caustic Attack in 2014, but before they could lay down a single bar of music, Sandoval had to make sure he was healthy enough to work on a new album – which was far from a sure thing. Rewind to 2009 when Sandoval's suffered a severe back injury caused by decades of Olympic-class death metal drumming. After seeing different doctors and exploring his options, Sandoval opted for invasive surgery to repair the deteriorated discs between interlocking vertebrae in his spine.
By 2013, Sandoval was feeling pretty good, so he got together with multi-instrumentalist Lee Harrison, who played on Malevolent Creation's 1989 demo a year before giving birth to metal veterans Monstrosity, which have released five full-length albums to date. In 2007, Lee joined up with fabled Crimson Glory singer, Midnight, with whom he worked until the vocalist died in 2009. Lee has also played guitar with Obituary on tour in South America in 2012. Now, he's deadly serious about his role in TERRORIZER, but at first playing with Sandoval was more like a hobby.
"We started playing some songs just for fun," Sandoval explains. "We did some of the World Downfall songs, and then we learned a few cover songs and we did our first show as a party. That's how everything started."
Feeling confident and comfortable again behind the kit, Sandoval invited Sam Molina, who played with Harrison in Monstrosity, to join them on bass, and the trio started working on songs for Caustic Attack. A violently explosive album for increasingly turbulent times, Caustic Attack is the sound of a world nearing apocalypse. The songs conjure images of warplanes on bombing runs, giant tanks obliterating small villages and the endless rattle of machine guns mowing down everyone in sight.
Sandoval has long been known as one of the fastest players in death metal – the pioneer of blast beats — and he doesn't hold back on Caustic Attack. At the same time, even the fastest songs are tighter and more precise than TERRORIZER have ever been thanks to veteran producer Jason Suecof, who's painstaking method of recording showcases Sandoval and his team at peak capacity. The only minor hitch in the process was deciding whether or not to include guitar solos.
"The original TERRORIZER didn't have solos, so we took the same approach," Harrison says. "It was just riff after killer riff. That was an interesting challenge for me – to keep the music fresh without relying on solos. But the great thing about not having solos is it allows us to keep a dense sound as a three-piece. When you put leads in there, you need a second guitar or else the bottom falls out. Staying a three-piece makes it easier to travel and tour, and we didn't want to mess with that formula."
Now that Sandoval is devoting all his time and effort to TERRORIZER (he left Morbid Angel in 2013), he plans to tour extensively and then record another album. The six-year curse is officially broken. "It feels so great to be back playing every day," Sandoval says. "I worked really hard on my recovery and all that work is really paying off now because when I play these songs I feel the same way I did in 1990 or 2000. I feel young again and I can play with no problem. And that's hard to do because this new album has a lot of changes, double-bass, fast blast beats. You name it." [words by Jon Wiederhorn]
TERRORIZER's Caustic Attack will see release via The End Records this fall. Further details including track teasers to be unveiled in the coming weeks. Stay alert.
TERRORIZER Discography:
Nightmares, 1987
Demo '87, 1988
Terrorizer / Nausea Split, 1988
World Downfall, 1989
Darker Days Ahead, 2006
Hordes Of Zombies, 2012
TERRORIZER:
Pete Sandoval – drums
Lee Harrison – guitars
Sam Molina – bass/vocals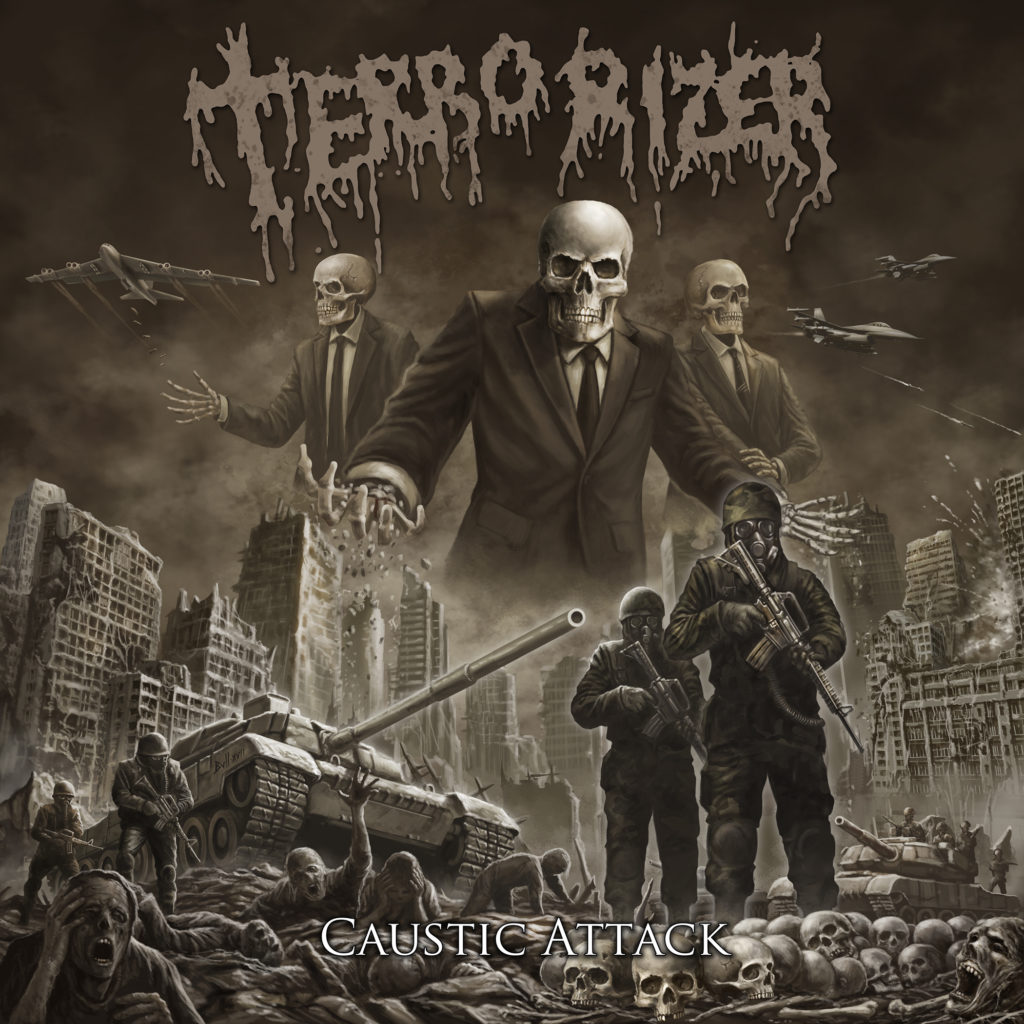 http://www.facebook.com/terrorizerofficial
http://twitter.com/terrorizernews
http://www.theendrecords.com/
http://www.facebook.com/theendrecords
http://twitter.com/theend