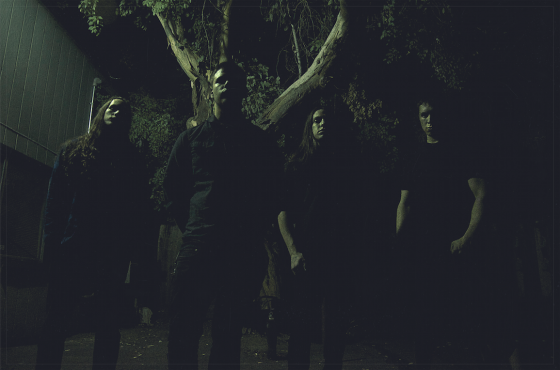 Today, atmospheric death metal conjurors, FALLUJAH, uncork "Carved From Stone," the second movement from their forthcoming magnum opus, The Flesh Prevails.
Mixed, mastered and engineered by sound savior Zack Ohren (Animosity, Suffocation, All Shall Perish) at Sharkbite Studios in Oakland, California, The Flesh Prevails boasts guest appearances from guitarist Christian Muenzner (Obscura, Necrophagist), the chilling voice of Roniit Alkayam and serves as the band's most intricately arranged, methodically executed and cerebrally consuming offering to date. A true master work of progressively tinged, otherworldly death metal.
Comments vocalist Alex Hoffmann of latest teaser, "'Carved From Stone' is our most aggressive track; a subtle departure from the ethereal tracks that characterize the rest of the album. The song has a relentless momentum, paired with energetic and suggestive lyrical content; you will surely be hearing this track live this Summer."
Get chiseled, courtesy of Lambgoat, at THIS LOCATION.
And if you missed it, check out "Sapphire," still streaming at MetalSucks at THIS LOCATION.
The Flesh Prevails will be released via Unique Leader Records on July 22nd, 2014 during FALLUJAH's participation in this year's crushing Summer Slaughter Tour alongside Morbid Angel, Dying Fetus, The Faceless, Goatwhore and more. See complete itinerary below.
FALLUJAH
Summer Slaughter Tour w/ Morbid Angel, Dying Fetus, The Faceless, Thy Art Is Murder, Origin, Goatwhore, Decrepit Birth, Within The Ruins
7/17/2014 The Regency Ballroom – San Francisco, CA
7/18/2014 The Observatory – Santa Ana, CA
7/19/2014 House of Blues – Los Angeles, CA
7/20/2014 Nile Theater – Phoenix, AZ
7/22/2014 Sunshine Theater – Albuquerque, NM
7/23/2014 Summit – Denver, CO
7/25/2014 House of Blues – Houston, TX
7/26/2014 Scoot Inn – Austin, TX
7/27/2014 GMBG – Dallas, TX
7/29/2014 State Theater – St. Petersburg, FL
7/30/2014 The Masquerade – Atlanta, GA
7/31/2014 The International – Knoxville, TN
8/01/2014 Agora Theatre – Cleveland, OH
8/02/2014 Mojoes – Chicago, IL
8/03/2014 Skyway Theatre – Minneapolis, MN
8/05/2014 The Rave – Milwaukee, WI
8/06/2014 Crofoot Ballroom – Detroit, MI
8/07/2014 Rapids Theatre – Niagara Falls, NY
8/08/2014 Irving Plaza – New York, NY
8/09/2014 The Palladium – Worcester, MA
8/10/2014 The Trocadero – Philadelphia, PA
Formed in the San Francisco Bay Area in 2007, FALLUJAH has since displayed a rugged work ethic, investing countless weeks on the road in North America and internationally. The band's commitment to crafting forward thinking music has helped them build their own diehard fanbase from the ground up. The name is derived from a city in the Al Anbar province of Iraq that, at the time of the band's formation, sustained the highest concentration of destruction and casualties on both sides of the fighting. The members of FALLUJAH have lived much of their lives in the post 9/11 world growing up with the wars in Iraq and Afghanistan as well as observing the tension between East and West and religious turmoil. The city of Fallujah represents the pinnacle of tensions, hostility and destruction that has come to define the world we live in.
The Flesh Prevails preorder packages are currently available at THIS LOCATION.
"There's so much going on here that it'll take a few listens to really sink in; ambient keyboards, layered background vocals, meaty riffs, expertly crafted leads, and incredibly strong melodies all mashed into one dynamic, absolute beast of a song." – MetalSucks on the track, "Sapphire."
http://fallujah.bandcamp.com
http://www.facebook.com/fallujahofficial
http://www.youtube.com/user/FallujahBand
http://www.uniqueleader.com
http://www.facebook.com/UniqueLeaderRecords
http://www.twitter.com/UniqueLeaderRec
http://www.youtube.com/uniqueleaderrecords