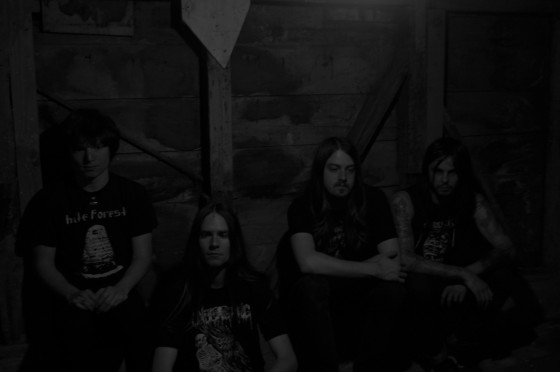 Oakland-based funeral doomsmiths, LYCUS, begin their first East Coast-bound tour in just two days, as the Tempest US Tour Part II gets on the move.
This Friday, June 20th the Tempest US Tour Part II begins in Los Angeles, from there arcing through the Southern end of the country and up to the Northeast where they'll invade Brooklyn to perform on the last evening of the five-day Martyrdoom 2014 Festival on July 1st alongside Vilkacis, Evoken and Lord Mantis, and headlining 20 Buck Spin labelmates Mournful Congregation. The days after Martyrdoom will see the band trekking across the Midwest and back to California, the entire continent being traversed and back again in the seventeen-city run.
LYCUS will be delivering material from their colossal debut LP, Tempest, released in 2013 by 20 Buck Spin. Recorded and mixed at hometown Earhammer Studios with Greg Wilkinson (Brainoil, Pallbearer, Samothrace, High On Fire), the band seemingly adds new vitality to the funeral doom genre with Tempest, the album earning the #18 spot in Decibel Magazine's top 40 albums of the year. In the preceding 9/10 review of the record, Decibel stated, "a symphony of cell-decaying hymns and chanted vocals that crumple under the gravity field of a vast, blackened, panicked interlude," and Pitchfork praised the band, affirming, "It's difficult to make a subgenre like funeral doom feel fresh and vital, but Lycus are trying their damnedest to do just that… with Tempest they've harnessed the elemental power of an oncoming storm." Its devastation had Stereogum issuing, "It's that moment of cathartic victory right before everyone dies at the end of a Senecan tragedy – awful, but somehow satisfying." Metal Insider championed the record's dark qualities, calling it, "…an album so full of loss, so full of depressive grief, that if you closed your eyes and stared into the darkness long enough you may lose yourself and never make it back," and Heavy Planet agreed: "This is one awfully, beautifully dark record. Wholly and unrelentingly painful, Lycus walk into grief with thick skin and mud-caked fists."
LYCUS Tempest US Tour Part II:
6/20/2014 The Complex – Los Angeles, CA [info]
6/21/2014 Wallstreet Warehouse – Phoenix, AZ [info]
6/22/2014 Launchpad – Albuquerque, NM [info]
6/23/2014 The Lost Well – Austin, TX [info]
6/24/2014 Mudlark Theatre – New Orleans, LA
6/25/2014 The Boro – Murfreesboro, TN [info]
6/26/2014 The Meridian Coffeehouse – Williamsburg, VA
6/27/2014 Bar Clay House – Baltimore, MD [info]
6/28/2014 Golden Tea House – Philadelphia, PA [info]
6/29/2014 Dusk – Providence, RI [info]
7/01/2014 Saint Vitus Bar – Brooklyn, NY @ Martyrdoom Fest [info]
7/02/2014 Gooski's – Pittsburgh, PA [info]
7/03/2014 Live Wire Lounge – Chicago, IL [info]
7/05/2014 Bar Bar – Denver, CO
7/06/2014 Shred Shed – Salt Lake City, UT
7/08/2014 The Black Lodge – Seattle, WA [info]
7/09/2014 Rotture – Portland, OR [info]
Stream and purchase Tempest digitally HERE and order the CD and LP versions HERE.
https://www.facebook.com/pages/Lycus/156095311142662
http://lycus.bandcamp.com
http://www.20buckspin.com
http://www.facebook.com/20buckspin
http://twitter.com/20buckspinlabel