EYEHATEGOD will return to the road on a massive North American tour supporting Gwar and Napalm Death this Fall!
The live takeover begins with a trio of "warm up" shows with Gwar and Madball in mid-September. On October 28th, the band will convene with Gwar and Napalm Death in Norfolk, Virginia to kick off a journey that will run through over three dozen cities, coming to a close on December 13th in Washington, DC. Additionally, EYEHATEGOD will be celebrating their latest full-length, A History Of Nomadic Behavior, with a pair of back-to-back record release shows in September at Poor Boys in their hometown of New Orleans, Louisiana! Support will be provided by Goatwhore, The Obsessed, and more. See all confirmed dates below.
Comments vocalist Mike IX Williams, "Is the suffering over? Never. Sad to say, 2020 and beyond have left indelible marks on all of us, but we're all in this together and now it's time for some real healing. It's time to get back to semi-normality and get epically blitzed and listen to live music once again! EYEHATEGOD are very excited to officially announce we are touring with our friends Gwar and Napalm Death this October! We promise to do our part in making this the heaviest, most hedonistic tour ever… If you're not there, your friends will laugh at you. We love you all!!"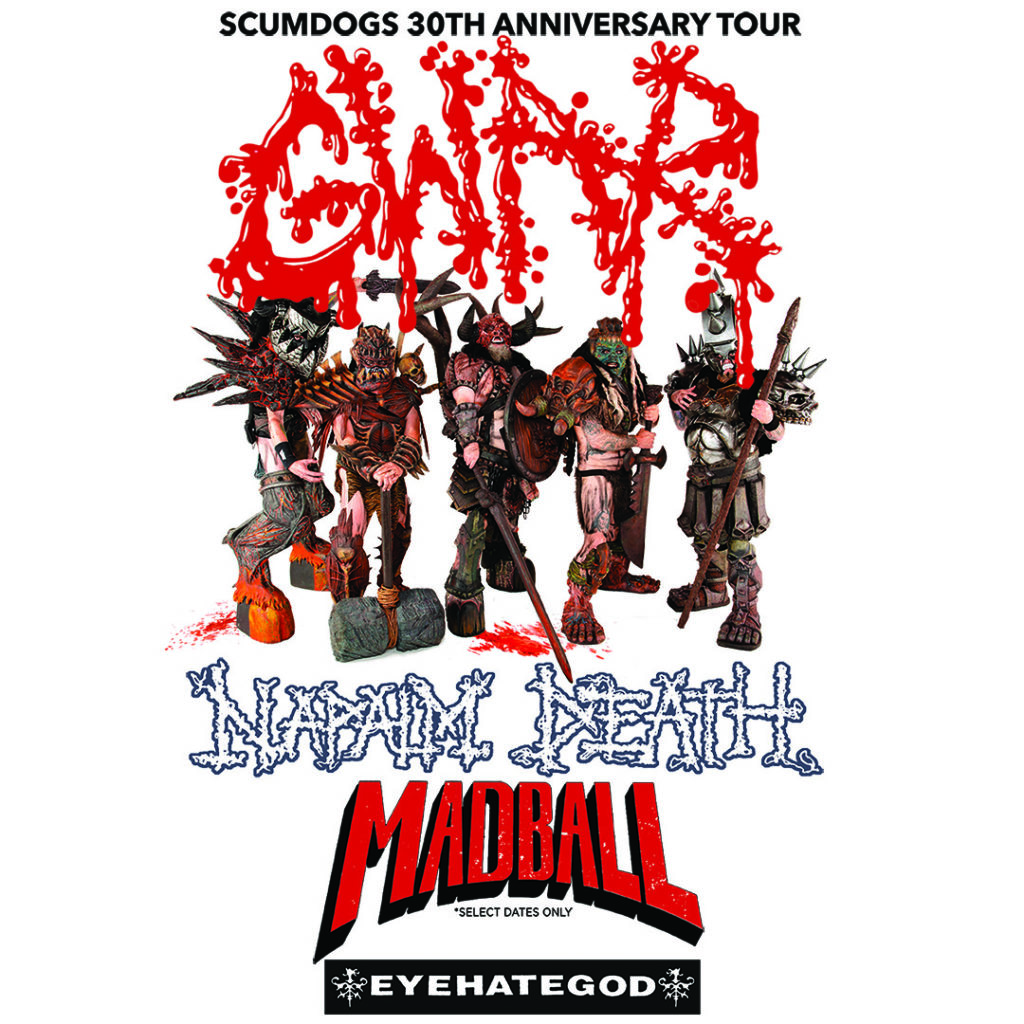 EYEHATEGOD Record Release Shows:
9/10/2021 Poor Boys – New Orleans, LA w/ Goatwhore, Sick Thoughts, Shitload [tickets]
9/11/2021 Poor Boys – New Orleans, LA w/ The Obsessed, Total Hell, Lowbrau [tickets]
w/ Gwar, Madball:
9/16/2021 The National – Richmond, VA
9/17/2021 Newport Music Hall – Columbus, OH
9/19/2021 Mr. Smalls Theatre – Millvale, PA
w/ Gwar, Napalm Death:
10/28/2021 The NorVa – Norfolk, VA
10/29/2021 The Palladium – Worcester, MA
10/30/2021 Franklin Music Hall – Philadelphia, PA
10/31/2021 Irving Plaza – New York, NY
11/01/2021 Baltimore Soundstage – Baltimore, MD
11/02/2021 Town Ballroom – Buffalo, NY
11/04/2021 The Rave – Milwaukee, WI
11/05/2021 The Crofoot Ballroom – Pontiac, MI
11/06/2021 The Vogue – Indianapolis, IN
11/07/2021 House Of Blues – Cleveland, OH
11/08/2021 The Opera House – Toronto, ON
11/10/2021 The Orange Peel – Asheville, NC
11/11/2021 Bogarts – Cincinnati, OH
11/12/2021 The Masquerade – Atlanta, GA
11/15/2021 Warehouse Live – Houston, TX
11/16/2021 Gas Monkey Bar N' Grill – Dallas, TX
11/18/2021 Sunshine Theater – Albuquerque, NM
11/19/2021 Rialto Theatre – Tucson, AZ
11/20/2021 House Of Blues – Las Vegas, NV
11/21/2021 The Belasco Theater – Los Angeles, CA
11/22/2021 The Regency Ballroom – San Francisco, CA
11/23/2021 Ventura Theater – Ventura, CA
11/24/2021 The Observatory – Santa Ana, CA
11/26/2021 Virginia Street Brewhouse – Reno, NV
11/27/2021 Knitting Factory Concert House – Boise, ID
11/28/2021 Crystal Ballroom – Portland, OR
11/30/2021 Showbox SODO – Seattle, WA
12/01/2021 Commodore Ballroom – Vancouver, BC
12/03/2021 MacEwan Hall – Calgary, AB
12/04/2021 Midway Bar – Edmonton, AB
12/06/2021 Pub Station – Billings, MT
12/07/2021 The Oriental Theater – Denver, CO
12/08/2021 Granada Theater – Lawrence, KS
12/09/2021 First Avenue – Minneapolis, MN
12/10/2021 Bourbon Theatre – Lincoln, NE
12/11/2021 Pop's – Sauget, IL
12/13/2021 9:30 Club – Washington, DC
EYEHATEGOD released A History of Nomadic Behavior in March via Century Media Records. The record followed a period that saw the band on the road for three years and vocalist Mike IX Williams suffering liver failure and a transplant. The album was produced by Eyehategod, Sanford Parker (Yob, Voivod), and James Whitten (Thou, High on Fire), with mixing by Whitten. The band recorded at HighTower Recording and Hypercube Studios.
EYEHATEGOD is the snarling, bilious sound of dead-end America. Since 1988, they've been a soundtrack for the troubled masses. Pitchfork dubbed them the, "quintessential Southern sludge band," Rolling Stone crowned them one of, "America's great live bands," while Thrasher called them, "true musical pioneers in every sense of the word." Anyone familiar with EYEHATEGOD's trajectory knows this is survivor's music, a sound unto itself where Sabbathian riffs are meted out with a caustic anger that goes beyond punk. That's been the blueprint since guitarist Jimmy Bower (also of NOLA supergroup, Down) founded the band in 1988 with vocalist Michael IX Williams joining not long after. With a discography including sludge-punk mainstays like In The Name Of Suffering (1990), Take As Needed For Pain (1993), Dopesick (1996), Confederacy Of Ruined Lives (2000), and 2014's eponymous LP, released in the US through Housecore Records, EYEHATEGOD laid the cracked foundation for their infamous and influential sound. The band is rounded out by bassist Gary Mader and drummer Aaron Hill.
http://www.eyehategod.ee
http://www.facebook.com/OfficialEyeHateGod
http://twitter.com/eyehategodnola
http://www.instagram.com/eyehategodnola