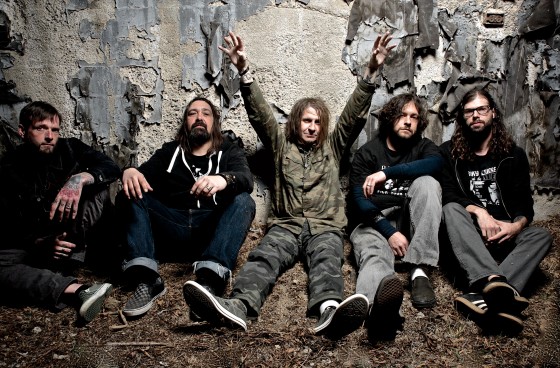 Next Tuesday, New Orleans iconic riff manglers, EYEHATEGOD, will unleash their first new full-length in nearly 15 years!
Assembled and financed entirely by the band along with US label partners, Housecore Records, the eleven-track long player is already reaping critical adoration from media giants nationally. Metal Insider gushes, "This entire album at times feels like being engulfed by a wet blanket on a 90-degree day. Run as you might, you won't be able to escape the monolithic stream of transmitted sludge oozing ever closer, engulfing everything in its path, the world itself swallowed whole one feedback doused note at a time. To say that this album is a triumphant return, or 'the album we've all been waiting for' are elephantine understatements. This album holds its own against some of the best of their canon and that alone makes it one of the best metal albums you'll hear this year," in a 10/10 rating, Hellbound notes, "it's all killer, no filler," while HeavyPlanet adds, "These sounds transcend the decades of abuse, both inflicted and received. They could have been laid to tape in 1988 and they'll still resonate decades from now. Call it a refreshing helping of cold truth or a self-inflicted road to warped relapse. Another in a storied, weathered history of blooze-metal NOLA cocktails, EYEHATEGOD find their mark and fucking nail it." Additionally, EYEHATEGOD graces the cover of the July 2014 edition of Decibel Magazine (with an included flexi disc for subscribers!)
In celebration of its release, Pitchfork is currently streaming Eyehategod in its entirety at THIS LOCATION.
In related news, EYEHATEGOD will take to the streets later this month for a near month-long stretch of live intrusions. Scheduled to commence in Atlanta, Georgia on May 28th, the day after the official North American release of the album, the trek will level twenty-six municipalities, coming to a close on June 22nd in Tampa, Florida. Support will come from metallic hardcore legends, Ringworm, and morose punk metal perpetrators, Enabler. See confirmed dates below.
EYEHATEGOD w/ Ringworm, Enabler:
5/28/2014 Masquerade – Atlanta, GA [tickets]
5/29/2014 Drunk Horse – Fayetteville, NC [tickets]
5/30/2014 Chop Shop – Charlotte NC [tickets]
5/31/2014 611 – Frederick, MD [tickets]
6/01/2014 Underground Arts – Philadelphia, PA [tickets]
6/02/2014 Rex Theater – Pittsburgh, PA [tickets]
6/03/2014 Strange Matter – Richmond, VA [tickets]
6/04/2014 American Legion Post 80 – Binghamton, NY [tickets]
6/05/2014 Brighton Music Hall – Boston, MA [tickets]
6/06/2014 Even Flow – Long Island, NY [tickets]
6/07/2014 Europa – Brooklyn, NY [tickets]
6/08/2014 Basement Transmissions – Erie, PA [tickets]
6/09/2014 Bug Jar – Rochester, NY [tickets]
6/10/2014 Loving Touch – Detroit, MI [tickets]
6/11/2014 Now That's Class – Cleveland, OH [tickets]
6/12/2014 Birdy's – Indianapolis, IN [tickets]
6/13/2014 Cobra Lounge – Chicago, IL [tickets]
6/14/2014 Pyramid Scheme – Grand Rapids, MI [tickets]
6/15/2014 Bottom End Bar – Appleton, WI [tickets]
6/16/2014 Triple Rock – Minneapolis, MN [tickets]
6/17/2014 Diamond Pub – Louisville, KY [tickets]
6/18/2014 Fubar – St. Louis, MO [tickets]
6/19/2014 Hi Tone – Memphis, TN [tickets]
6/20/2014 Southport – New Orleans, LA [tickets]
6/21/2014 Dollhouse – Savannah, GA [tickets]
6/22/2014 Orpheum – Tampa, FL [tickets]
6/23/2014 Looseys – Gainesville, FL [tickets]
6/24/2014 Zydeco – Birmingham, AL [tickets]
6/25/2014 The Handlebar – Pensacola, FL [tickets]
Eyehategod will be available for public consumption in North America on May 27th, 2014. Preorder packages including various CD, LP and T-shirt bundles are currently available via Housecore Records at THIS LOCATION.
"…the record that EHG fans have been waiting for; a stomping and venomous set of eleven tracks that reignite the band's amazing propensity for down-trodden, electric blues and with their late drummer LaCaze behind the kit." – Noisey
http://www.eyehategod.ee
http://www.facebook.com/OfficialEyeHateGod
http://www.thehousecorerecords.com