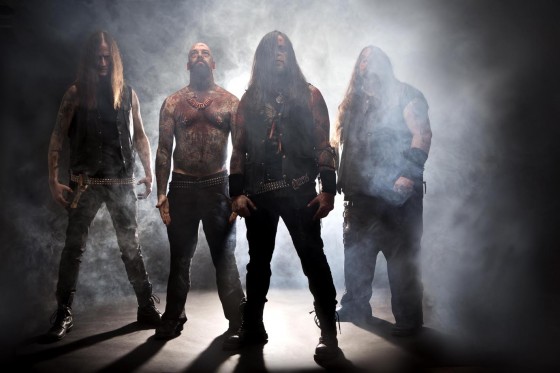 As part of their popular Advance series, today behemoth digital media portal, Pitchfork, is streaming BLACK ANVIL's long anticipated Hail Death full-length in its entirety!
The ten-track, J. Robbins-produced Hail Death is at once epic and predatory; an ambitious manifestation of sound that remains true to the band's roots while transcending them in a way that weaves all of their seemingly antagonistic influences into an amalgam of heavy music that's refreshing and all-consuming. In a 4/5 rating of the record, MetalSucks boasts, "The artwork for their third and latest album… is a series of Max Ernst-esque collages merging New York sights with classical demonic artwork–a giant serpent constricts the Empire State Building, while Gustave Dore's Lucifer plummets from the World Trade Center. But it's not simply the band's imagery that speaks to their hometown. On Hail Death, BLACK ANVIL have boiled their brand of muscular black metal down to a venomous reduction, creating a grinding, cutthroat sound that has more to do with hard concrete than the freezing moon, " Noisey asserts "BLACK ANVIL have written some of the most vicious and satisfying black metal laid to tape in the last few years," furthering that they, "deliver their blackened goods sans corpsepaint but with a distinct New York edge," while Stereogum adds, "Hail Death is a pure metal album that relishes in the genre's conventions without feeling conventional: It's simply anthemic, aggressive, bombastic, thrilling, and fucking heavy."
Get down with the hate-fueled misanthropy, courtesy of Pitchfork, at THIS LOCATION.
In related BLACK ANVIL developments, the band will bring their corrosive compositions to the stage of Brooklyn's Saint Vitus Bar where they'll perform Hail Death in full. Sponsored by Vice's music portal, Noisey, the band will be joined by Psalm Zero, Fantom Warior and Yellow Eyes with additional live infiltrations to be announced in the weeks to come.
BLACK ANVIL Live 2014:
7/20/2014 Saint Vitus – Brooklyn, NY *playing Hail Death in its entirety w/ Psalm Zero, Fantom Warior, Yellow Eyes
Hail Death will be released via Relapse Records in North America/UK/World on May 27th, 2014 preceded by Germany/Benelux/Finland on May 24th, 2014. Recommended for iniquitous souls who worship at the altars of Celtic Frost, Metallica, Bathory, Watain, Emperor, Marduk, and Deströyer 666.
"…a bright, melodic yet venomous new effort that never stays faithful to genre, yet grabs you by the throat and won't let go." – Noisey
Preorder Hail Death today HERE. For itunes preorders, point your bowser HERE.