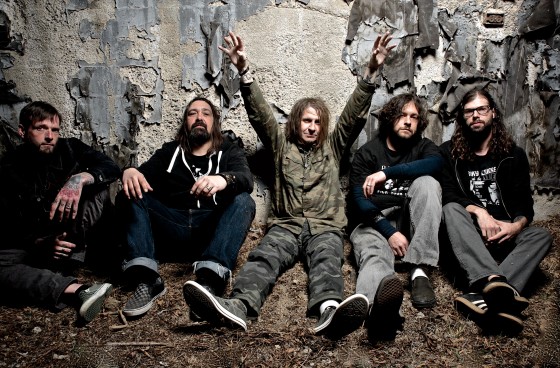 EYEHATEGOD's self-titled new studio offering – their first full-length in nearly 15 years – landed at #82 on the Billboard Current Album chart, #92 on the Top 200 chart, #26 on the Rock chart, #4 on the Hard Rock chart and #12 on the Indie chart! The record continues to reap the critical adulation of fans and media globally. Additionally, EHG graces the cover of July issue of Decibel Magazine, available now at THIS LOCATION.
EYEHATEGOD is currently leveling stages across the US on a near month-long live infiltration alongside metallic hardcore cohorts, Ringworm, and morose punk metal perpetrators, Enabler. Comments vocalist Mike IX Williams, "Turns out folks are as psyched up as we are about the new EHG album. The current tour is off the hook and the response has been completely fanatical!"
EYEHATEGOD w/ Ringworm, Enabler [remaining dates]:
6/06/2014 Even Flow – Long Island, NY [tickets]
6/07/2014 Europa – Brooklyn, NY [tickets]
6/08/2014 Basement Transmissions – Erie, PA [tickets]
6/09/2014 Bug Jar – Rochester, NY [tickets]
6/10/2014 Loving Touch – Detroit, MI [tickets]
6/11/2014 Now That's Class – Cleveland, OH [tickets]
6/12/2014 Birdy's – Indianapolis, IN [tickets]
6/13/2014 Cobra Lounge – Chicago, IL [tickets]
6/14/2014 Pyramid Scheme – Grand Rapids, MI [tickets]
6/15/2014 Bottom End Bar – Appleton, WI [tickets]
6/16/2014 Triple Rock – Minneapolis, MN [tickets]
6/17/2014 Diamond Pub – Louisville, KY [tickets]
6/18/2014 Fubar – St. Louis, MO [tickets]
6/19/2014 Hi Tone – Memphis, TN [tickets]
6/20/2014 Southport – New Orleans, LA [tickets]
6/21/2014 Dollhouse – Savannah, GA [tickets]
6/22/2014 Orpheum – Tampa, FL [tickets]
6/23/2014 Looseys – Gainesville, FL [tickets]
6/24/2014 Zydeco – Birmingham, AL [tickets]
6/25/2014 The Handlebar – Pensacola, FL [tickets]
Eyehategod is available via Housecore Records at THIS LOCATION.
"…the record that EHG fans have been waiting for; a stomping and venomous set of eleven tracks that reignite the band's amazing propensity for down-trodden, electric blues and with their late drummer LaCaze behind the kit." – Noisey
"…the ultimate EHG album." – Metal Underground
"…this entire album at times feels like being engulfed by a wet blanket on a 90-degree day… To say that this album is a triumphant return, or 'the album we've all been waiting for' are elephantine understatements. This album holds its own against some of the best of their canon and that alone makes it one of the best metal albums you'll hear this year." – Metal Insider
"…it's all killer, no filler…" – Hellbound
"The band's trademark amalgamation of Ozzy-era Sabbath and side two of My War is alive and well. And while the band have been to hell and back… they don't sound tired or fragile. They don't sound reheated, either. This is fresh, stinking EYEHATEGOD pulling itself out of the NOLA swamps to backhand a bunch of reformed hardcore kids vapidly biting their sound. It lives up pretty much exactly to your expectations. Which is to say, it's really fucking good." – MetalSucks
"These sounds transcend the decades of abuse, both inflicted and received. They could have been laid to tape in 1988 and they'll still resonate decades from now. Call it a refreshing helping of cold truth or a self-inflicted road to warped relapse. Another in a storied, weathered history of blooze-metal NOLA cocktails, EYEHATEGOD find their mark and fucking nail it…" – HeavyPlanet
"…in terms of consistency and sheer 'fuck yeah'-ness this is right up there in that first tier of must-have EYEHATEGOD platters. Welcome back, boys. You earned it." – Metal Injection
"…a worthy comeback and their most entertaining release since 1996's Dopesick. It's both urgent and raw, as if the band hasn't aged a day, especially in the case of Williams. His volatile howl hits adolescent highs and scratchy lows on opener 'Agitation! Propaganda!' and the song's d-beat gallop is a welcome dose of speed before the relentless, sludgy grooves that follow." – Consequence Of Sound
"Their albums take on a life of their own, personifying what life is like in the lower middle class and working class neighborhoods of the various backwaters of forgotten America. The band's second album, the seminal Take As Needed For Pain, is the tortured soliloquy that all sludge bands could only aspire to approach… yehategod are more popular than ever; and that visibility shall only increase with Eyehategod, a classic of the genre." – About.com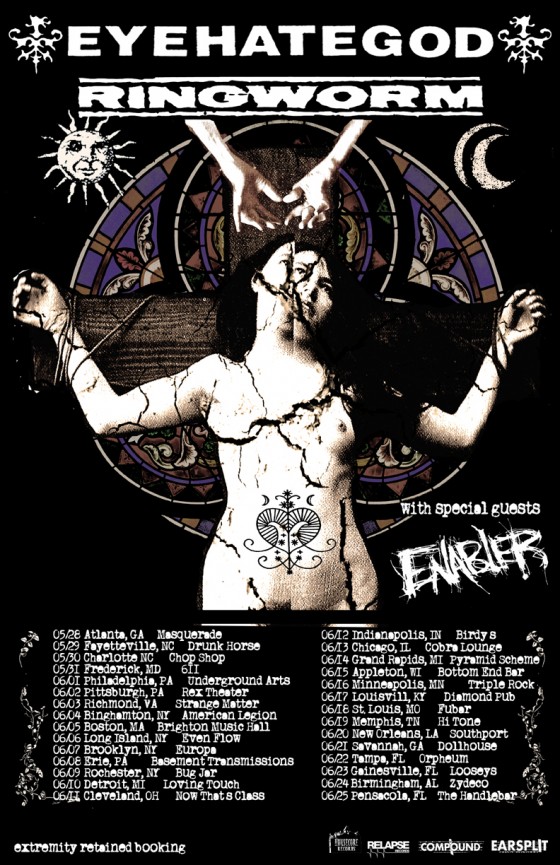 http://www.eyehategod.ee
http://www.facebook.com/OfficialEyeHateGod
http://www.thehousecorerecords.com