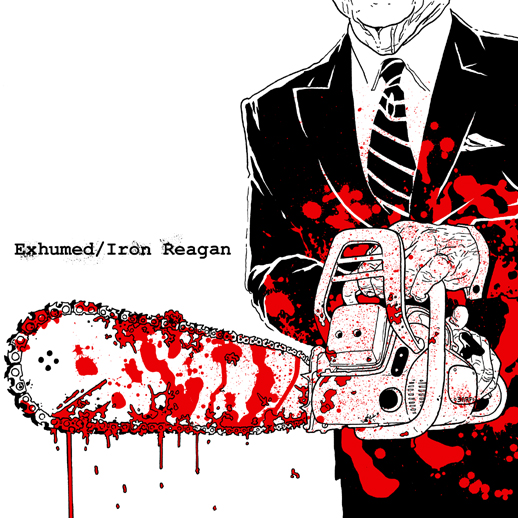 In honor of their upcoming combo assault with hardcore thrash miscreants, Iron Reagan, today the gorelords in EXHUMED expel a new canticle of chaos in the form of "Gravewalker."
Comments Matt Harvey, minister of diseased death rattles and obscene elegies, "In between our seemingly endless road schedule and recording a new album, we managed to squeak in some time to barf up a couple new tracks and cover songs for this split with our tight buds in Iron Reagan. They're a bit more stripped-down and nasty than the last album [Necrocracy], which was a lot of fun for us. This EP is all about cutting loose and getting down and dirty. We hope you'll join us in the grime and turn out for our week of shows with the Reagans just in time to have one last rager before you spend the holidays with your creepy drunk aunt who keeps touching your face at the table – you know the one I mean! See you mutants on the road!"
Get gruesome with "Gravewalker" at THIS LOCATION.
The upcoming vinyl-only split boasts a total of eight banging tracks of highspeed fuckcrush, two of which find EXHUMED delivering face-raping covers of Minor Threat's "Seeing Red" and Negative Approach's "Ready To Fight."
In related news, EXHUMED will unite with Iron Reagan tomorrow for a short run of live abrasions set to kick off in Las Vegas. See full listing of activities below:
EXHUMED w/ Iron Reagan:
12/08/2013 Cheyenne Saloon – Las Vegas, NV
12/09/2013 The Metro – Oakland, CA
12/10/2013 The Casbah – San Diego, CA
12/11/2013 Chain Reaction – Anaheim, CA
12/12/2013 Rocky Point – Tempe, AZ
12/14/2013 Gothic Theater – Denver, CO
The EXHUMED/IRON REAGAN split 12″will be unleashed via Tankcrimes on January 7, 2014. Pre-order your copy TODAY at THIS LOCATION and get a digital download of the album emailed to you on December 16th just in time to stuff your stockings.

http://www.facebook.com/ExhumedOfficial
https://www.facebook.com/pages/IRON-REAGAN/235448059864772
http://www.tankcrimes.com