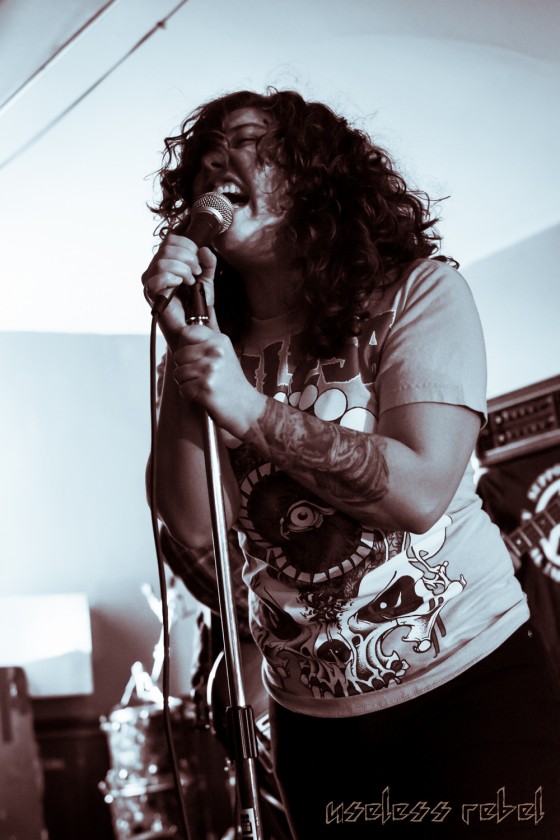 Following a week-and-a-half November tour through the Midwest, COP PROBLEM will this week pack the van back up for a Northeastern mini-tour. Alongside their brethren in Old Lines, this Friday, December 6th, COP PROBLEM will travel north to invade Danbury, followed by Brooklyn on Saturday, before returning to Philadelphia for a hometown throwdown on Sunday night. Stay tuned for additional tour actions to be announced into and through 2014.
South Philly hardcore/punk activists COP PROBLEM's latest battle cry, Buried Beneath White Noise, is charged with the quartet's most enraged anthems yet. With four new tracks engineered by Will Yip (Paint It Black, Circa Survive, Balance & Composure), the dueling thunder of guitarist Randon Martin and bassist George G create diverse and deadly riffage, the percussive backbone provided by Joshua Cohen unilaterally devastates with white-knuckled blasting rolls while his sibling Deb Cohen violently unloads a torrent of vocal fury in retaliation to the vast, daily injustices afflicting innocent life around the globe.
COP PROBLEM recently self-released Buried Beneath White Noise digitally, but this week the final plans are being locked on the pending physical manifestation of the EP. The 7″ pressing will be released in February 2014 through an international joint effort between British DIY label, Prejudice Me, for European territories, and NYC-area-based and Earsplit-operated, The Compound, for North America. Preorders will be available immediately following the start of the year.
Stream Buried Beneath White Noise at Invisible Oranges RIGHT HERE.
COP PROBLEM Tour Dates:
12/06/2013 Heirloom Arts Theatre – Danbury, CT w/ Old Lines, Empty Vessels, Bad_Decisions [info]
12/07/2013 The Acheron – Brooklyn, NY w/ Passage, Capacities, Old Lines, Lords of Death [info]
12/08/2013 Kung Fu Necktie – Philadelphia w/ Old Lines, Heathen Reign [info]
"…yet another example of the U.S.' dominance of melodic crust… four angry tracks of hardcore against complacency. Given the current state of American politics, it's highly appropriate that they would release a song titled "American Spring." No Gods, No Masters–even in the City of Brotherly Love." – Pitchfork
"Urgency and despondence come in equal measure…" – Invisible Oranges
"…a raw collision of metal and punk, crusted together with some d-beats. It's not unlike Enabler, although it lacks their finesse. Instead, Cop Problem tend to blaze through the sound, occasionally sloppily, with less attention paid to crafting hooks." – Exlclaim!
"I'm a firm believer that music can be used as a weapon of protest against the fuckers that want to downpress the poor of all colors around the world. In the world of corporate greed and apathetic youth, it's rad to know that bands like COP PROBLEM have not given up the good fight." – Cvlt Nation
http://www.copproblem.com
https://www.facebook.com/CopProblem
http://music.copproblem.com
https://www.facebook.com/TheCompoundRecs
http://www.earsplitdistro.com