With over two decades of gruesome grinding under the belts, you might assume West Coast horror hellions would be ready to slow down. You'd be deathly wrong. A true work of sonic repulsion, EXHUMED's upcoming Necrocacy full-length is he band's political manifesto for a new dark day. There is no democracy, no equal rights, no freedom of choice — bow down to your one true master: THE SAW!
Among Decibel Magazine's most anticipated albums of 2013, Necrocacy delivers nine goretorn tracks of prime audio sickness oozing blazing guitars, filth-stricken vocals and obscene drum blasts. Quite possibly their finest hour yet, as the years roll by EXHUMED refuse to mellow. This is a band that stinks like the rotting flesh of a nation waiting for revolution: Vote Necrocracy Party 2013! The follow-up to 2011's maniacal All Guts, No Glory long player was recorded at Arcane Digital Recording in Chandler, Arizona with Ryan Butler (Misery Index, Landmine Marathon, Phobia). All drums were tracked at Trench Studios in Corona, California with John Haddad (Hirax, Abysmal Dawn, Intronaut). Audio obliteration will be had.
Comments Matt Harvey, he of the decrepit death rattle and repugnant requiems: "We're super pumped that 2013 will see the release of Necrocracy. We think it's our heaviest record to date and we can't wait to start playing the new tunes on the road. The album is a bit hookier and meatier than All Guts… and we hope all you maniacs enjoy it. You should find a few more tunes on this one to bang your head and get wasted to! See you on the road or on the slab! Cheerz!"
Necrocracy will be released via Relapse Records in North America on August 6th, 2013, August 2nd, 2013 in Germany/Benelux and August 5th, 2013 in the UK/world and come available in CD, LP, Deluxe LP and digital formats. The limited edition Necrocracy Party 2013 Political Rally Pack contains a deluxe LP plus a bonus CD with the entire album + five exclusive tracks, a pin set, bumper sticker and poster pack! Limited to a one time pressing of 500 copies worldwide!
To preorder Necrocracy, point your browser to THIS LOCATION.
Necrocracy Track Listing:
1. Coins Upon The Eyes
2. The Shape Of Deaths To Come
3. Necrocracy
4. Dysmorphic
5. Sickened
6. (So Passes) The Glory Of Death
7. Ravening
8. Carrion Call
9. The Rotting
In related news, team EXHUMED, who are in the midst of soiling stages across Europe, will embark upon a mega North American tour this Fall supporting headliners Dying Fetus. The onstage battery will commence on October 4, 2013 in Wilmington, Delaware and devour nearly a month's worth of cities, coming to a close on November 2, 2013 in Springfield, Virginia. Additional support will be provided by Devourment, Waking The Cadaver, Abiotic and Rivers Of Nihil. See confirmed dates below.
EXHUMED European Takeover 2013 [remaining dates]:
6/15/2013 Tavernu Du Theatre – La Louvière, Belgium
6/17/2013 Jc Cerberus Hengelo – Hengelo, Netherlands
6/18/2013 Hafenklang – Hamburg, Germany
6/22/2013 Metal Fest Open Air Poland – Jaworzno, Poland
6/23/2013 Kilkim Zaibu – Varniai, Lithuania
7/05/2013 In Flammen Open Air – Torgau, Germany
7/06/2013 Obscene Extreme Afterparty – Trutnov, Czech Republic
7/17/2013 Vlamrock – As, Belgium
7/23/2013 Metal Days – Tolmin, Slovenia
7/24/2013 Garage – Munich, Germany
7/25/2013 Eisenwahn – Obersinn, Germany
EXHUMED w/ Dying Fetus, Devourment, Waking The Cadaver (10/4 – 10/19), Abiotic,Rivers Of Nihil (10/26 – 11/2):
10/04/2013 Mojo 13 – Wilmington, DE
10/05/2013 The Soapbox – Wilmington, NC
10/06/2013 Back Booth – Orlando, FL
10/07/2013 The Orpheum – Tampa, FL
10/09/2013 Fitzgerald's – Houston, TX
10/10/2013 Red 7 – Austin, TX
10/11/2013 Trees – Dallas, TX
10/12/2013 Chameleon Room – Oklahoma City, OK
10/13/2013 Warehouse 21 – Santa Fe, NM
10/14/2013 Rocky Point – Tempe, AZ
10/15/2013 Observatory – Santa Ana, CA
10/16/2013 The Whisky – W. Hollywood, CA
10/17/2013 DNA Lounge – San Francisco, CA
10/18/2013 Branx – Portland, OR
10/19/2013 Studio Seven – Seattle, WA
10/20/2013 Rickshaw Theater – Vancouver, BC
10/22/2013 Republik – Calgary, AB
10/23/2013 Pawn Shop – Edmonton, AB
10/24/2013 Riddell Centre – Regina, SK
10/25/2013 Park Theater – Winnipeg, MB
10/26/2013 Station-4 – St Paul, MN
10/27/2013 Reggie's – Chicago, IL
10/29/2013 Peabodys – Cleveland, OH
10/30/2013 Chance Theater – Poughkeepsie, NY
10/31/2013 Palladium – Worcester, MA
11/01/2013 Gramercy Theater – New York, NY
11/02/2013 Empire – Springfield, VA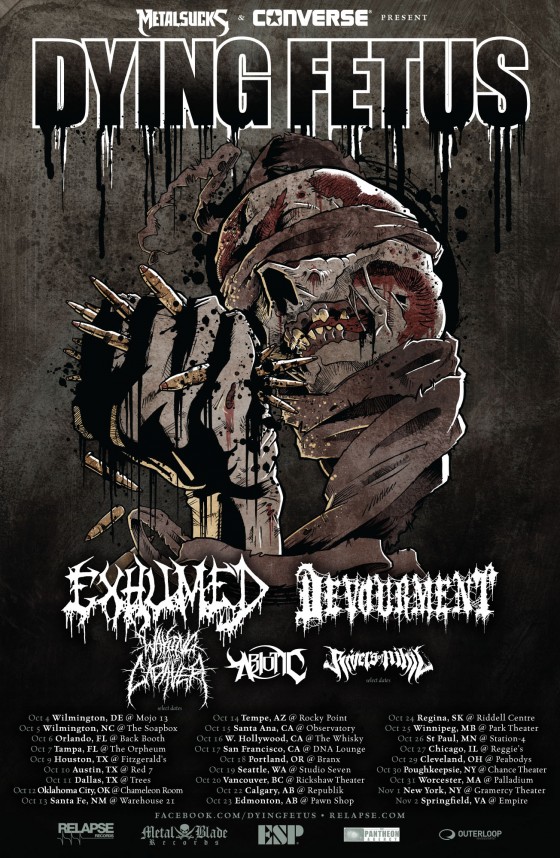 http://www.gorefuckingmetal.blogspot.com
http://www.facebook.com/ExhumedOfficial
http://www.myspace.com/exhumed
http://www.relapse.com