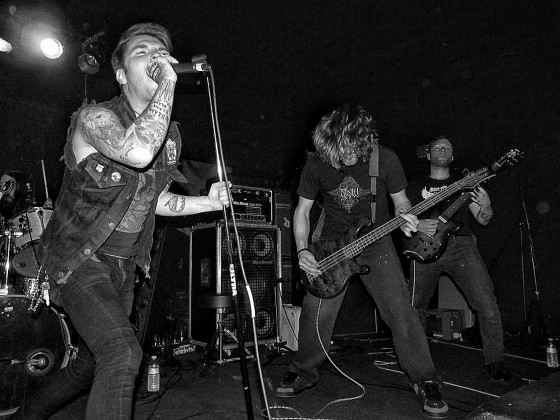 Oregon funeral doom legion EPHEMEROS offer up another track of gut-wrenching glory. Titled "Stillborn Workhorse," the hymn comes by way of the band's soul-searing All Hail Corrosion full-length. Called "the sonic equivalent of oxidizing razors and toppling gravestones," by Pitchfork, All Hail Corrosion nods its sullen head to the likes of Mournful Congregation, Loss and Asunder whilst delving into deeper, darker, more acerbic death/sludge-bent territories. The end product is a punishing hailstorm of slow, suffocating riffs, scorned vocals and a smoky atmosphere of morose, chest-collapsing, heaviness
Doom down your Tuesday with the sounds of "Stillborn Workhorse," now playing at Cvlt Nation at THIS LOCATION.
Founded by members of Nux Vomica, Graves At Sea, Elitist, and Bastard Feast, EPHEMEROS' forthcoming All Hail Corrosion is set for release on CD and digitally via Seventh Rule on August 20, 2013 and on vinyl through Parasitic Records. All Hail Corrosion was tracked and mixed by Fester (Atriarch, Stoneburner) at Haywire Studios, mastered by Brad Boatright (Sleep, From Ashes Rise, Nails) at Audiosiege Engineering and bestows its listeners with forty traumatic minutes of measured depressive harmonies, soul-crushing growls and haunting chants centered around the imminent decay of humanity.
Pitchfork recently released the first single from All Hail Corrosion, with an exclusive premiere of the title track, still streaming HERE.
Preorders for All Hail Corrosion will be available THIS FRIDAY, August 2, 2013 HERE.
https://www.facebook.com/Ephemeros
http://www.seventhrule.com