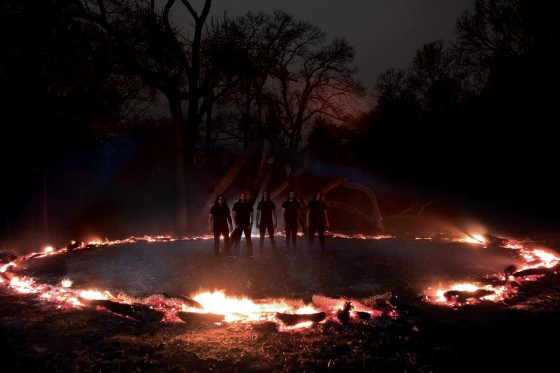 A fairly brand new name to the genre, Dallas-born death metal entity CLERIC will leave a memorable impression upon the scene soon enough, as their debut LP is approaching, confirmed for release on local independent label Tofu Carnage Records.
Formed by underground combatants from Kill the Client, Baring Teeth, and Tyrannosorceress, the members of CLERIC are no stranger to all things brutal and visceral, and they fuse their old-school death metal aggressive tendencies here into a relentless attack. Recorded by Garry Brents (Kill The Client, Phobia, Noisear) and mastered by Brad Boatright at Audiosiege (From Ashes Rise, Nails, Sleep), CLERIC's debut full-length LP, Gratum Inferno, boasts nearly a half-hour of grating, Stockholm-bred but Americanized death through seven hymns of debauchery, bizarre, haunting and horror-soundtrack elements permeating from deep within its hellish core.
Not only designed to be experienced aurally, Gratum Inferno is for those who truly appreciate the aesthetic value of deluxe packaging and heavyweight color vinyl. The album is pressed on 200-gram, translucent yellow wax with blood red and milky clear splatter and features heavyweight spot-varnish printed jackets, gold foil-stamped inner-sleeve graphics, and was mastered at 45rpm for superior sound quality. This is an album that was truly meant for vinyl. The original and insane cover art was masterminded by Jason Barnett (Noothgrush, etc.). Gratum Inferno will see its proud release via Dallas' Tofu Carnage Records — responsible for quality vinyl releases for Dead To A Dying World, Akkolyte, Unconscious Collective and Ecocide — in mid-September, with an official street date pending.
Amped on releasing the crushing debut, Tofu Carnage set up preorders for the album early, and hooked up with Cvlt Nation to stream Gratum Inferno nearly two months before its proposed release. Uncage the audio and illustrative iniquity of Gratum Inferno for yourself RIGHT HERE.
Gratum Inferno Track Listing:
1. Gratum Inferno
2. Through the Starless Abyss
3. From Womb to Tomb
4. Satanic Dimensions
5. Into Death and Far Beyond
6. Left-Hand Wrath
7. Faith in Debauchery
https://www.facebook.com/666cleric666
http://clericdeath.bandcamp.com
http://www.tofucarnage.com
https://www.facebook.com/TofuCarnage
http://twitter.com/tofucarnage