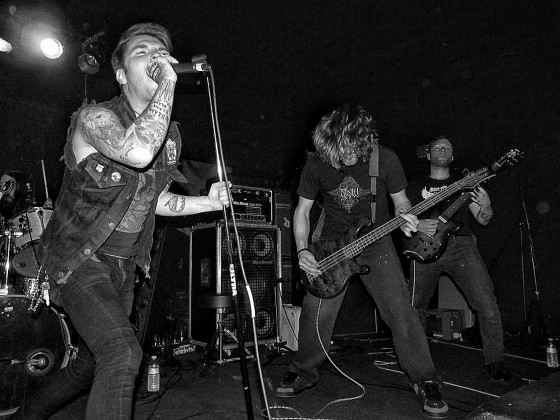 Oregon doom unit EPHEMEROS will take their funeral procession of riffage out on the road tomorrow with the next phase of regional touring. The new jaunt includes four shows in California beginning this Thursday, July 18th as the band traverses south, opening the tour in Chico before heading through Oakland, San Francisco and Eureka. Just days after returning to their home turf in Portland, EPHEMEROS will share the stage at an intimately crushing local doom gala alongside Lycus, Usnea and Megaton Leviathan.
Additional tour dates will be announced in the coming days which will see EPHEMEROS infiltrating places eastward into the Fall season.
Founded by members of Nux Vomica, Graves At Sea, Elitist, and Bastard Feast, EPHEMEROS' pending debut LP All Hail Corrosion is set for release on CD and digital formats via Seventh Rule on August 20, 2013 and on vinyl through Parasitic Records. With three lumbering tracks in the tradition of Mournful Congregation, Loss, Asunder and similar acts yet one which also crosses into corrosive death/sludge-influenced territory, the album places the band in a more modern platform of artists helping push the genre into new realms. All Hail Corrosion was tracked and mixed by Fester (Atriarch, Stoneburner) at Haywire Studios, mastered by Brad Boatright (Sleep, From Ashes Rise, Nails) at Audiosiege Engineering and bestows its listeners with forty traumatic minutes of measured depressive harmonies, soul-crushing growls and haunting chants centered around the imminent decay of humanity.
Pitchfork recently released the first single from All Hail Corrosion, with an exclusive premiere of the title track. Unleash the slow-motion dirge RIGHT HERE.
EPHEMEROS Live:
7/18/2013 1078 Gallery – Chico, CA w/ Amarok
7/19/2013 Metro – Oakland w/ Larvae, Serpents of Dawn, Druggernaut
7/20/2013 Hemlock – San Francisco, CA w/ Wild Hunt, Ionophore, Thoabath
7/21/2013 The Ink Annex – Eureka, CA w/ This Is Not Earth
7/25/2013 Megaton Haus – Portland, OR w/ Lycus, Usnea, Megaton Leviathan
"Funeral doom excursions with more energy than the genre usually commands." – Invisible Oranges
"The quality of musicianship and devilish attention to detail is outstanding, and what's more, thanks to a heavy appreciation for sludge, death metal, and more traditional doom, Ephemeros manage to breathe new life into funeral doom's staid pacing. The result is crushing." – Pitchfork
https://www.facebook.com/Ephemeros
http://www.seventhrule.com