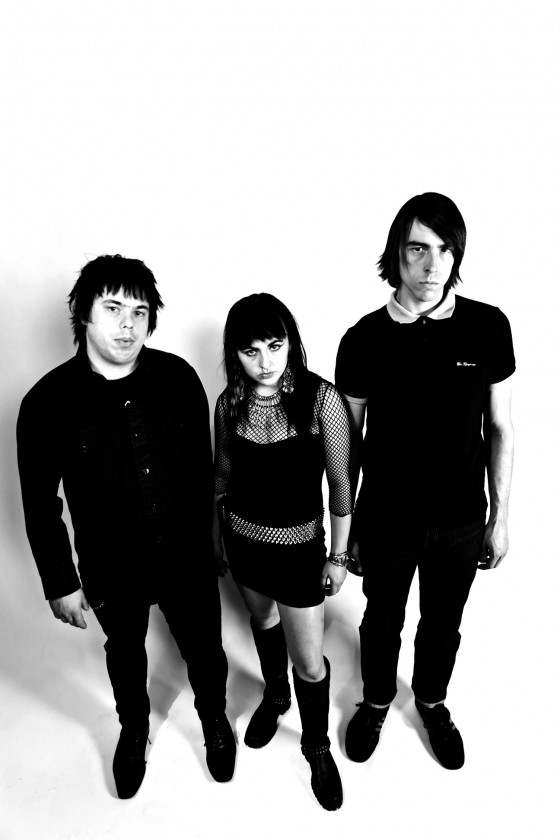 A389 Recordings this week announces the signing of Portland-based post-punk trio THE BELLICOSE MINDS.
THE BELLICOSE MINDS likes to keep the music dark, and sinister, always throwing cynical thought to the foreground. Flowing with a dark, early-'80s Gothic rock edge citing influences from The Chameleons, The Sound, Red Lorry Yellow Lorry and Danse Society, and of course the rain the Northwest continually brings, THE BELLICOSE MINDS has toured in the US and played at key underground punk festivals in Canada since their incarnation in 2008. While the band has sustained multiple lineup changes, it has always at its core been AJ on drums and Nick on lead guitar and vocals, and the current lineup sees bassist Mira joining the founding pair.
THE BELLICOSE MINDS have exposed the rock underworld to a variety of self-released demos and independent releases over the years including two tapes, a self-titled 7″ EP, and most recently their first LP, The Spine, released earlier in 2013 via Blackwater Records. One of the act's seminal releases is 2009's The Buzz Or Howl Sessions, initially self-released only as a 500 copy run on dubbed cassettes. A389 will now officially re-release the long out-of-print The Buzz Or Howl Sessions for the first time ever on vinyl, the initial masters completely remastered by Audiosiege and artwork and layout to feature a full redesign. It's coming together to see release late this Fall with a confirmed street date to be announced shortly.
Additionally, THE BELLICOSE MINDS is currently in the writing process for their next LP which will also see release through A389 later in the year alongside the band's first European tour this Fall and additional regional and stateside touring. In the meantime stream the band's latest release The Spine for FREE via Bandcamp HERE.
Stay tuned for steady updates on the band's release and tour schedules over the coming weeks.
http://bellicoseminds.bandcamp.com
https://www.facebook.com/pages/The-Bellicose-Minds/192898540849943
http://www.a389records.com
https://www.facebook.com/a389recordings
https://twitter.com/a389recordings