Welcome to another digest of all the news fit to shit for Eolian Empire's Summer of Cuz… cuz they said so: Some of the hot stuff coming up this time through the ringer includes a DRUNK DAD record release show, new releases announcements for BIG BLACK CLOUD, HUMOURS and NORSKA as well as the KEEP OUR HEADS – ALIVE! compilation, a sweltering video from HOT VICTORY, a US tour for HONDURAN and DRUNK DAD, Euro tour for RABBITS and ÅRABROT, and the confirmation of the label's first compilation internationale.
DRUNK DAD has left the, um, bar. The aggrography of the new twisted-as-shit LP Ripper Killer is capturing the ears of bad-tasters everywhere: "Combining the thunderous sludge of Melvins, the confrontational punk rock of Flipper, and the abrasion and psychosis of Harvey Milk, this brilliantly named band wastes no time grabbing your attention" (Decibel), "like a triple word score for 'noise rock' and 'grunge'" (Invisible Oranges), "equal parts shocking, thrilling, and kick ass" (Verbicide), "Finally, someone uses the monikers grunge and hardcore and that's exactly what you get all modernized and shit" (Metal Descent), "destructive loathing and blood clot-fueled tirades amidst gnarled, back-bending riffs, devastating drumrolls and punishing noise outbursts" (Covering the Scene), "a fascinating, involving record that measures its bleakness with a truly intelligent approach to noise" (Portland Mercury). Okay, okay, enough already. DRUNK DAD plays a hometown release show this Friday at the Information Warehouse in Portland with labelmates HONDURAN and BIG BLACK CLOUD as well as Seattle depravists Health Problems and post-post-punk rulers Tyrants. A whirlwind US tour with HONDURAN is planned for September; a full routing will be dispatched in the coming days.
Furious sci-fi punks, BIG BLACK CLOUD, birthed us all a new EP from a caravan recording at the Fancy Fox (if you have to ask…), to be released on cassette and digital August 5th, just in time for their tour de California. With commendations of the band's Black Friday LP via Spin, Magnet, and MRR, among others still fresh, picking up where the "tense, taut, seething, screaming fury" (Spin) of the album left off, the new ripper, Lessons in Fuck You 2, captures the same weird and wild anxious alien anthems that compels the punters back again and again. BIG BLACK CLOUD's justly cross and rarefied mix of punk, noise, garage, surf, and rock is as noisy, vibrant, catchy, and fucked as ever: rhythms that drive and swerve, threat-level guitar terrorism, and a high dosage of goddamn-you-all-to-hell preaches. Is it any wonder why we adore them so? Check out their battering live version of "Cities of the Red Night" from the KEEP OUR HEADS – ALIVE! compilation and catch their reckless rock live in the Golden State next month.
Sharp-as-tacks quartet HUMOURS wrapped up their debut EP, The Onanist, due out early fall on vinyl and digital. Stripped-down '70s prog hits '90s post-hardcore headlong to manifest a fascinating compulsion: technical, visceral, future rock for the new and old-schoolers alike. Featuring members of 1939 Ensemble and engineer extraordinaire Fester (Rabbits, Honduran, Usnea, Stoneburner), HUMOURS expertly flits through complex progressions and movements with a mastery of dynamics, speed, and emotion buoyed by strong, melodic vocals, all captured on an impeccable recording of four tracks, including a new version of "In the Court of the Corn-Eyed King" from the original KEEP OUR HEADS compilation of Portland heavy underground bands. Not to be taken lightly.
More stuff to stuff in your earholes… the KEEP OUR HEADS – ALIVE! digital-only compilation of twelve tracks from the twelve acts (Acre, Ix, Norska, Hot Victory, Big Black Cloud, Gaytheist, Redneck, Sioux, Palo Verde, Towers, Honduran, Rabbits) who played the KEEP OUR HEADS release shows last April is out. Limitations in the recordings may reflect the fact that we recorded it on a digital 4-track and these were real bands playing in front of real people… but, you know, don't be a dick about it, because it's FREE and sounds pretty fucking good. The mighty NORSKA hits the studio next week with Adam Pike (Red Fang, Diesto, Black Elk) to record their first ever full-length, a long overdue follow-up to their acclaimed 2011 EP on Brutal Panda. NORSKA draws from throughout the heavy musical realms to forge their own extraordinarily compelling amalgam of progressive burl, apparent in their live "Nobody One Knows" from KEEP OUR HEADS – ALIVE!. HOT VICTORY, Portland's extragalactic drums-synths-'n'-samples duo, back from their US tour with Floor, just completed their video for "Island Realm," so very soon you'll see how they make such a outrageous racket all by themselves — while sitting down. Thorns-in-our-sides, RABBITS, returns to Europe in October with Norwegian greats, ARABROT, in support of their new record Untoward, due out August 12th on Lamb Unlimited. Their matinee release show Saturday August 16th takes place during the three-day, seven-show, twenty-five-band D.I.Y. "anti-fest" dubbed Festicide, running from August 15th – 17th; a celebration of the heavy, noisy, and weird featuring Eolian artists RABBITS, HONDURAN, DIESTO, TOWERS, DRUNK DAD, and BIG BLACK CLOUD among heavy friends like Thrones, Stoneburner, Hungers and Sloths, with all shows $5 or free. And finally, Eolian Empire is assembling a sequel to KEEP OUR HEADS, tentatively titled FIENDS IN LOW PLACES: Heavy Vibes Internationale, featuring a sick lineup of heavy underground acts from all around the world in their ongoing effort to, you know, build their fucking empire.
For more straight dope check out eolianempire.com and the requisite other internets. Later daze.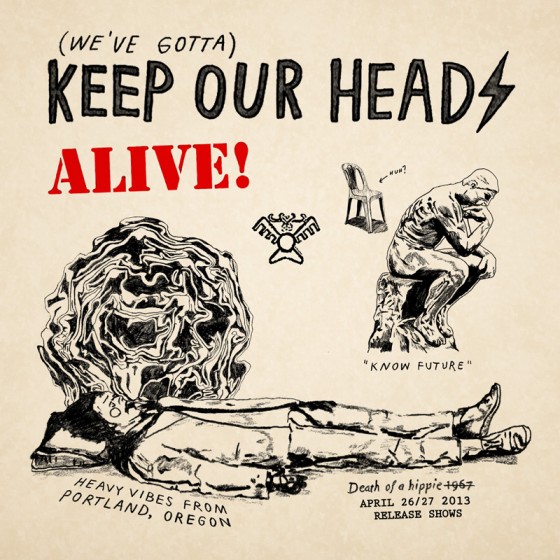 http://www.eolianempire.com
http://goods.eolianempire.com
https://www.facebook.com/eolianempire