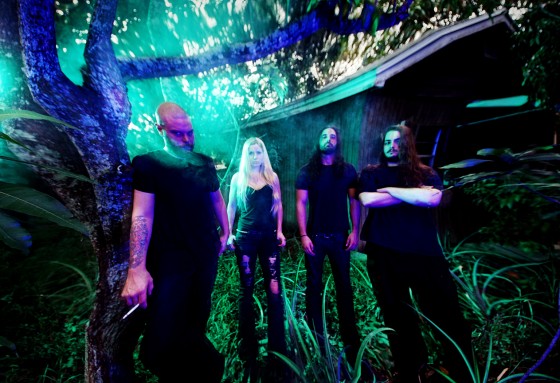 Detroit-based Corpse Flower Records is pleased to release the vinyl edition of Transmissions From The Neuralnomicon, from Florida exploratory death metal behemoths, ORBWEAVER!
The brain-fraying Transmissions From The Neuralnomicon EP was recorded at Miami's Pinecrust Studios with Jonathan Nunez of Torche and initially released last Summer in a limited run of 100 cassette tapes via Primitive Violence Records and on CD direct through the band. The vinyl edition has been remastered by James Plotkin (OLD, Scorn, Khanate, Khlyst) and limited to 300, hand-numbed and assembled copies in three color configurations: 100 on translucent blue, 100 on translucent orange and 100 on translucent purple. Each copy comes with an an 11″ x 17″ poster and digital download.
Commended for their, "twitchy, trippy tech death," by Invisible Oranges and called, "big, oozing and unusual," by Sea Of Tranquility, on Strange Transmissions From The Neuralnomicon ORBWEAVER journeys far beyond conventional genre realms with a kaleidoscopic fusion of psychedelia, noise, and a distorted rendering of progressive death metal. Continually shape-shifting between these impetuous, trance-like elements, ORBWEAVER conjures interplanetary pandemonium reminiscent of a Zappa-esque brand of controlled and violently elegiac chaos.
Order Strange Transmissions From The Neuralnomicon on wax via Corpse Flower Records at THIS LOCATION.
"Death metal weirdos like Gorguts and Obscura hook up with the unstable bent of Dysrhythmia and Psyopus for a sensory taxing good time." – Decibel
"ORBWEAVER have definitely blended the right mix of atmosphere with the right mix of experimental technical death metal to make a listen that is superbly solid and second to none. Whatever you want to call this stuff, I definitely hope to hear more 'alien metal' in the future…5/5″ – New Noise
"From the giant aliens on the EP sleeve, to the freak show, drug crazed blends of musicianship, this EP is an absolute ball-tearer…" – Metal Roos
"…awesome and fun…" – Last Rites
"…if you've experienced the technical insanity of bands like Gigan or Wormed and have wondered what it would sound like if those groups weren't always focused on all-out assaults and fell into a hazier drug induced void on occasion ORBWEAVER's perfect." – Cosmos Gaming
http://www.orbweaverband.com
http://www.facebook.com/Orbweaver.Official
http://www.corpseflowerrecords.storenvy.com
https://www.facebook.com/corpseflowerrecords?fref=ts