Technical death metallers ENTERPRISE EARTH will kick off 2022 supporting Fit For An Autopsy on their US headlining tour this winter. Set to commence on January 5th in Columbus, Ohio, the trek will pummel its way through nearly three dozen cities upon its conclusion February 12th in New York City. Additional support will be provided by Ingested, Signs Of The Swarm, and Great American Ghost!
Comments guitarist Gabriel Mangold, "We'll be 'chilling' (sorry not sorry) across the US this winter with Fit For An Autopsy, Ingested, Signs Of The Swarm, and Great American Ghost. You will not want to miss this stacked lineup! See you in 2022!"
ENTERPRISE EARTH recently announced a stretch of live dates this fall supporting Lorna Shore. The two-plus week journey begins September 15th and features additional support from Sentinels and Crown Magnetar. Tickets are on sale now. See all confirmed dates below.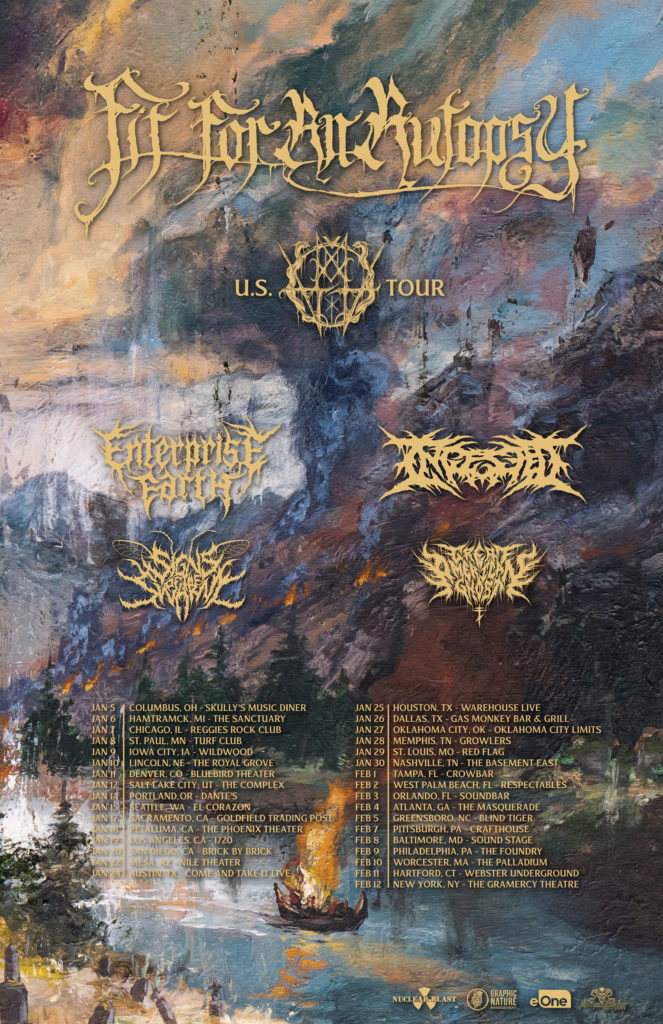 ENTERPRISE EARTH w/ Lorna Shore, Sentinels, Crown Magnetar:
9/15/2021 The Sanctuary – Hamtramck, MI
9/16/2021 Cobra Lounge – Chicago, IL
9/17/2021 Emerson Theater – Indianapolis, IN
9/18/2021 Growlers – Memphis, TN
9/20/2021 Gilly's – Dallas, TX
9/21/2021 The Secret Group – Houston, TX
9/22/2021 Rock Box – San Antonio, TX
9/24/2021 Soundbar – Orlando, FL
9/25/2021 Archetype – Jacksonville, FL
9/26/2021 Masquerade (Purgatory) – Atlanta, GA
9/27/2021 The End – Nashville, TN
9/28/2021 Neighborhood Theatre – Charlotte, NC
9/30/2021 The Foundry (The Fillmore) – Philadelphia, PA
10/01/2021 Amityville Music Hall – Amityville, NY
10/02/2021 Jewel Music Venue – Manchester, NH
10/03/2021 Alchemy – Providence, RI
w/ Fit For An Autopsy, Ingested, Signs Of The Swarm, Great American Ghost:
1/05/2022 Skully's Music Diner – Columbus, OH
1/06/2022 The Sanctuary- Hamtramck, MI
1/07/2022 Reggies Rock Club – Chicago, IL
1/08/2022 Turf Club- St. Paul, MN
1/09/2022 Wildwood- Iowa City, IA
1/10/2022 The Royal Grove – Lincoln, NC
1/11/2022 Bluebird Theater – Denver, CO
1/12/2022 The Complex- Salt Lake City, UT
1/14/2022 Dante's – Portland, OR
1/15/2022 El Corazon – Seattle, WA
1/17/2022 Goldfield Trading Post – Sacramento, CA
1/18/2022 The Phoenix Theater – Petaluma, CA
1/19/2022 1720 – Los Angeles, CA
1/20/2022 Brick By Brick – San Diego, CA
1/22/2022 Nile Theater – Mesa, AZ
1/24/2022 Come And Take It Live – Austin, TX
1/25/2022 Warehouse Live – Houston, TX
1/26/2022 Gas Monkey Bar & Grill – Dallas, TX
1/27/2022 Oklahoma City Limits – Oklahoma City, OK
1/28/2022 Growlers – Memphis, TN
1/29/2022 Red Flag – St. Louis, MO
1/30/2022 The Basement East – Nashville, TN
2/01/2022 Crowbar – Tampa, FL
2/02/2022 Respectables – West Palm Beach, FL
2/03/2022 Soundbar – Orlando, FL
2/04/2022 The Masquerade – Atlanta, GA
2/05/2022 Blind Tiger – Greensboro, NC
2/07/2022 Crafthouse – Pittsburgh, PA
2/08/2022 Sound Stage – Baltimore, MD
2/09/2022 The Foundry – Philadelphia, PA
2/10/2022 The Palladium – Worcester, MA
2/11/2022 Webster Underground – Hartford, CT
2/12/2022 The Gramercy Theatre – New York, NY
ENTERPRISE EARTH released their Foundation Of Bones EP last year via Entertainment One (eOne). Delivering brand new bruiser "Foundation Of Bones," as well as two cover tunes – Necrophagist's "Fermented Offal Discharge" and Lamb Of God's "Now You've Got Something To Die For" – an acoustic version of "There Is No Tomorrow" from their previously released Luciferous LP, and an instrumental edition of the title track, the surprise EP serves as a teaser to the band's forthcoming LP, set for release in the coming months. Foundation Of Bones also marks the band's first ever self-produced output.
View ENTERPRISE EARTH's quarantine-filmed playthrough of the instrumental version of "Foundation Of Bones," as well as clips of the official title track, the acoustic version of "There Is No Tomorrow," and the Necrophagist and Lamb Of God covers HERE.
Purchase Foundation Of Bones at THIS LOCATION. Visit the ENTERPRISE EARTH webstore at THIS LOCATION.
Founded in 2014 by ex-Infant Annihilator vocalist Dan Watson and ex-Takeover guitarist BJ Sampson, ENTERPRISE EARTH takes its name from a confluence of Illuminati and other conspiracy theories. The band released their critically lauded Luciferous full-length in 2019 via Entertainment One (eOne) / Good Fight Music. Produced and mixed by Jason Suecof (The Black Dahlia Murder, Whitechapel, Job For A Cowboy, Carnifex), Luciferous showcases a band committed to the brutal audio onslaught and proficient excellence. The band's authentic death metal precision and technical might is unquestionable, as evidenced by their ravenous live delivery.
http://enterpriseearthband.com
http://www.facebook.com/enterpriseearthband
http://twitter.com/EEarthBand
http://www.instagram.com/enterpriseearth/?hl=en
http://eoneheavy.com
http://www.facebook.com/eOneHeavy
http://twitter.com/eOneHeavy
http://www.instagram.com/eone_heavy