Progressive deathcore outfit ENTERPRISE EARTH is pleased to officially welcome singer Travis Worland (Aethere, Bite//Down, The Willow) to their ranks. Worland has been fronting the band throughout their 2022 live adventures.
Comments guitarist Gabe Mangold, "We're very stoked to officially announce Travis Worland as the new singer of ENTERPRISE EARTH. His vocal style, performance, personality, and work ethic are a perfect fit for us and we cannot wait for everyone to hear the first song that we've created together, 'Psalm Of Agony' (coming June 17th). Prepare for the best incarnation of ENTERPRISE EARTH yet.
Adds Worland, "After months of touring with the band, I am happy to assimilate into the entity that is ENTERPRISE EARTH. 'Psalm Of Agony' is the first step in a culmination of efforts only just beginning."
ENTERPRISE EARTH recently wrapped up a European tour supporting Fit For An Autopsy. In July, the band will kick off their US headlining tour. The Chosen Tour begins July 22nd in Seattle, Washington and runs through August 20th in Salt Lake City, Utah. Support will be provided by Within Destruction, Sentinels, and labelmates Great American Ghost. See all confirmed dates below.
ENTERPRISE EARTH w/ Within Destruction, Sentinels, Great American Ghost:
7/22/2022 El Corazon – Seattle, WA
7/23/2022 Dantes – Portland, OR
7/25/2022 Goldfields – Roseville, CA
7/26/2022 Chain Reaction – Anaheim, CA
7/27/2022 Nile Theater – Mesa, AZ
7/28/2022 Rockhouse – El Paso, TX
7/29/2022 Club Dada – Dallas, TX
7/30/2022 Come & Take It Live – Austin, TX
7/31/2022 The Secret Group – Houston, TX
8/02/2022 The Brass Mug – Tampa, FL
8/03/2022 Respectables – West Palm, FL
8/04/2022 The Haven – Orlando, FL
8/05/2022 Masquerade – Atlanta, GA
8/06/2022 Neighborhood Theater – Charlotte, NC
8/07/2022 The End – Nashville, TN
8/09/2022 Planet Trog – Allentown, PA
8/10/2022 Webster Underground – Hartford, CT
8/11/2022 Knitting Factory – Brooklyn, NY
8/12/2022 The Outpost – Kent, OH
8/13/2022 The Sanctuary – Detroit, MI
8/14/2022 WC Social Club – Chicago, IL
8/16/2022 Emerson Theater – Indianapolis, IN
8/17/2022 Skylark – Rock Island, IL
8/18/2022 The Marquee – Sioux City, IA
8/19/2022 HQ – Denver, CO
8/20/2022 Kilby Court – Salt Lake City, UT
ENTERPRISE EARTH continues to tour in support of their latest full-length, The Chosen, released early this year via MNRK Heavy. Thick with atmosphere and groove-driven, old-school death metal with modern flourishes, The Chosen finds ENTERPRISE EARTH switching gears from earth-shattering breakdowns to sickeningly slow sludge to blast furnace pummeling with seemingly effortless ease. Wrote Blabbermouth, "…ENTERPRISE EARTH come pretty close to transcending deathcore altogether on The Chosen, instead pursuing a new and often electrifying hybrid of modern (and not so modern) metallic styles, replete with far bigger tunes than on any previous record. From the opening seconds of 'Where Dreams Are Broken,' the sheer, shiny weight of this thing is abundantly apparent. The Chosen sounds huge and definitive." Added MetalSucks, "The Chosen is ENTERPRISE EARTH's most-everything record to date: it's the heaviest, the most vicious, the most technical, and, not for nothing, the catchiest offering in the band's already-impressive repertoire, and it's already destined to be one of 2022's must-hear metal releases."
The Chosen was engineered, produced, mixed, and mastered by the band's Gabe Mangold (now the group's sole guitarist) save for the drums which were tracked with producer Jason Suecof (August Burns Red, Demon Hunter, Death Angel).
The Chosen is available on CD, LP, cassette, and digitally. Find ordering options at THIS LOCATION.
View the band's previously released videos for "Where Dreams Are Broken," "Reanimate // Disintegrate," "Legends Never Die," and a variety of visualizers from The Chosen at the ENTERPRISE EARTH YouTube channel HERE.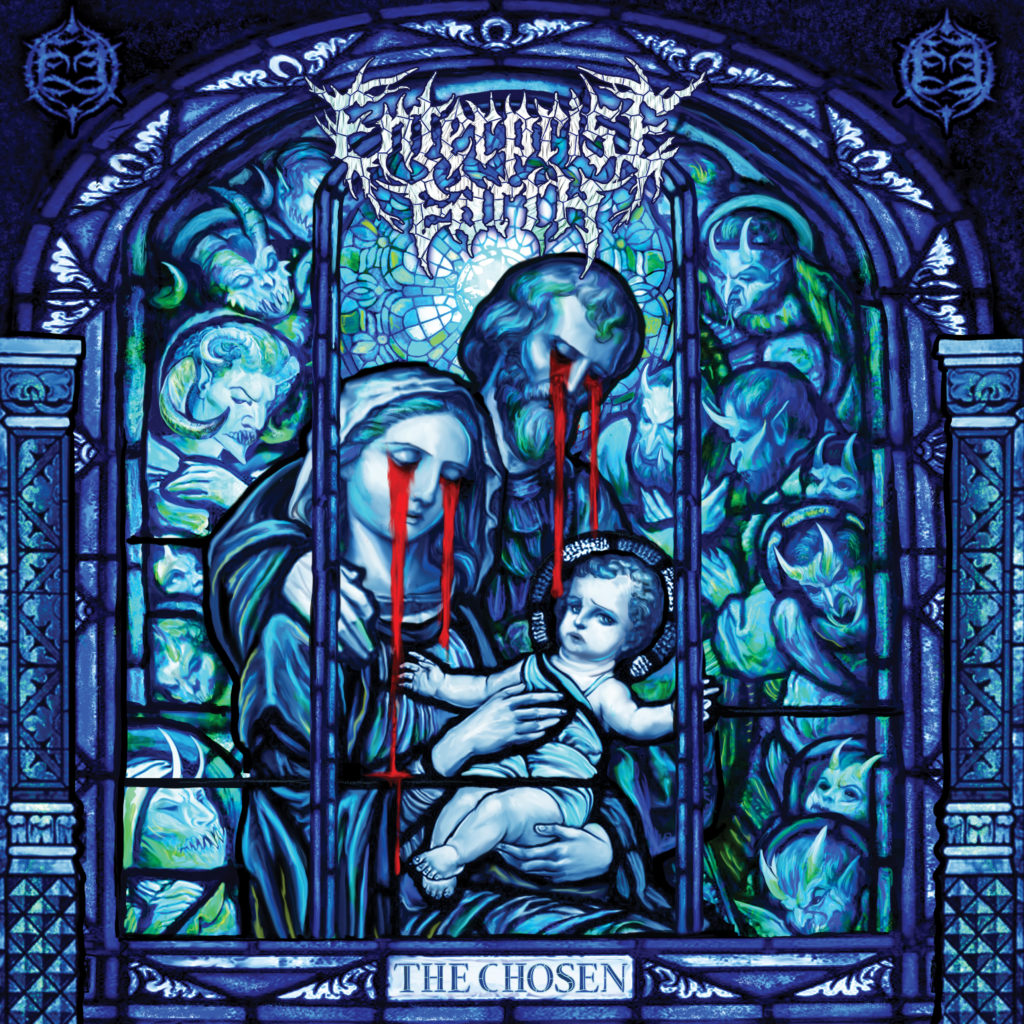 http://enterpriseearthband.com
http://www.facebook.com/enterpriseearthband
http://twitter.com/EEarthBand
http://www.instagram.com/enterpriseearth/?hl=en
http://www.mnrkheavy.com
http://www.facebook.com/MNRKHeavy
http://www.twitter.com/MNRKHeavy
http://www.instagram.com/MNRK_heavy