"Any hardcore or powerviolence band releasing an album in 2019 will have to compete for end-of-year accolades with ENDORPHINS LOST and their new album Seclusions, a rousing fourteen-track ripper out next month…" — Decibel
Seclusions is the impending new full-length from Pacific Northwest hardcore/powerviolence unit ENDORPHINS LOST. Set for release next month via the newly-launched From The Head Of Zeus, helmed by Bay Area punk veteran Athena Kautsch (Six Weeks Records, Vöetsek, The West Coast Powerviolence Project), Seclusions was recorded, mixed, and mastered by Greg Wilkinson (Brainoil, Deathgrave, Graves At Sea) at Earhammer Studio in Oakland, California and delivers fourteen mutinous tracks of audio acrimony; the sound of end times incarnate.
In advance of its release, Decibel Magazine offers up "Stone Man" for communal punishment, noting "High-speed riffs and one-hundred-words-a-minute vocals crash into stomping breakdowns and the production is thick and heavy, giving the many fast sections a much-appreciated heft that ENDORPHINS LOST's previous releases lacked. Each song is pared down to its minimum fighting weight, which brings us to 'Stone Man,' the second offering from Seclusions. Clocking in at a brisk 1:32, 'Stone Man' is actually one of the longer songs found on the record."
Issues the band of the track, "This song is about perspective. It's about those people who don't ask for sympathy; who have experienced so much pain and misery in their lives that they choose to carry that weight alone and somehow still greet the day with a positive outlook. It's about that old women who as a young girl survived the great depression, or that old man who was drafted straight to combat in Vietnam as a teenager. It's about those who are willing to take the pain of others upon themselves because they know they can handle it. People with a haunted past often wear a face of stone. And you would never know the horrors they've seen."
Hear "Stone Man" exclusively at Decibel Magazine at THIS LOCATION.
Seclusions will be released on CD, vinyl, cassette, and digital formats on February 16th. Preorders are currently available via the official ENDORPHINS LOST Bandcamp page at THIS LOCATION where first single, "Caduceus Rising" can be streamed.
ENDORPHINS LOST will rupture stages throughout 2019 beginning with a record release show February 16th with Black Queen, Great Falls, and City Of Industry. The band will blast this year's edition of Maryland Deathfest as well as Montreal Earslaughter. Additionally, ENDORPHINS LOST will be announcing a West Coast tour with French grind fiends Whoresnation as well as a Japanese live takeover in the waning months of 2019. Details to be announced in the months to come. Stay alert.
ENDORPHINS LOST:
2/16/2019 Highline – Seattle WA * Record Release Show w/ Black Queen, Great Falls, City Of Industry
4/19/2019 Top Knot Fest – Seattle, WA
4/20/2019 Little Devil's Lunchbox – Port Angeles, WA w/ Turian, Noose
5/25/2019 Maryland Deathfest – Baltimore, MD
6/01/2019 Montreal Earslaughter – Montreal, QC
"A trial of our strength. A testament to our anger." This is the embodiment of ENDORPHINS LOST, a fierce and manic powerviolence outfit based out of the Pacific Northwest. The band has continually evolved since its conception in 2009, increasing in speed and intensity while amplifying its rudimentary overtone of misanthropy and the inherent dysfunction of mankind.
2013's debut release Blood Pact (What's Left/Bad People/Nuclear Ass Records) was a steamroller of crusty grindcore mixed with pummeling d-beat and was immediately followed by a split seven-inch with Indonesia's Tersanjung 13. A lengthy southeast Asia tour soon followed. In 2014, the band then released a split seven-inch with Indiana grind violence maniacs Flvx Capacitor (Rotten To The Core Records) before touring the West Coast and Mexico in 2015.
After drafting new personnel, ENDORPHINS LOST released their most relentless display of audio violence yet with 2016's split with San Jose riff merchants Deathgrave (Rotten To The Core Records). More touring ensued before the release of their full-length debut, Choose Your Way later that year via Six Weeks Records. They rest of the year was filled out with regular gigs throughout the Northwest followed by Canadian bombardments in Vancouver and Victoria, British Columbia. Upon these regular assaults, they teamed up with Canadian face breakers OSK and hatched a plan that again took them into the studio. This time to record a split seven inch with OSK (2017; Rotten To The Core Records, Delusion Of Terror, Agromosh Records, New Age Pyrate Punx, All You Die Records). This was proceeded by a blistering western US tour before yet another trip to Earhammer Studio to fashion the sonic demolition that is this year's Seclusions.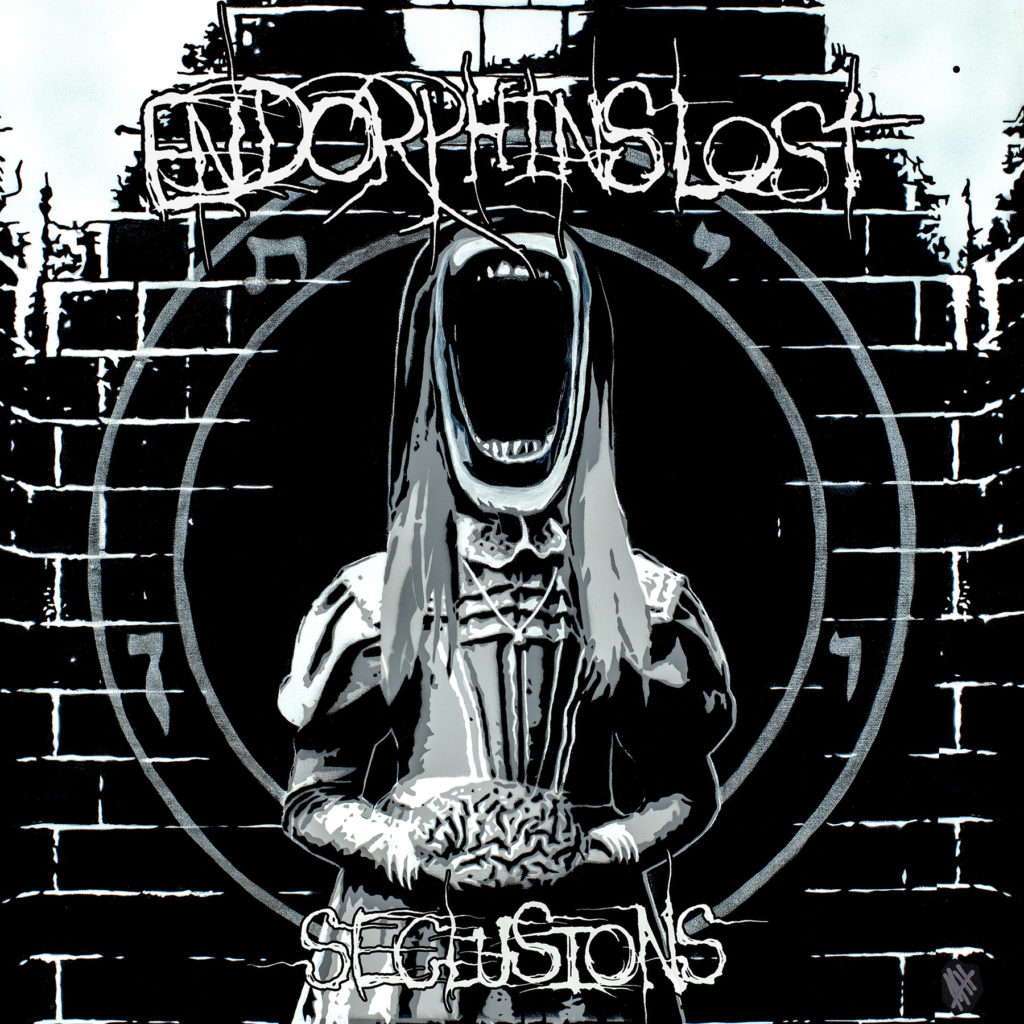 https://endorphinviolence.bandcamp.com
https://www.facebook.com/EndorphinsLost