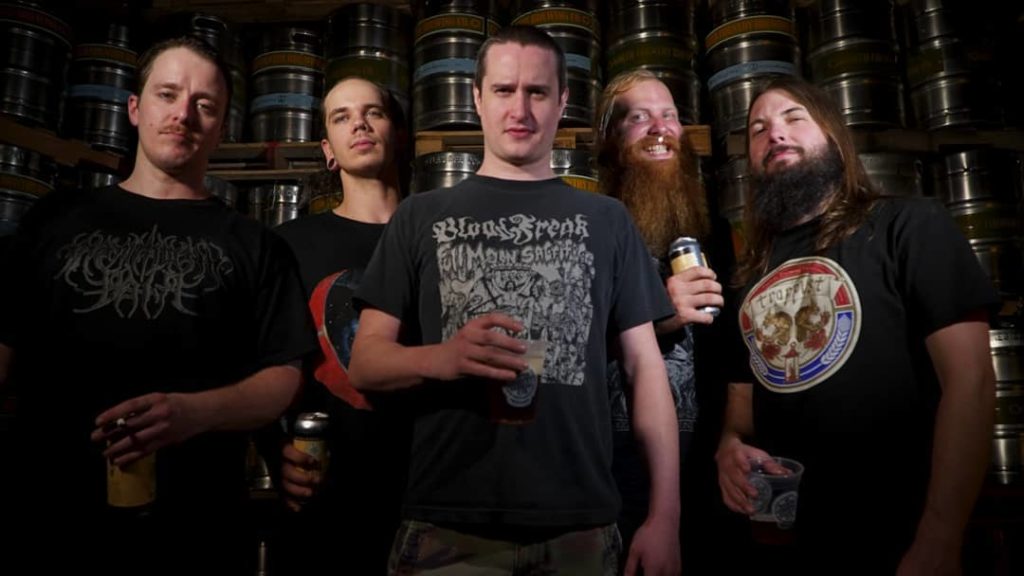 [photos by Jeffrey James Smee]
Pittsburgh-based outfit RIPARIAN, formed by former members of Wrought Iron, Circle Of Dead Children, Grisly Amputation, and more, will release their eponymous debut EP through Grimoire Records in March. No Clean Singing is hosting a premiere of the lead single, "The Nuclear Unclear," the lead track to the new EP, which is delivered through an official video for the song.
Since their formation, RIPARIAN's sound has coalesced into an intense entity, infusing a foundation of classic death metal with technical time signature manipulation, a bit of crushing grindcore brute force, with elements of doom and dark atmospherics infiltrating the mix. RIPARIAN packs five tracks of caustic, bizarre, filthy death metal into a dense, twenty-five-minute release on their debut, Riparian.
RIPARIAN also collaborated with North Country Brewing of Slippery Rock, Pennsylvania for the release of the band's own beer; a peach saison called The Nuclear Unclear, which was sold in bars and released as a limited run in conjunction with the third annual Brewtal Beerfest event in Millvale, Pennsylvania in October 2018.
The band states, "Leading up to our appearance at Pittsburgh's own 3rd annual Brewtal Beerfest with Dying Fetus, Incantation, and Gatecreeper among others, we were paired up with one of our favorite Pittsburgh area breweries – North Country Brewing out of Slippery Rock, Pennsylvania – to make a collaboration beer exclusively for the fest. We ended up making an unfiltered peach saison called The Nuclear Unclear with fresh local peaches. We had such a good time talking music and working on the beer, that when we pitched the idea of making a music video, they invited us up to use the brewery as the backdrop. After moving a few forklifts full of kegs and cans around, we assembled the main stage for the whole band backdrop and then used other random parts of the brewery for the individual member shots. We love the crew up at North Country and can't thank them enough for all of the support."
No Clean Singing posts with their premiere of the video, which was created by Jeffrey Smee, "RIPARIAN channel a ferocious zeal for musical carnage while displaying impressive technicality, integrating elements of death metal and grindcore, and dosing their rapidly veering rampages with moments of doom and gloom."
See RIPARIAN's "The Nuclear Unclear" at No Clean Singing RIGHT HERE.
Grimoire Records will issue Riparian on CD and digital platforms on March 1st; find preorders HERE.
Watch for additional audio samples, tour dates, and more to be issued in the days ahead.
RIPARIAN formed in April 2017, their name reflecting elements of their hometown of Pittsburgh, referencing the City Of Bridges, Three Rivers, and the Iron City. Bassist Brooks (ex-Wrought Iron, Circle Of Dead Children) and guitarist Lou Snyder recruited longtime friend, drummer Nick Tupi (ex-Wrought Iron) and the band fell into place. As they progressed as a unit, 2018 saw the trio's ranks magnify to a quintet in only a few short weeks. Guitarist Dan Martin was added in early 2018, his presence allowing myriad new heights of harmonic exploration, increasing the band's overall energy and fury. A month later the band added full-time vocalist Rob Grisly (ex-Grisly Amputation), who brought the tools RIPARIAN needed on the mic; solid death metal fundamentals, guttural lows, and a vast array of inhuman screams, as well as an intellectual approach to the art form.
Since the lineup's solidification, RIPARIAN has carved an increasingly wider channel for themselves with higher profile live shows, signing with Grimoire Records, and recording their self-titled debut with the label's Noel Mueller in Baltimore in September of 2018. Riparian was recorded, mixed, and mastered in September 2018 by Noel Mueller in his Tiny Castle, in Towson, Maryland, with additional vocal recording by Nate Campisi at Mr. Smalls Recording Studio in Pittsburgh, Pennsylvania, the cover artwork for the EP handled by Jason Angst/Artisan Pittsburgh.
https://www.facebook.com/RiparianPgh
https://riparianpgh.bandcamp.com
http://www.grimoirerecords.com
http://grimoirerecords.bandcamp.com
http://www.facebook.com/GrimoireRecords
https://twitter.com/grimoiremetal