Decibel Magazine is currently streaming Night People from Pacific Northwest powerviolence outfit ENDORPHINS LOST in its punishing entirety. The premiere comes in advance of the record's official release Friday, February 3rd via a joint partnership with Rotten To The Core and To Live A Lie Records.
Boasting fourteen devouring tracks, Night People was recorded by Brandon Hayden at the Sunroom in Prescott, Arizona during December 2020 and mixed and mastered by Greg Wilkinson at Earhammer in Oakland, California in February 2022.
Writes Decibel of the release, "Night People is a straightforward record, bridging stomping hardcore with stop-start powerviolence, an album that would fit on the shelf next to your favorite Spazz record."
Stream ENDORPHINS LOST's Night People alongside an in-depth interview with the band exclusively at Decibel Magazine, at THIS LOCATION.
Night People will be released on limited edition vinyl and digitally. Find preorders via Rotten To The Core HERE, To Live A Lie Records HERE, and the ENDORPHINS LOST Bandcamp page HERE.
ENDORPHINS LOST have a pair of Night People record release shows booked later this week in Seattle and Portland respectively as well as a West Coast tour with French deathgrinders Whoresnation this June. More details to be unveiled in the weeks to come.
ENDORPHINS LOST Record Release Shows:
2/03/2023 Lucky Liquor – Seattle, WA w/ Theories, Tithe
2/04/2023 Black Water – Portland, OR w/ Netherrealms, Spill
This life gets harder every day. No one comes to the aid of the helpless and the streets are filled with the voices of the anguished and disenfranchised. May it come as some comfort that ENDORPHINS LOST continues to echo the sound of the compromised through ripping fury, fire, anguish, violence, and pain until a better future presents itself. The band has evolved mightily since its inception in 2010, refining their raw grind/crust rudiments by shaping the sonic landscape to be a more focused and controlled chaos. Combining the simplicity of hardcore punk with manic flourishes of stop-and-go powerviolence and at times diving into plodding sludge passages, the music has ascended into a more calculating predator and less of a feral beast.
ENDORPHINS LOST's lyrical content has always been a scathing review of the treatment of mental health and the dereliction of duty when it comes to the state of the average person's social equity. With Night People, ENDORPHINS LOST sheds light on the lives of the "underclass;" the ones who know what life is like in the blood, filth, and shattered glass of a life unwound. The music is just a reflective representation of how the lyrics feel: a caged ferocity that lies dormant, silenced by time and now clearing its path.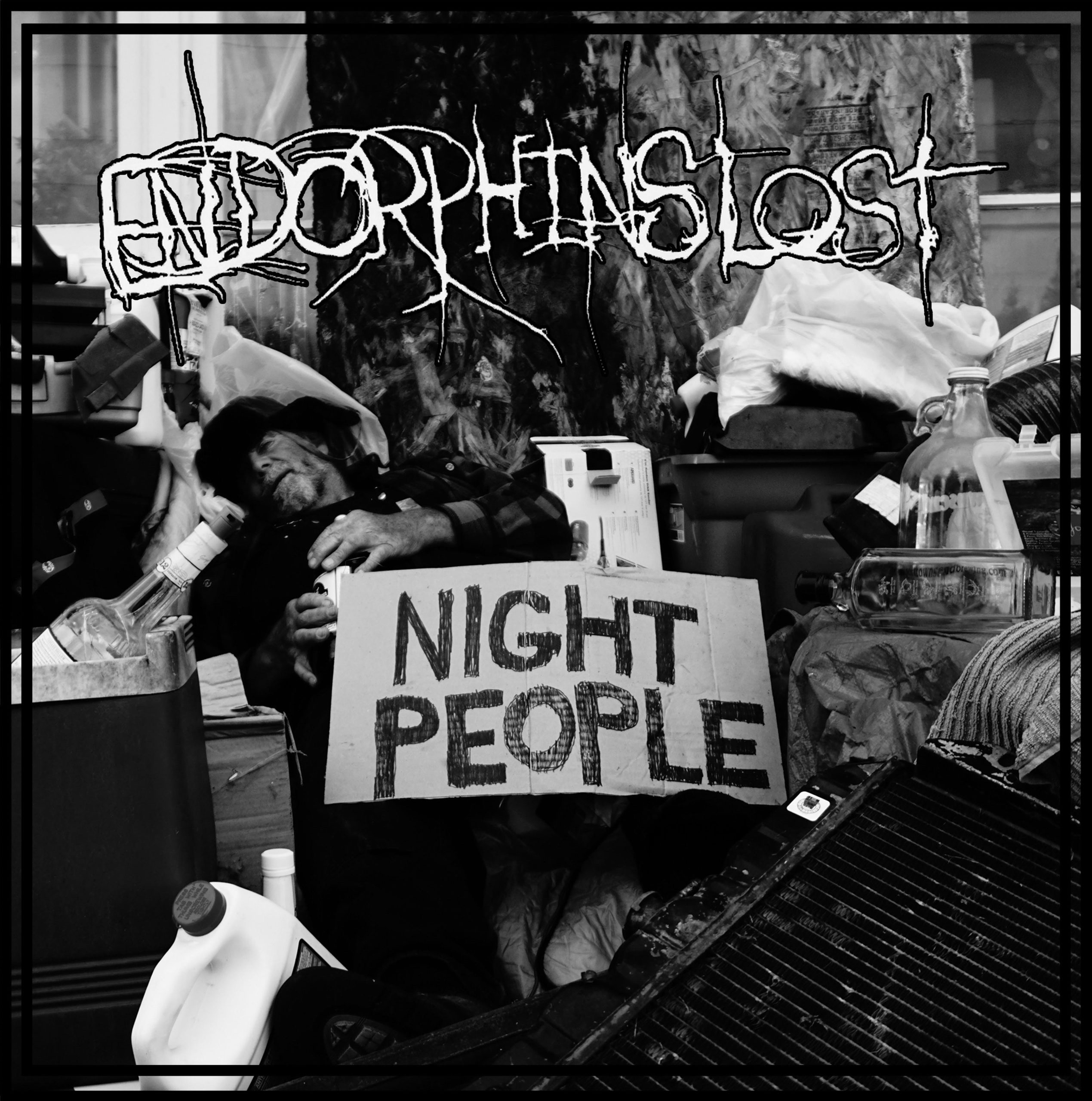 http://www.facebook.com/EndorphinsLost
http://www.instagram.com/endorphinslost
http://endorphinviolence.bandcamp.com/album/night-people
http://www.tolivealie.com
http://www.rtcrecords.com