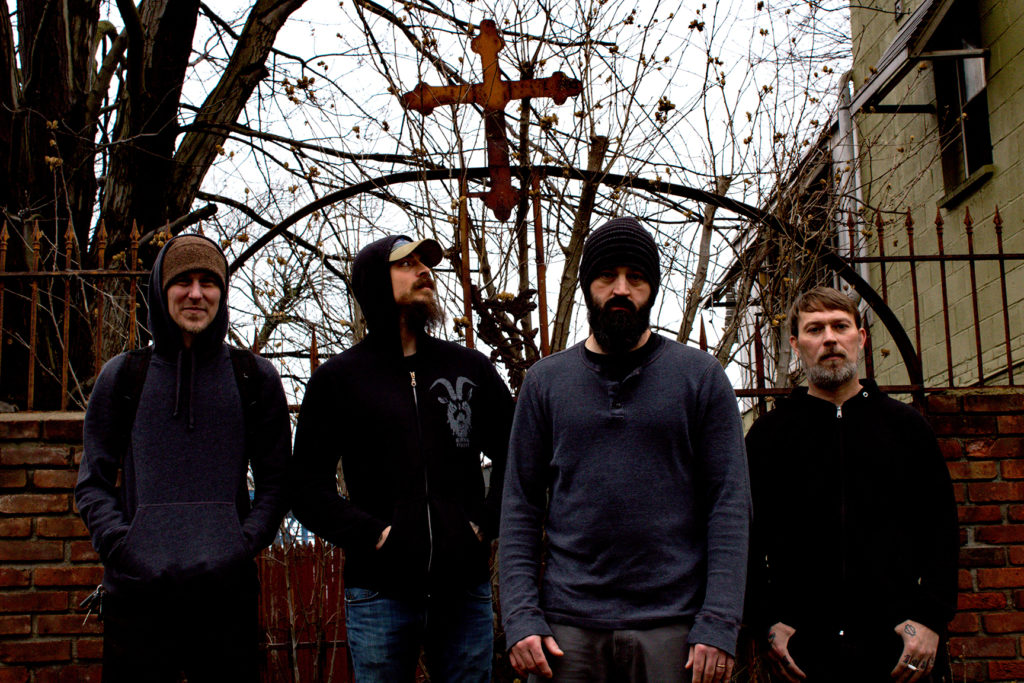 photo by Paul Goon
Akron, Ohio-based doom/sludge metal quartet RADIAN is actively booking shows and tour dates for the year in support of their crushing second album, Discordian.
RADIAN's sound is more vicious and vibrant than ever before on Discordian, the album delivering six new songs with an elevated sense of living in a perilous world wrought with political discontent and societal unrest. Discordian was recorded and engineered at Akron Recording Company September of 2020 by Sanford Parker (Voivod, Eyehategod, YOB) who provides synth elements to the album. Parker mixed the album at his Hypercube Studio, after which it was mastered by Colin Jordan at Boiler Room Mastering (Ministry, Helen Money, Spirit Adrift).
Discordian was released in June 2022 through Elburno Records, founded by RADIAN guitarist Mike Burns (Osi And The Jupiter, Rue, Sofa King Killer). With bassist Bill Govan (Goosed, Ravenna Arsenal), vocalist Jeff Fahl (Rue), and recently introduced new drummer Derek Vaive (Ommnus), the band is using 2023 to tour on the new material, with short regional mini-tours. This week, the band announces a short Northeastern tour with their allies in Drifter, hitting Atlanta, Asheville, Richmond, Philadelphia, and Buffalo May 4th through 8th.
See all confirmed dates below and watch for updates to post shortly alongside new videos from Discordian and more.
Stream RADIAN's Discordian RIGHT HERE.
 Discordian is available on two vinyl variants – Transparent Beer and Green/Black Splatter – at Bandcamp HERE and through all digital services. Also watch the video for "The Discordian" HERE.
RADIAN Live:
2/25/2023 The Console Of The Weirds @ Zephyr – Kent, OH w/ Moth Cock
5/04/2023 Sabbath Brewing – Atlanta, GA w/ Order Of The Owl, Drifter
5/05/2023 Fleetwoods – Asheville, NC w/ USX, Drifter
5/06/2023 The Camel – Richmond, VA w/ Thunderchief, Drifter
5/07/2023 Kung Fu Necktie – Philadelphia, PA w/ Oktas, Drifter
5/08/2023 Mohawk Place – Buffalo, NY w/ Goron, Drifter
http://www.linktr.ee/radian_akron
https://www.facebook.com/RadianAkron
https://radianakron.bandcamp.com
https://www.instagram.com/radian_akron